A smart scale has extra sensors and AI built into it that help you keep track of your body and fitness level. In this guide, we go over the best smart scales that you can buy with your money.
Specifically:
Key features you should look for in a smart scale
How to sync up your scale with your smartphone
How to buy a smart scale no matter where you live
If you have a scale that isn't listed in this guide, comment down below and let us know today.
The Best Smart Scales You Should Buy
Don't have time to read about each scale in full detail? Here is a list of the best smart scales you can buy today:
What is a Smart Scale?
A smart scale, like a regular one, measures your body weight when you step on it. However, smart scales synchronize with your computer or smart phone to provide you with trends and tracking. You can watch your body weight over time and view how adjustments to your diet and exercise affect your weight.
Smart scales also have the ability to take more key measurements other than body weight. A lot of scales can calculate your water content, BMI, and other factors.
Some of the scales in our list also have other bonus features. Some have live voice commands and Alexa integration. They fit well into your smart home.
Artificial Intelligence
Smart scales also use artificial intelligence to guess or infer things about your health. Some scales show you information about your heart health, cardio health, and other things.
They can make automatic recommendations on how you can be healthier in your day to day life.
Before we go over our best smart scales in more detail, let's talk about some of the key measurements a good scale can show you.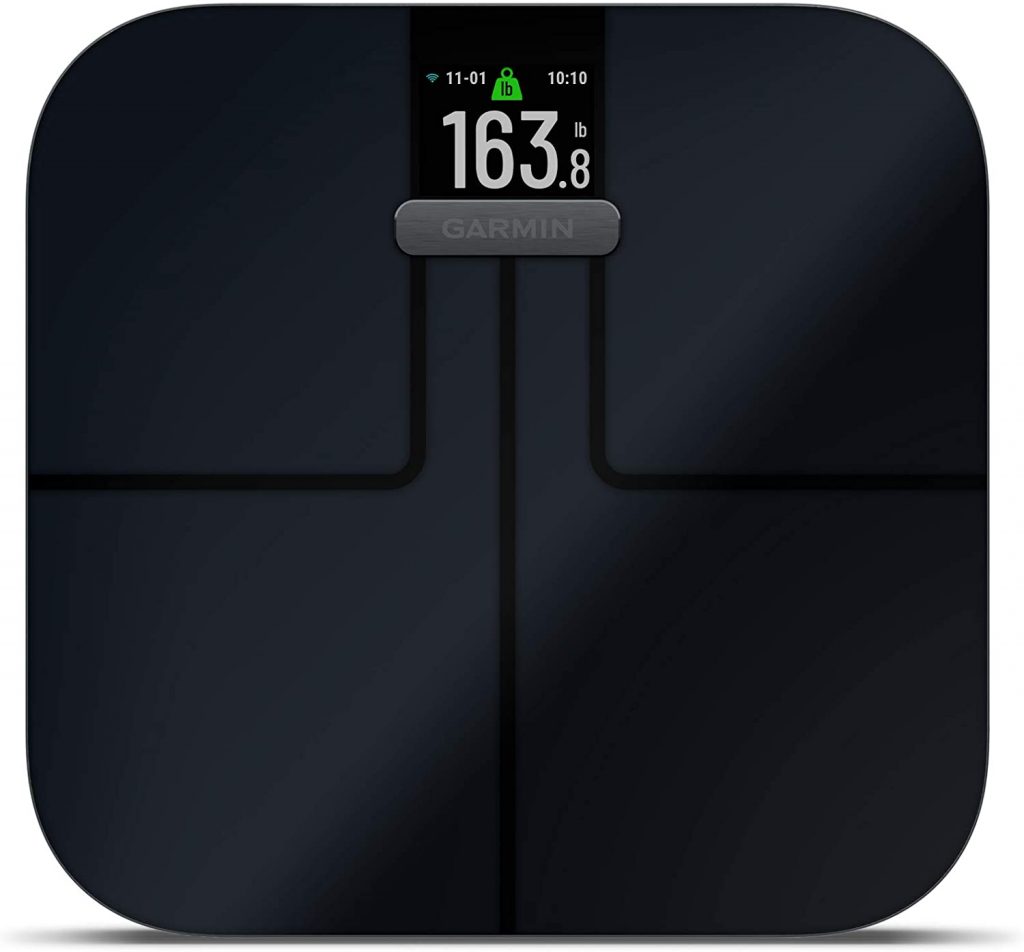 Key Measurements a Smart Scale Should Take
There are dozens of smart measurements that a smart scale can make. Each scale can be slightly different, so you have to decide what is best for you.
Some of the key measurements to look for are:
body weight
body fat
BMI
body age
water content
basal metabolism
muscle mass
protein level
heart beat
heart health
Below, we explain what measurements each scale has in more detail.
The FITINDEX Smart Body Fat Scale is one of the best body fat scales you will find on the market. It syncs with a smartphone via Bluetooth for users to view their body metrics directly on their phones.
To use this smart scale, download the FITINDEX app and create an account for free. Launch the app and enable your phone's Bluetooth. After a successful synchronization, step on the scale to view your body metrics.
This scale tracks 13 essential measurements, including basal metabolism, body age, and water. Other measurements include protein, muscle mass, BMI, and body fat.
The FITINDEX Bluetooth Scale features 4 electrodes and 4 precision sensors for accurate body metrics analysis. While the bottom of the scale is made of ABS plastic, the surface is of 5mm tempered glass.
Before using the scale, don't forget to connect it with your phone first!
FITINDEX Smart Body Fat Scale Features
Made with a high quality tempered glass platform and 4 sensitive electrodes.
Lets you set a goal and monitor your fitness trends.
You and your family members can use this same scale to track body metrics.
Integrates with Apple Health, Google Fit, and Samsung Health to keep watch of your fitness.
Sale
FITINDEX Smart Scale for Body Weight, Digital Bathroom Scale BMI Body Fat Scale Bluetooth Weighting Health Monitor, Accurate Body Composition Analyzer, 400lb, White
Use with Ease: Easy Installation and Setup, our smart weighing scale is suitable for beginners. Faster to get your precise measurement metrics data on your phone without complicated pairing steps. Step-on technology, auto on/off function, auto-calibration and low battery indicator. Easy to read large LED display and clean.
Designed for You: The FITINDEX App supports Unlimited Users and Baby WEIGHING Mode, set goals, monitor your fitness progress with graphs, and export data in CSV. The Bluetooth weight machine for people helps motivated weight loss, muscle gain, workout, and great use for family and friends.
Digital Scales for Body Weight and Fat: 13 body composition measurements including weight, body fat ratio, water, muscle mass, BMI, BMR, bone mass, and more. Fitindex body fat scale with smart app provides data reference and makes you know more data clearly about health conditions.
High Precision Scale: This digital weight scale provides accurate measurements up to 400lb (180kg) in 0.2lb (0.05kg) increments. 4 highly sensitive electrodes combined with the latest technology give you accurate body composition analysis. Be sure to place the bathroom scale on a flat and hard platform to weigh.
Work with Fitness Apps: Sync data with Apple Health, FitBit, Google Fit, Samsung Health, and Apple Watch to track progress. Download the FITINDEX App via the App Store or Google Play. Please be assured that FITINDEX will not share your personal information with any third parties.
The FitTrack Smart Scale is the most accurate weight and body fat scale. It uses two different frequencies to track a wide range of body metrics, including obesity level, muscle mass, and body mass index.
The data from this smart scale will help you to become aware of overall health, fitness, and lifestyle. When you stand on this scale, your body composition measurements are displayed on your smartphone within 20 seconds.
While other smart scales fail to change their measurements with respect to a user's body type, FitTrack is different. FitTrack offers Athlete mode for more muscular users with elevated BMIs and increased metabolism. Once you activate this feature, FitTrack will automatically adjust its algorithm for the best smart reporting of your body type.
The FitTrack Smart Scale is very easy to use. All you need to do is to download the FitTrack Health app on your smartphone, sync your phone with the scale via Bluetooth and you're good to go.
All your body metrics are displayed neatly on your phone.
FitTrack Smart Scale Features
Allows up to 8 users to monitor their health and wellness.
Uses two different frequencies to capture your body metrics.
Pairs with a wide range of health-related apps, including Apple Health and Google Health.
Tracks body mass index, muscle mass, and obesity level.
FitTrack Dara Smart BMI Digital Scale - Measure Weight and Body Fat - Most Accurate Bluetooth Glass Bathroom Scale (White)
17 DIFFERENT BODY MEASUREMENTS - FitTrack's Dual BIA Technology uses two different frequencies to accurately find 17 different measurements, including body mass index, muscle mass, and obesity level.
UP TO 8 USERS PER DEVICE - FitTrack recognizes users and tracks results for up to 8 different people, including your baby, while keeping individual results private.
INTEGRATED APP FOR iOS AND ANDROID - Scan the QR code on manual or the back of the scale to download the app, the app keeps your measurements on your smartphone device. Track the progress of your body health indicators and set weigh-in reminders.
WEIGHT MANAGEMENT - FitTrack Dara helps you be more aware of how your diet and lifestyle affects each aspect of your body health. Athlete & infant modes increase effectiveness for all types of users.
AWARD-WINNING PRECISION TECHNOLOGY - FitTrack prides itself on manufacturing precise weighing mechanisms that ensure body composition measurement accuracy.
The Withings Body+ is a powerful smart scale that isn't too expensive. It tracks full body composition, including muscle and bone mass, water percentage, BMI, and body fat.
This scale gathers more information than the other scales on this list, and displays the information on a companion Health Mate app. The app is very easy to read. It also sports a stylist and attractive design. Every weigh-in automatically appears in the app through Bluetooth sync or Wi-Fi connection.
The Withings Body+ showcases your measurement history so that you see in real-time the particular routine that's bringing in the best results. This smart scale is equipped with pregnancy and baby mode, which makes it easy for pregnant women to see their measurements without any safety concerns.
The Withings Body+ offers a wide range of features, including heart health and Pulse Wave Velocity for European users.
Withings Body+ Features
Syncs with the companion Health Mate app via Bluetooth or Wireless networks.
Works with Google Fit, Apple Health, Fitbit, and more than 100 fitness and health apps
Can operate for up to 18 months using four standard AAA batteries.
Body+ automatically recognises and tracks up to 8 users.
Withings Body+ Wi-Fi bathroom scale for Body Weight - Digital Scale and Smart Monitor Incl. Body Composition Scales with Body Fat and Weight loss management
FSA & HSA Eligible.Compatible Devices : iPhone 4s (or higher), iPod Touch 4th Gen (or higher), iPad 2nd Gen (or higher), Android device running Android 5.0 (or higher). WiFi 802.11 b/g/n, compatible with WEP/WPA/WPA2-personal networks
#1 BEST-SELLING SMART SCALE In the US. One of the smartest digital scales for body weight, making it a bathroom essential and home must haves in electronic scale.
BODY COMPOSITION - The withings scale functions as a bmi measurement tool or body fat analyzer. This bathroom scale monitors weight, measures body fat & water %, muscle & more. It's a fitindex scale.
HIGHLY COMPATIBLE digital bathroom scale- This digital bluetooth scale, unlike other bathroom scales, syncs with apple watch plus more than 100 top health and fitness apps incl. Apple health & more
AUTOMATIC SYNCHRONIZATION - Data from every weigh-in appears automatically via Wi-Fi in the free health Mate app. Making it easy to keep track at home workout progress. An Amazon must haves.
The Withings Body Cardio is an upgraded model of the Body+. It is an innovative scale that provides cardiovascular check-ups within 30 seconds of stepping on it.
The scale delivers accurate composition and weight measurements, including water percentage, body fat, bone mass, as well as muscle mass. Plus, it syncs with the Withings Body Cardio app to display your readings.
Unlike the Body+, you don't need to have your phone handy to read your body metrics.
You can use the Withings Body Cardio to manage your daily calorie budget and set a weight goal. This premium smart scale works with Alexa to check your progress and weight trends.
It is compatible with more than 100 health and fitness-related apps, including Google Fit, Fitbit, and Apple Health.
Withings Body Cardio Features
This scale analyzes your weight, body composition and heart rate in less than 30 seconds.
Automatically recognizes and tracks up to 8 users.
Capable of monitoring your arteries' age to get a clearer picture of your heart health.
A single charge can last up to 12 months.
Sale
Withings Body Cardio – Premium Wi-Fi Body Composition Smart Scale, Tracks Heart Health, Vascular Age, BMI, Fat, Muscle & Bone Mass, Water %, Digital Bathroom Scale with App Sync via Bluetooth or Wi-Fi
#1 WORLDWIDE - FIRST SMART SCALE WITH CARDIO CHECK-UP. It's a one of a kind weight scale for body weight. Great as bathroom accessories or supporting workout equipment.
HEART RATE MONITOR - Get heart rate with the built-in heart monitor plus an indication of your cardiovascular health using vascular age, an indication of the overall health of arteries.
FULL BODY COMPOSITION - Ultra-precise weight (kg, lb, st lb), body fat & water %, plus muscle & bone mass. Helps you meet your weight loss or gain goals. A all around smart bathroom essential.
MULTI-USER FRIENDLY - The body scale can be used by up to 8 users can weigh themselves and access their personal weight histories, as the scale automatically recognizes who's who.
FOR EVERY STAGE OF LIFE - Keep track of the whole family's growth with Pregnancy Tracker and (healthy weight gain range and obstetrician-reviewed advice) and with Baby Mode to use as a baby scale
RENPHO Body Fat Scale is a smart body composition analyzer. It uses electrodes and high-sensitivity sensors to give users accurate body measurements. It calculates 13 different body composition metrics, including metabolic age, visceral fat, and subcutaneous fat.
You can use this body fat scale to track your weekly and monthly progress. RENPHO Body Fat Scale works with top fitness apps like Fitbit app, Google Fit, and Apple Health.
So, if you have a fitness goal, look no further than RENPHO. The scale will keep you motivated to achieve your fitness or health goals.
RENPHO Body Fat Scale Features
You can view your data on the Renpho app within seconds after stepping on the scale.
Lets you track your progress by day, week, month and year.
Chare your progress with your gym or yoga class friends and family.
Sale
RENPHO Smart Scale for Body Weight, Digital Bathroom Scale BMI Weighing Bluetooth Body Fat Scale, Body Composition Monitor Health Analyzer with Smartphone App, 400 lbs - Black Elis 1
Renpho Health app works in connection with fitness apps. Easy setup app works with Fitbit App, Google Fit. Renpho already has millions of happy global users.(FSA / HSA eligible)
13 essential body measurements. Body weight shows on the scale, other body composition data including weight, BMI, body fat percentage stored in the app. Track everybody's metrics change on Renpho Health app.
User-friendly app. Download Renpho Health app at App Store or Google Play, also works with Apple Watch (Except for Apple Watch Series 1). Renpho Health app works with Bluetooth 4.0 and above.
High-Quality Innovation. Auto calibration, high precision sensors measure in increments of 0.2 lb, 0.05 kg with 400lbs, 180kg capacity. 4 high sensitive electrodes. DO NOT let the sides of the scale, especially the four corners of the surface tempered glass hit any object, and it is recommended to wrap the four corners of the glass with soft objects.
Monitor your progress, unlimited users and baby weighing mode. Renpho connects with apps to help motivate toward your goals, save historical data, and track your daily, weekly, and monthly progress. Use baby weighing mode for weighing baby or pets, 1 scale for whole family, support for adding unlimited users.
The INEVIFIT Smart Scale is primarily designed with busy athletes in mind. The scale gives you accurate reading of your body compositions. It comes with the convenient features, including:
0.2lb (0.1kg) High Accuracy
auto on/off
upgraded extra load 400 lb (180kg) sensors
It is also equipped with auto calibration to enhance your readability of the scale.
The INEVIFIT Smart Scale can measure your body weight, fat percentage, bone mass, body water percentage, and even more. In fact, it can tell you how many calories to eat in a day to maintain a perfect shape.
It uses an Advanced User Profile to deliver accurate results based on your activity level, gender, age, and height.
Additionally, your friends and family members can use the INEVIFIT Smart Scale to track their body metrics, as it can store multiple user profiles.
INEVIFIT Smart Scale Features
Runs on 3 AAA batteries, included in the package.
Tracks 8 key fitness metrics, including body weight, body fat Percentage, and Water.
Has upgraded auto-calibrating sensors for precise and consistent measurements.
Syncs with your smartphone to easily view your performance.
INEVIFIT Smart Body Fat Scale, Highly Accurate Bluetooth Digital Bathroom Body Composition Analyzer, Measures Weight, Body Fat, Water, Muscle, Visceral Fat & Bone Mass for Unlimited Users (Black)
ENJOY TRACKING YOUR FITNESS JOURNEY: This smart body composition scale tracks 8 key fitness metrics, including Body Weight, Body Fat Percentage, Water, Muscle Mass, BMI, BMR, Bone Mass and even Visceral Fat directly on your smartphone.
POWERFUL FREE APP: Our smartphone app is simple to use, supports unlimited number of profiles for you and your whole family to get & stay healthy. The best part is that it seamlessly syncs with your favorite health apps & services: Fitbit, Apple Health, and Google Fit.
PREMIUM QUALITY: Upgraded auto-calibrating sensors for precise and consistent measurements on a thicker 6mm tempered glass platform to weigh up to 400 lbs. Finally, a durable body weight scale you can depend on that stands the test of time.
DELIGHTFUL EXPERIENCE: Designed here in Southern California to complement the décor in any room yet be functionally efficient. The large 3.6" luminous LED display, turns on automatically when you step on and your body composition appear in your smartphone with a simple touch.
STAY CALM & GET YOUR TRACK ON: The INEVIFIT Bathroom Scale comes with 7-day real USA customer support and our products include the industry leading quality. You can rest assure that you will be 100% satisfied with the INEVIFIT experience.
The FirBit Aria 2 is a smart scale that measures weight, body fat percentage, and lean mass. It automatically syncs the data to a highly intuitive dashboard for you to view your performance. It syncs stats through Wi-Fi to computers and smartphone devices.
The good thing about using the Fitbit Aria 2 is that it recognizes up to 8 users. This means you can also create profiles for your friends and family members. The scale keeps individual stats private.
Using the scale is a breeze. All you need to do is to download the Aria app on your smartphone and sync it with the scale. Step on the scale to view your body metrics in less than 10 seconds.
FitBit Aria 2 Features
Aria 2 automatically syncs your stats via your home WIFI network
Tracks advanced weight metrics to help achieve healthy, long-term results.
Can recognize up to 8 users while keeping stats private.
The installation process is simple and straightforward.
Fitbit Aria 2 Wi-Fi Smart Scale, Black
Measures weight, body fat percentage, lean mass and bmi. Aria air syncs stats wirelessly to computers and 200 plus leading iOS and android devices via a bluetooth connection only
Syncs stats automatically to your Fitbit dashboard using Wi-Fi encryption and tracks your progress with simple, easy-to-read graphs
Recognizes up to eight users while keeping individual stats private. Measurement ranges- 4. 5-180 kg
Easy bluetooth setup takes just a few minutes with your smartphone. Operating temperature - 41 to 104 degree Fahrenheit
Modern, polished glass surface for a scale that looks stylish anywhere
The Garmin Index S2 is a smart scale for smart people. It uses 4 electrodes and 4 precision sensors for accurate body metrics analysis. The scale syncs with a smartphone via Bluetooth for users to view their body compositions on their smartphones or tablets.
It tracks a wide range of essential measurements, including basal metabolism, body age, and water. It can also track protein levels, muscle mass, BMI, and body fat.
The S2 is more expensive than other smart scales on this list. However, the display is fully digital, so it shows more information at a time. When you setup a user account, the S2 will call you by your name.
The S2 is compatible with top fitness apps like the Fitbit app, Google Fit, and Apple Health.
Garmin Index S2 Features
Lets you view your weight in pounds, kilograms or stones and pounds.
Track longer trends when paired with the Garmin Connect app.
Supports up to 16 user profiles and allows unique goal tracking for each user.
A single battery charge can last up to 9 months.
Garmin Index S2, Smart Scale with Wireless Connectivity, Measure Body Fat, Muscle, Bone Mass, Body Water% and More, Black (010-02294-02)
Get accurate measurements for weight, weight trend, body fat percentage, bmi, skeletal muscle mass and more
Sync with your garmin connect account via wi-fi connectivity to see your data, get trend graphs and more (requires the garmin connect app downloaded to a compatible smartphone)
Sleek design features a high-resolution color display
Up to 16 user profiles allow multiple daily weigh-ins and unique goal tracking for each user
Battery life: up to 9 months; uses 4 aaa batteries (included)
A smart scale can use extra internal sensors and artificial intelligence to calculate hints about your body. They can make recommendations and let you track your body better than before.
What is your favorite smart scale to use? Comment down below and let us know today.