If you are a content creator or influence, you need an AI video editor to simplify your workflow and create videos faster. In this guide, we go over our favorite video editing software that uses artificial intelligence.
For each pick, we'll go over:
How the software uses AI to make your life easier
Features of the AI video editor
How to download, sign up, or get started today.
If you use a different AI video editor, comment down at the bottom of this guide and let us know!
The Best AI Video Editors
Different Types of AI Video Editors
There are a few different types of video softwarre included in this guide.
Video From Text
Video from text tools convert your documents and writing into eye-catching videos and presentations. They allow content creators to take their writing and automatically turn that into usable video for social media.
Traditional Video Editing
Traditional video editors simplify the post-production process for you. These tools cut background noise, add video effect, remove dead space, and other basic post-editing functions. These tools reduce the time it takes from shooting your video to posting them on social media.
Special Effects
Special effect video editors add CGI and other effects to your videos with ease. They allow you to add effects easier than ever before. With artificial intelligence, these are easy to apply to your videos.
Next, we review our top AI video editors in more detail.
Raw Shorts Review
Raw Shorts is AI video editing software that instantly creates animated videos from text. It uses AI to enable content creators to make explainer videos, promo videos, and animations for social media and the web.
Raw Shorts is simple to get started with. You first need to first upload your video script. Then the tool will scan the script to determine the storyline. Raw Shorts will go further to find media assets to match the script and generate voice narration. You can review the draft instantly and make adjustments using the drag-and drop-editor.
You can choose from the available video editing templates and also customize your video by adding colors, audio, texts, and transition effects.
Raw Shorts Features
Easily download, export and share finished videos on social media platforms
Upload videos, trim clips and positioning
Easy content creation on a web-based platform and publishing studio
A range of video templates that is strong and industry-specific
Easily add text, media, and transitions to videos
Click here to view Raw Shorts.

Designs.ai Videomaker Review
Designs Videomaker is a video editing tool that uses artificial intelligence to easily let you convert text to videos in minutes. This video production tool combines AI with high-quality stock content to deliver stunning videos at a fraction of the required effort and time.
The first step is to enter your script and select your video preferences. Videomaker then analyzes the script and create an initial video draft. You then need to use the editor to customize and export the video in several dimensions.
This video production tool uses a wide variety of machine learning techniques that are focused on accuracy, time saving, and ease of use. It also suggests accurate content from keywords.
Designs Videomaker Features
Daily analysis of your business videos
In-depth knowledge of user activities
Improves your user experience and videos on any device
Track performance of your marketing campaign, content recommendation, marketing action
Click here to view Designs Videomaker.
Lumen5 Review
Lumen5 helps you turn content into video effortlessly. It uses AI to storyboard your ideas and find music visuals that enhance your message. It also uses AI to fit your content to a layout. All you need to do is to upload your script and you are good to go. Machine learning helps to highlight Keywords within each sentence. It also helps to position text based on the composition of the media file.
If you don't have the required audio or video, Lumen5 can help you pick the content from its media library in seconds. Plus, it provides branding options like font choices, watermark, and brand color.
Lumen5 Features
Very good at helping videos create amazing slide transitions and effects.
Easy to use and feature-rich panel supports intuitive features
Easy importation of media files
Smooth sharing of creatives on social media
Gliacloud Review
Gliacloud makes it easy to create videos for social media and the web. This AI video editor converts your word content to stunning and presentable videos. With Gliacloud, you can easily generate videos from social posts and news content. You can also generate videos from live sport events and statistical data in real-time.
You upload your video script or paste your content URL in the space provided. Gliacloud will scan the content and automatically capture keywords your video.
Users can then review the script and theme provided by the AI engine, and perform minor editing as they see fit. The whole process takes a few seconds. So, if you don't have the skills and abilities to make your own videos, Gliacloud is perfect for you.
Gliacloud Features
Lets you make videos from content effortlessly
User-friendly editing package to make videos to your preference
Allows material mapping
Easily create different versions of the same video for A/B testing

Magisto Review
Magisto creates outstanding and stunning videos for your social media platforms and websites. Magisto leverages the power of AI to transform images and videos into well-crafted movies. You can use Magisto to create automated, entertaining and fun videos for your social channels.
All you need to do is to select the images or videos that you want to transform. Magisto provides the music and themes to make it professional.
Overall, Magisto is a solid and affordable video editing platform.
Magisto Features
Ability to make video editing process semi-automatic
AI captures the most exciting clips in your video, edits it to perfection and delivers stunning videos
Lets you create, edit, and publish videos anytime through the mobile app
Supports cross-channel video content distribution and hosting

Wisecut Review
Wisecut is a powerful video editing tool for Influencers, Vloggers, interviewers, and tutorial makers. Wisecut uses AI and voice recognition to automatically create jump cuts, background music, subtitles, and much more.
This video maker identifies long pauses and automatically delete them in seconds. It adds background music from its royalty-free music library and tailors the music to your video.
In addition, if you want to make tweaks, this AI video editor can help you generate a transcribed storyboard based on your speech. Wisecut does 75% of your video editing for you so that you can spend time doing other things.
Wisecut Features
Automatically adjust colors with face detection option
Improved audio auto-ducking reduces the volume of the music or effects soundtrack around dialog automatically
Automatically adds subtitles from your video
Uses AI to blend in jump cuts
This tool supports multiple formats

Recreate Review
Recreate is one of the best video editing tools for social media marketing. It uses artificial intelligence to enable social media marketers to create stunning videos for their social channels within 4 minutes. Recreate uses AI to convert articles and social posts into engaging videos. It does everything from picking the best music, images, visuals and text.
This video editor gives you access to a wide variety of free stock images, videos, and audio files. With Recreate, getting the most out of your social channels become a breeze. Additionally, Recrate can change your video's theme to match your brand. Everything from fonts to color can be customized.
Recreate Features
Has a responsive interface design for maximum efficiency and productivity
Integrated workflow makes the work smooth and without any glitch
Supports complex VR editing functions
Creates videos that are immersive in all aspects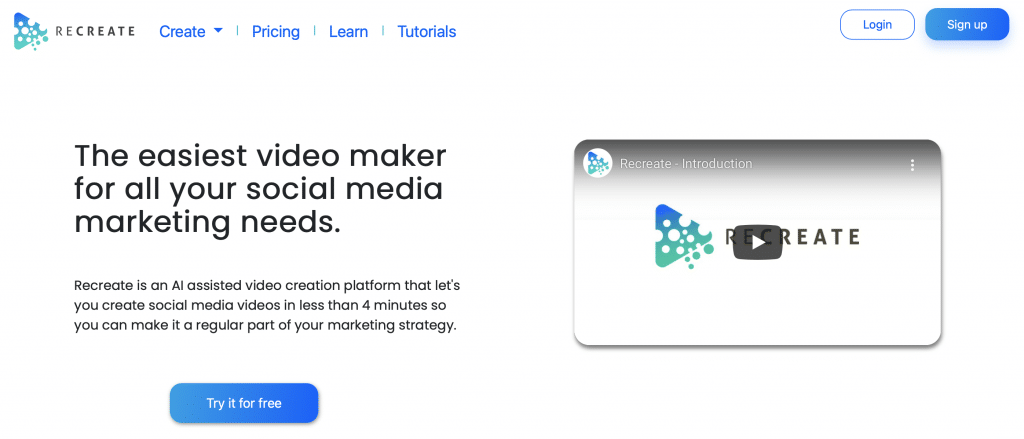 Wideo Review
Wideo is a powerful video editing tool that makes it easy for anyone to create stunning videos for social channels and the web. Wideo converts content into animated videos and presentations in minutes. Whether you have editing skills or not, this video editor will help you make videos without any hassles.
Here is how Wideo works. You first upload your script or video and Wideo uses the power of AI to create professional videos for social media and marketing. You can select from available stock videos in the free library or upload your own.
When your video is perfect, you can share it directly to Facebook or YouTube automatically. Or, you can download it as an MP4 for future use.
Wideo Features
Audio mixing, syncing, scrubbing, and waveform visualization.
Up to 32 slots for adding video, images, and more
No watermark, easy timeline style video editor
Up to 1080p high resolution exports
Easy import from Google Drive, Dropbox, Box
Access to 800k+ stock library of videos, soundtracks and GIPHY library

Vedia Review
Vedia is an artificial intelligence video editor that can transform data, URLs, and text into stunning videos for marketing purposes. It leverages AI to reduce your video creation time and also create rough cuts within seconds. It is suitable for digital marketers, Vloggers, and content creators.
Vedia will scan and analyze your text, data, and links to identify the ideas you are trying to portray. It then finds media assets and generates voice narration. Your job is to review the results and make adjustments where necessary with the drag and drop editor.
If you are looking to create engaging videos to embed in your website, Vedia is there for you every step of the way.
Vedia Features
Can auto-generate videos directly from your spreadsheets
Supports 4K resolutions
Supports popular image formats such as BMP, GIF, JPEG, PNG, SVG, and more.
Customizable templates for YouTube, Facebook, Instagram, and more
Awesome extra features like green screen, AI voice over, audio visualizer

VlogEasy App Review
VlogEasy is an AI- video editor that can help you create videos for your marketing needs in seconds. This app is capable of auto editing all the deadspace from your videos. Instead of spending countless hours in front of your computer editing videos, VlogEasy makes it simple with tap, drag and drop.
With the power of AI, VlogEasy lets you trim, duplicate, and crop videos in style. It also lets you delete, re-arrange, and remake as you deem fit. In fact, everything you need to edit videos as a pro is at your fingertips.
This video editor offers 5,000+ libraries of royalty free videos, photos, and stickers. Plus, all your videos are stored on the Cloud and you can easily access them from any device.
If you are looking to create authentic videos that explain your products or services to potential clients, VlogEasy has got you covered.
VlogEasy features
Offers several handcrafted pre-made templates
Over 8 stock photos to pick from
An easy way to cut, trim, crop, create a composite, and apply brand presets
Supports auto text-to-speech plus the ability to add your own voice-overs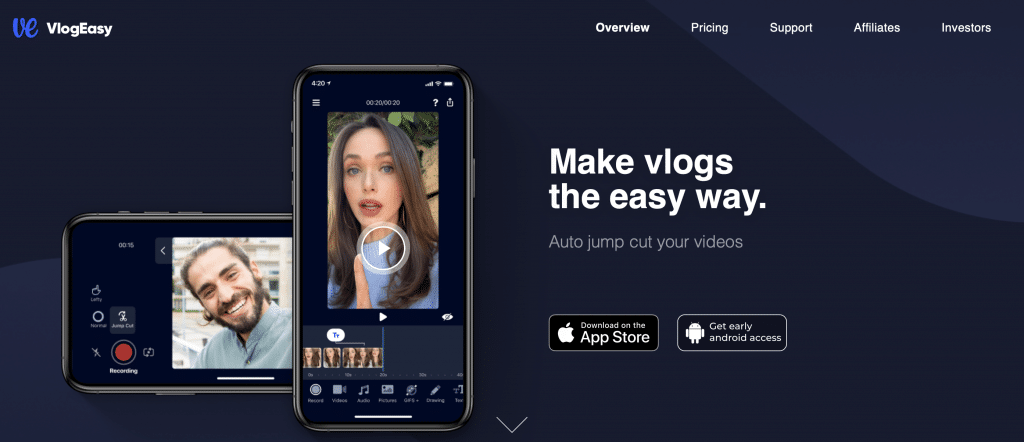 If you've ever used an AI video editor tool to simplify your life, comment below and let us know. We want to know what good things are out there.