Luminar AI is an artificial intelligence photo editor by Skylum. It is a new approach to photo editing in that it is simple, fast, and easy to use. AI automatically polishes photos for your website, social media, or brand.
In this Luminar AI review, we go over:
The best features in the tool
Pros and cons verses traditional photo editors
The intelligent features you should be using today
Is this tool worth your money and time? Read on to find out!
Click here to read our full list of AI photo editors we recommend!
How to Buy Luminar AI
Luminar AI can be purchased from the official website by clicking here.
Minimum Requirements
PC
Windows-based hardware PC with mouse or similar input device
CPU Intel® Core™ i5 or better, AMD Ryzen™ 5 or better
Windows 10 (only 64-bit OS).
GB RAM or more (16+ GB RAM is recommended)
Hard disk 10 GB free space; SSD for best performance
1280×768 size display or better
Open GL 3.3 or later compatible graphics card
Mac
MacBook, MacBook Air, MacBook Pro, iMac, iMac Pro, Mac Pro, Mac mini, early 2010 or newer
CPU Intel® Core™ i5 or better
macOS 10.13.6 or higher.
8 GB RAM or more (16+ GB RAM is recommended)
Hard disk 10 GB free space; SSD for best performance
1280×768 size display or better
Who is Luminar AI Best For?
Luminar AI is suited for amateurs, entrepreneurs, or professional businesses. Amateur photographers, bloggers, Instagrammers, and product makers will find the tool useful.
This AI-powered photo editing tool is also suited for those who want stunning photos quickly without wasting time. If you want to edit less and shoot more photos, this software is also for you.
Luminar AI is perfect for those who are new to photo editing or photography. You get complete control over editing adjustments. Additionally, Luminar can serve as standalone program or as a plugin for Mac Photos, Photoshop, and Lightroom.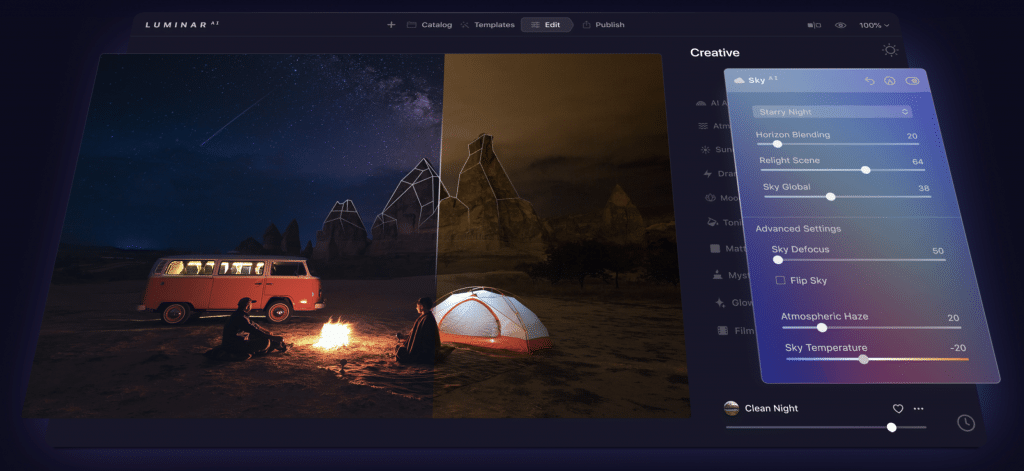 Luminar AI: The Pros and Cons
Pros
Offers Value For Money: This is one of the best photo editing tools currently on the market at a giveaway price. It offers great values for beginners and professionals alike.
Saves Time: This photo editing tool does more work in less time. You get higher-quality results with artificial intelligence features. If you are a professional photographer with large editing orders, you can use Luminar AI to edit hundreds of photos in less time.
AI-powered: Using the power of artificial intelligence, this photo tool does more than the conventional photo editors you see around. It uses AI to achieve things like blemish, spot, and background removal with ease.
Serves as Great Plugin: Luminar AI can act as a plugin for Lightroom, Adobe, or Mac Photos. It offers the best of both worlds for those who use a photo editor they love already.
Comes With Several Templates: The software comes with several photo editing templates for you to try out. If you are not comfortable with the default templates, you can make your own.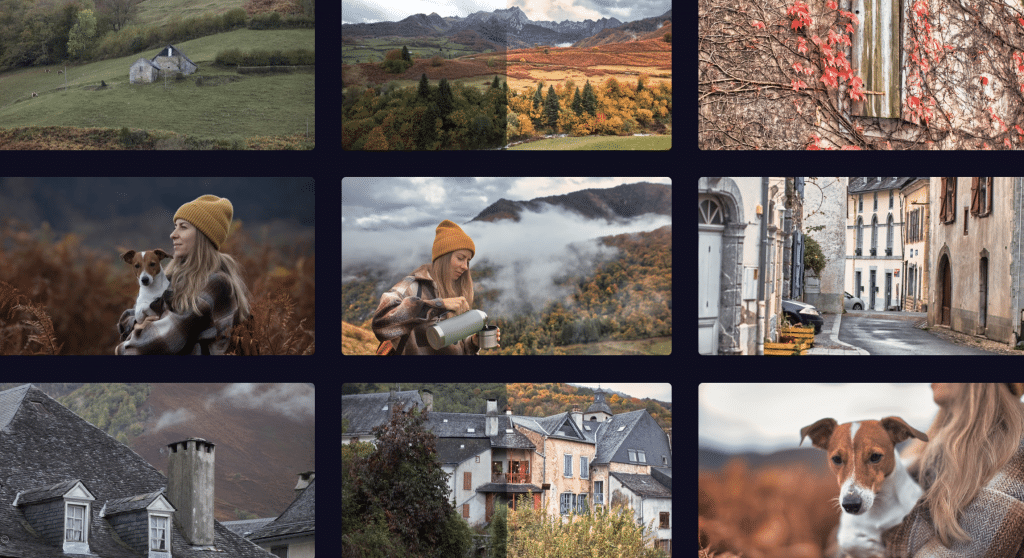 Cons
Lacks Advanced Features: Luminar AI lacks some advanced features that professional software suites like Photoshop offer. Batch renaming and the ability to compare images side-by-side are requested features that haven't come to the software yet.
Can't Convert Luminar 4 Catalog: For existing customers, the new AI software does not have the capacity to accept Luminar 4 library. This means that if you previously used Luminar 4, you can't transfer all your saved files over to AI.
Lacks Metadata: Luminar AI lacks sophisticated photo metadata and a full DAM system with keywords and IPTC metadata.
Pricing
Skylum, the brand behind Luminar AI has three pricing tiers for users to choose from. Below are the pricing tiers and the corresponding price in USD.
Luminar AI Standalone
The Standalone software is $79. This is the price for a lifetime access, which includes all future updates as well.
Luminar AI + Luminar X Membership
This package is for both beginners and professional users. It costs $139 and comes with a 12 month Luminar X Membership as well. Luminar X comes with the following features:
Regularly delivered creative assets to your inbox
8 professional photography courses per year
a bonus course available immediately upon purchase
10 inspiring templates each month
10 fresh sky textures each month
15% discount on all items in the Luminar Marketplace
Luminar AI + Aurora HDR + 2 Sky Packs
The Luminar AI + Aurora HDR + 2 Sky Packs comes at a premium price of $199. This package is exclusively for advanced or professional photographers.
The two sky packs are called "Power of Nature" and "Burst of Drama". They contain filters used to quickly edit your photos in cool and unique ways.
Aurora HDR is another smart photo software. It uses its own Quantum HDR engine to create best-in-class images based on detail extrapolation and image analysis. It maps different images together to recover tonal detail in shadows, mid tones, and highlights.
This tool is best for restoring detail in photos, tone mapping, and HDR image creation. Plus, it reveals hidden sections of photos within seconds.
The pricing above is for a single seat license. Skylum offers multi-seat licenses at a discount.
You can buy all the different Luminar software packs by clicking here.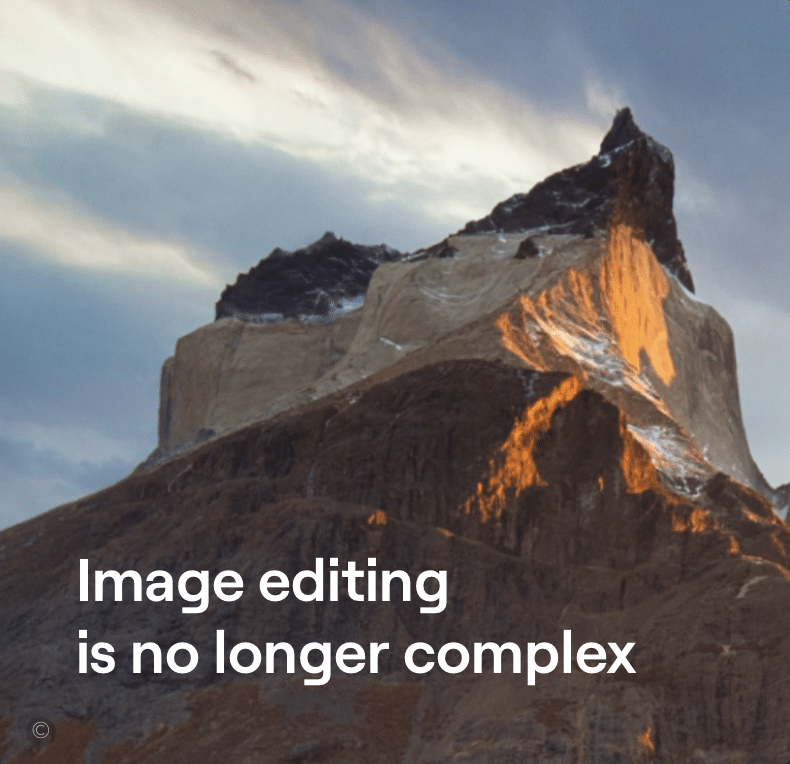 Luminar AI vs Luminar 4
Luminar AI is a completely new product by Skylum. It is a successor to Luminar 4, a popular photo editing tool on its own.
What are the differences between these two pieces of software?
Luminar AI is powered by artificial intelligence core engine. You get access to many intelligent features, such as:
automatic template picking
object recognition in your photos
automatic changes to tones, colors, and photo balance
Additionally, AI supports faster Sky enhancer and accent AI for improved productivity on the part of professional photographers. Luminar AI also makes suggestions where necessary and recognizes more than 7,000 objects for improved photo editing. It also gives automatic detail and sharpness to photos and lets you brush in color and apply skin adjustments.
Some deprecated tools like Adjustable Gradient and Photo Filter from Luminar 4 are not migrated to Luminar AI. This means if you have been using Luminar 4 to edit and manage your photos, you have to start afresh.
Luminar 4 is a more traditional photo editor software tool. Like Photoshop or Sketch, you can import, manipulate, edit, and export photos. It supports post-processing of photos using presents or templates.
The entire software package has been written from the ground up to make stunning and intelligent portraits. Luminar 4 does not have these automated creative features.
While Luminar AI can reconstruct a photo and determine the depth for better results, Luminar 4 cannot.
Luminar AI Features
More Possibilities And Less Routine
Luminar AI uses innovative technology to open up a world of possibilities where photo editors can freely express their ideas. Being an AI powered tool, users can focus on their creative story and leave all boring tasks for the tool to handle.
Awesome Results
There is very little learning barrier to using this software. Whether you're just starting out your career or you've been a photo editor for years, AI guarantees awesome results from the start.
Breathtaking eyes with IrisAI
IrisAI is an included function allows you to easily change or enhance eye color for portraits. It also enables you to add highlights or catch lights to enhance the eyes for alluring gaze. Plus, it combines with a wide variety of tools to whiten eyes, remove dark circles, and sharpen for dramatic effect.
Identifies Subjects For Quick Refinement
Luminar AI automatically identifies subjects for quick refinement. It has absolute control over subject refinement and can compensate for camera angles or unflattering poses. This photo editing tool can also add or subtract weight as desired.
Templates with AI assistance
AI comes with a wide range of artificial intelligence photo editing templates for you to choose from. If you are not comfortable using any of the templates, Luminar AI gives you the opportunity to create your own. The bottom line is that you get full control of what you want while eliminating guess work.
Color Harmony Tools
This AI-powered photo editor has new and improved tools for color grading so that users can conveniently adjust color to suit any storytelling purposes.
Clone and Stamp
AI has improved clone, stamp, and eraser tools that enable professional photo editors to deliver top-notch results even in complex areas. In fact, as an expert photo editor, you don't need layers to work, plus the effects are non-destructive.
Ease Of Use
We like how easy it is to use this software. It comes with a user-friendly and straightforward interface where users will be able to express their creative stories. Luminar AI shows recently edited and recently added photos. It also organizes photos by date.

Once again, click here to check out the new Luminar software in more details.
Overall, the tool is a major upgrade in nearly ever way. If you are editing photos from a shoot or creating content for social media, Luminar AI can help you out. If you've used the tool and have some feedback, comment on this review below and help others out!