Smart bathroom products with AI and automated features make doing your business in your home more comfortable. In this guide, we go over the best smart bathroom products you need to own for your home.
Specifically, we'll go over:
Commons features we see in smart bathroom products
How artificial intelligence has made its way into your bathroom
The best smart bathroom products for your home today
How to buy each bathroom improvement today
A lot of these items are perfect Christmas gifts for you and the rest of the family.
If you have anything you would like to add to this list, comment down below today and let us know!
The Best AI Smart Bathroom Products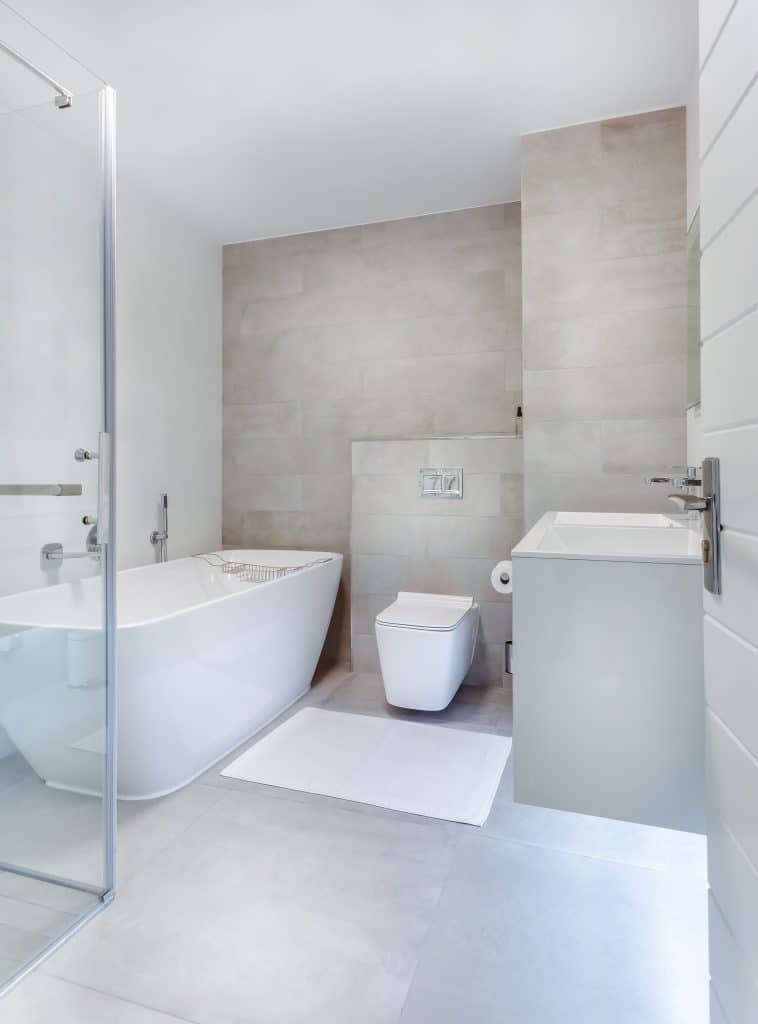 Don't have time to read our whole guide? Click the links below to see our top recommended products for your bathroom.
Next, we'll go into more detail on each product.
What are Smart Bathroom Products?
The bathroom is an underrated room in your house. It's where you have some of your most intimate mornings. It's often the first and last place you visit before bed.
Up your bathroom experience with fresh products that look good and are functional. Smart bathroom products improve your life in multiple ways:
They often combine multiple functions into one – lighting in a mirror or sound in a showerhead, for example.
They keep your connected to the world with smart Bluetooth and connectivity.
They reduce the number of germs coming from your bathroom.
If you are building new or remodeling your home, take a look at some of the smart products below.
Vovo Stylement Smart Toilet
The Vovo Stylement Smart Toilet is a modern-day toilet for the smart bathroom. It has a smart heat sensor that helps you distinguish between a large and a small flush. Once setup, it offers hands-free operation.
This toilet has a wireless remote controller that you can use to perform turbo wash, feminine, and posterior with auto deodorization.
It also has a water heating system where you can adjust the temperature to optimize the seat for the human body. Vovo Stylement Smart Toilet self-cleans the inner bowl with water supply from the pipe. This product helps you reduce water usage and toilet paper.
One final bonus, this smart toilet has a night light equipped so that you can find it in the dark.
Vovo Stylement Smart Toilet Features
Provides automatic deodorization to remove unpleasant odors.
Has built-in LED lights in the inner bowl for convenient usage during night time.
The nozzle automatically cleans itself before and after use to provide users with a hygiene environment.
The water heating system warms up the water to 3 different temperatures.
VOVO STYLEMENT TCB-090S Smart Bidet Toilet, One Piece Toilet with Auto Dual Flush, UV LED Sterilization, Heated Seat Made in Korea
💧 AUTOMATIC DUAL FLUSH - Smart seat sensor that can choose between a small flush or a full flush, providing hands-free operation. (1.12 GPF / For 35 PSI)
💧 HEATED SEAT / WARM WATER / WARM AIR DRYER - Premium bidet features with a self-cleaning stainless steel nozzle and auto deodorization
💧 WIRELESS REMOTE CONTROL / AUTO DEODORIAZATION – Posterior/feminine/turbo wash functions and automatic deodorization system all controlled by a smart wireless remote
💧 TANKLESS FLUSHING SYSTEM - Tornado wash powerfully cleans the inner bowl without using any stale water. The system uses a direct water supply from the pipe.
💧 ECO-FRIENDLY DESIGN - Reduced toilet paper and water usage as a cUPC and cETLus certified smart toilet
Kohler Moxie Showerhead
The Kohler Moxie Showerhead is a smart shower spray with built-in waterproof Bluetooth speakers for everyday use in the bathroom. It comes with best-in-class audio and supported with sound by Harman Kardon.
If you're in the bathroom, you can connect your tablets or smartphones to the speaker to enjoy your favorite tunes on the go. No matter how you shake the showerhead, the speaker won't drop or disrupt the water flow.
It has a removable magnetic speaker holder to hold the speaker in place and also allows for the removal of the speaker for charging. The battery can support its operations for up to 9 hours of uninterrupted play. Moxie is designed for more than the shower. You can take it to the pool, beach or wherever you desire. Simply undock the speaker from the showerhead and you are good to go.
If you like to stay connected in the bathroom, this Showerhead looks great and gives you a smart bathroom to show off. It will keep you motivated and clean before or after a workout or long day.
Kohler Moxie Showerhead Features
Kohler creates best-in-class immersive and soothing shower experiences in the world.
The wireless speaker magnetically docks into the showerhead and won't disrupt the water flow.
After showering, you can undock the speaker from the showerhead.
Sale
KOHLER 28238-GKE-CP Moxie Bluetooth Showerhead, Waterproof Shower Speaker, 1.75 GPM, Polished Chrome
Full Coverage Shower Spray: Single function full coverage spray showerhead, great for every day use
Waterproof Bluetooth Speaker: IPX7-rated waterproof shower speaker with "Best in Class" audio and sound by Harman Kardon
Wireless Connection: Connect your smartphone or tablet device to the speaker via bluetooth to take control of your tunes in the shower or on-the-go
Portable and Durable: Removeable magnetic speaker securely holds the speaker in place, while allowing for removal for charging or on-the-go listening
Long Lasting Battery: Quick charging battery and up to nine hours of play time
Smart Bathroom Mirror
This Smart Bathroom Mirror creates an exciting fresh look for your bathroom. It is integrated with LED light to give your bathroom a soft and soothing light. The light makes your bathroom a clean and minimalist space. If you have a bathroom with dim lighting, this is the perfect complement for it.
The mirror has a frameless design that will easily pair with lots of decorative plans. This piece is a must-have for those looking for unparalleled beauty and perfection in their appearance. It is ideal for hair do, shaving, and makeup.
This smart mirror has anti-fog technology, so it's safe to place beside your shower. The light is also dimmable too, giving you more flexibility.
With a touch of a button, you can easily turn on or turn off the light for easy navigation. It is suitable for homes, offices, bars, hotels, and commercial centers. This smart bathroom mirror is anti-dust, copper free, and can save up to 80% on energy bills.
Smart Bathroom Mirror Features
Virtually maintenance free and safe to the touch.
Suitable for shaving and makeup in the bathroom.
It is hardwired and can be hung horizontally or vertically.
D-HYH Led Vanity Mirror,Bathroom Mirrors for Wall 60 x 28 Wall Mounted Vanity Mirror with Touch Button Dimmable Anti-Fog (Vertical/Horizontal) Lighted Bathroom Mirror
👏【High-definition super bright】Compared with ordinary mirrors on the market, we have built-in light bars on the front and back of the mirror. The vanity mirror has dual lighting. Makes shaving, makeup or other facial grooming easier.
👏【Advanced Anti-Fog Function】Touch the anti-fog button on the Smart LED bathroom mirror and wait for 1-3 minutes to see yourself more clearly. Heat is released from the center to the surrounding area to remove water vapor from the mirror. So you don't have to spend more time wiping down your bathroom vanity mirror.
👏【Durable and Fashionable Design】5MM HD eco-friendly copper-free silver mirror and IP54 waterproof backing specially designed for bathroom, fully protect your mirror and let you enjoy the ultimate experience. The durable waterproof light bar inside can last at least 50,000+ hours, perfect for bathrooms, hotels, makeup studios, hair salons, and more.
👏【Easy to Install】LED Wall Mirror can be installed horizontally or vertically according to your actual situation. The included power cord can be used with a wall outlet, or it can be cut to hardwire the outlet box. It is recommended to use a wall switch with this lighted bathroom mirror to control the lights to reduce your electricity bills.
👏【Worry-free after-sales service】Our luminous bathroom mirror has passed all tests such as drop test, impact test, heavy pressure test, etc., with rubber buffers attached to the four corners, which play a protective role during transportation. If you have any questions about our products, please feel free to contact us, we promise to provide you with the best solution.
Smart Electric Trash Can
This smart electric Trash Can is one of the best hands-free waste disposal cans on the market for a modern home. It uses the latest sensor technology to detect approaching or moving objects from a distance and automatically opens the lid. This keeps your hands free from the can to reduce any contamination.
You can also seal the waste bag in one touch, which is sure to imprerss your guests. All you need to do is to take the filled waste bag out and a new bag will automatically replace the old one.
This can is not just perfect for your bathroom, but a kitchen or living room as well. The rechargeable battery can last up to 5 hours of straight operation, which is months of infrequent usage.
Smart Electric Trash Can Features
Designed to prevent anyone from getting hurt.
Fits all spaces, and lifestyles.
Uses high density energy cells in the battery to ensure that a single charge can last up to 5 hours during operation and 80 days in standby mode.
Supports refill rings up to 20 bags.
Sale
TOWNEW T3 Slim Automatic Infrared Motion Sensor Trash Can with Lid, Self Sealing & Changing 3.4-Gal Waterproof Garbage Can, Bathroom Touchless Trash Cans with Lids- White x1 Refill Ring(Up to 20 Bags)
No Standalone lithium batteries are sold with the product.
【Self-Sealing & Changing in One-Touch】The TOWNEW automatic trash can's thermoplastic technology, seamless sealing guaranteed, zero contact, one-click sealing to keep your hands clean. Just take away the full trash bag, and touchless trash can will automatically fill the new garbage bag.
【Touch-free Motion Sensor Lid】The automatic garbage can is equipped with latest Infrared Motion Sensor that detect movement and all approaching objects within 14 inches above the sensor panel to open the lid immediately.
【Overload sealing & Anti-accidental touching】Adaptive identification system, auto sealing, even in trash overloading situations. Bathroom trash can will automatically sense the location of the excess trash that exceeds the trash can and adapt to the height of trash and extend the trash bag to seal. Trash can with lid also can work, in case of obstacles. Automatically identify obstacles above the lid and intelligently postpone the continuous lid opening.
【Waterproof IPX3】Apply water proof material on self sealing trash can's body, which realize IPX3 water proof for the entire automatic trash can, and prevent from slashing water. Hidden drainage holes divert water, allowing the trashcan to operate freely in humid environments, like the bathroom.
Smart Dehumidifier
This is the world's first smart dehumidifier that offers top-notch flexibility for you to operate in nested or extended form. This product helps bring down humidity in your bathroom and other areas of your house. It is also capable of reducing the buildup of dust mites and mold in your bathroom.
With Smart Dehumidifier, you will enjoy more time relaxing instead of constantly emptying the water tank. This dehumidifier can collect up to 20 pint of water in a single day.
It can also adjust the humidity level in your bathroom from 35% to 85%. When your bathroom becomes dry, you can safely store the unit or extend it to operate to its full capacity.
Even smarter, you can link this dehumidifier to the Midea Cube Air app. This allows you to monitor your house in real time and automatically make adjustments on the fly.
Smart Dehumidifier Features
Enjoy up to 3X longer than a conventional dehumidifier without always emptying the water tank.
The drain hose option provides more flexibility to remove moisture.
You can link this smart dehumidifier with the Midea Cube Air App to monitor the real-time dehumidification status.
Equipped with a high-efficient compressor so you enjoy an ideal home environment and also save on electricity bills.
Sale
Midea Cube 20 Pint Dehumidifier for Basement and Rooms at Home for up to 1,500 Sq. Ft., Smart Control, Works with Alexa (White), Drain Hose Included, ENERGY STAR Most Efficient 2022
SMALLER FORM, LARGER CAPACITY - Up to 3X larger water tank allows the Midea Cube to operate up to 3X longer than a conventional dehumidifier. You can enjoy more time without the hassle of emptying the water tank. Removable Bucket with 12 litre bucket size. Refrigerant-R410a
SET IT AND FORGET IT - Versatile, no-bucket option provides more flexibility to remove moisture. You can remove the water tank and place the unit above the sink using the included drain hose, or position it over a floor drain, near a window or door.
SMART CONTROL (Wi-Fi Connectivity) - You can preset the water level and will receive full-water alert when it is filled. MSmartHome App enables monitoring the real-time dehumidification status (water levels and humidity levels) of Midea Cube whenever and wherever.
LIFT AND TWIST- World's first extendable dehumidifier offers unparalled flexibility - operate in extended or nested form. The nested design means you can easily find a place to store the unit when the space becomes dry, or extend it to its full capacity whenever you need it.
1,500 SQUARE FEET OF COVERAGE - Our dehumidifier is able to collect 20 pint (Similar to 30 Pint-2012 DOE) of water a day and adjust humidity from 35% to 85%, perfect for use in basement, bathroom, bedroom, or crawlspace. Auto restart function limits disruption due to power outages by engaging
LED Ceiling Smart Lights
LED ceiling smart lights bring life to your bathroom, office, basement, kitchen, bedroom, and living room. They are compatible with the Smartlife App for easy linking of multiple lights to work together. You can choose from millions of colors or create the perfect white color to set any mood you want.
The rear RGB backlight is color changeable, while the front downlight adjusts between different whites. Both are dimmable by Smartlife App, Amazon Alexa, or Google Assistant. You can also set up custom schedules that adjust your lighting at different times of the day or week.
This smart LED ceiling light fixture is easy to clean because it is made with superior components like high density polycarbonate and fire-resistance housing. As soon as you pop open the box, you will be greeted with a 12″ Dual Function Smart LED Ceiling Light, User Manual, and Installation accessories like flat head screws, anchorings, tapping screws, wiring Caps.
Led Ceiling Smart Light Features
Compatible with the Smartlife App, Google Home, Alexa, and Tuya.
Made with superior components that provide higher quality lighting and saves 70% on power bill.
This product has a universal mounting baseplate that is compatible with lots of junction boxes.
You can set the lamp as a Wake-Up light to keep to appointments.
No products found.
Smart UV-C Sanitizer and Deodorizer
The Smart UV-C Sanitizer and Deodorizer is an accessory for a smart bathroom. It uses UV-C technology to provide high quality air in any space. It can reduce the development and growth of microbiological organisms including bacteria, viruses, or fungi. It comes in various models and customized features for your needs.
The Smart UV-C Sanitizer and Deodorizer provides fresher and cleaner air for your bathroom and your home in general. It fights germs using Titanium Dioxide to reduce mold spores and airborne bacteria.
If you didn't know that your bathroom was home to millions of germs, now you do! If you're looking for a product that will reduce bathroom odor, then look at the Smart UV-C Sanitizer and Deodorizer.
Smart UV-C Sanitizer and Deodorizer Features
This product helps reduce household odors caused by bacteria or pets.
Doesn't use any filters
Only has a single UV-C light bulb that needs to be replaced every 8 months depending on your use.
Helps you reduce germs, airborne bacteria, and viruses from your bathroom.
Sale
Germ Guardian GG1100W 7" Pluggable Small Air Purifier, Small Room Wall Air Sanitizer, Freshens Air, UV-C Light Kills Germs, Reduces Odors from Pets, Cooking, Mold, GermGuardian, 1-Yr Wty (White)
PLUGGABLE AIR SANITIZER - Provides cleaner air and helps reduce airborne germs and reduce household odors caused by bacteria, pets, and cooking fumes
COMPACT DESIGN - This 7-inch wall-pluggable sanitizer is perfect for the kitchen, litter box room, bathroom, or childrens' room
REDUCES ODORS - Reduce unwanted odors from pets, smoke, cooking fumes, and more
KILLS GERMS - UV-C light helps kill airborne viruses such as influenza, staph, rhinovirus, and works with Titanium Dioxide to reduce volatile organic compounds
NO FILTER REPLACEMENT - Only a single GermGuardian UV-C light bulb (model LB1000) needs to be replaced every 10-12 months depending on use
Kohler Verdara Medicine Cabinet and Mirror
The Verdera Lighted Medicine Cabinet is one of the best products you can install in a smart bathroom. It lets you see yourself in a better light. It delivers shadowless, even, and optimally bright bathroom lighting that's close to natural light.
It has a pull-out magnifying mirror and built-in electrical outlets to make daily grooming easy for you. You can charge your toothbrushes and shavers via the outlets.
This smart cabinet also has a dimmer switch so that you can be in control over your lighting. If your daily routine includes applying makeup, brushing, shaving, or primping, you want this Lighted Medicine Cabinet. This medicine cabinet can be recessed mounted or surface mounted depending on your preference.
It gives you additional storage space, but with smart features and looks.
Kohler Verdara Medicine Cabinet and Mirror Features
Comes with long-lasting LED bulbs (36,000 hour life expectancy).
Helps you eliminate hot and dark spots in the bathroom.
You can adjust the lighting to be as bright or dim as you need it.
Has a pivoting side mirror which allows you to direct light where you need it most.
Verdera 34 in. x 30 in. Surface-Mount Lighted Medicine Cabinet
RUST AND CHIP RESITANT: Anodized aluminum construction with a durable rust-free and chip-free finish
PERFECT LIGHTING: Light designed to be of an optimal brightness and color for grooming tasks
FULL COVERAGE MIRROR: Full-overlay mirrored door and mirrored interior
Surface or Reccessed Installation
OVERALL DIMENSIONS: 34" x 30"
Toto NEOREST Toilet
The Toto NEOREST Toilet is a smart toilet that features a heated seat, air dryer, and air deodorizer to provide you maximum comfort. You can customize your experience in the bathroom with its adjustable temperature and water pressure settings.
This product is made of ceramic glaze to give the bowl a lubricious quality to keep the toilet clean at all times.
The Toto NEOREST Toilet has an auto open and close lid and also auto flushes to enhance your bathroom experience. This smart toilet can transform your mundane trip to the bathroom into a spa-related experience. Plus, there's a functionality to help those with disabilities and limited mobility regain independence and achieve self-care.
Toto NEOREST Toilet Features
Provides convenience and promotes a more hygienic environment.
Has an illumination system that makes navigation to the bathroom easier at night.
Uses electrolyzed water to auto spray the bowl to reduce the frequency of cleanings.
The seat automatically opens hands-free to welcome you in.
Smart Scale (Bonus)
A smart scale, like a regular one, measures your body weight when you step on it. However, smart scales synchronize with your computer or smart phone to provide you with trends and tracking. You can watch your body weight over time and view how adjustments to your diet and exercise affect your weight.
Smart scales also have the ability to take more key measurements other than body weight. A lot of scales can calculate your water content, BMI, and other factors.
Some of the scales in our list also have other bonus features. Some have live voice commands and Alexa integration. They fit well into your smart home.
Check out our full list of smart scales for your bathroom here.
Buy our recommended smart scale directly below. The Withings Body+ scale tracks dozens of essential measurements, including
basal metabolism
body age
water
protein
muscle mass
BMI
body fat
This scale features multiple precision sensors for accurate body metrics analysis. While the bottom of the scale is made of ABS plastic, the surface is of 5mm tempered glass. It fits perfectly into any bathroom and promotes a healthier lifestyle as well.
Withings Body+ Smart Wi-Fi bathroom scale for Body Weight - Digital Scale and Smart Monitor Incl. Body Composition Scales with Body Fat and Weight loss management
FSA & HSA Eligible
#1 BEST-SELLING SMART SCALE In the US. One of the smartest digital scales for body weight, making it a bathroom essential and home must haves in electronic scale.
BODY COMPOSITION - The withings scale functions as a bmi measurement tool or body fat analyzer. This bathroom scale monitors weight, measures body fat & water %, muscle & more. It's a fitindex scale.
HIGHLY COMPATIBLE digital bathroom scale- This digital bluetooth scale, unlike other bathroom scales, syncs with apple watch plus more than 100 top health and fitness apps incl. Apple health & more
AUTOMATIC SYNCHRONIZATION - Data from every weigh-in appears automatically via Wi-Fi in the free health Mate app. Making it easy to keep track at home workout progress. An Amazon must haves.
What smart bathroom products do you have in your home? Comment down below and let us know today!