This is the ultimate guide comparing Writesonic vs Jasper AI in full detail, including:
Pricing
Key Features
Ease of Use
Which is better to produce long form content?
Overall, Jasper AI creates better long-form content with SEO in mind, while Writesonic has more templates to pick from in order to create ads, social media posts, and other marketing material. Jasper is more expensive to use, while Writesonic has a free plan and cheaper paid plans.
Use the buttons below to check out Jasper AI and Writesonic in more detail now.
How to Compare and Buy Jasper AI and Writesonic
Want to compare these two AI content writers in more detail? Check them out and buy them on their official websites.
What is Writesonic?
Writesonic is an AI writing tool that you can use to create SEO-friendly content for Google ads, Facebook ads, blogs, and Shopify. Writesonic is 10X faster than the average copywriter. It's basically like having a trusted copywriter 24/7.
You will need to supply Writesonic with keywords, phrases to work with, or a short description of the content you are targeting. Writesonic will use artificial intelligence to generate high-quality content that serves your copywriting needs. An experienced team of copywriters trains Writesonic, so the results are high-quality, error-free, and plagiarism-free.
This AI writing tool is perfect for copywriters, bloggers, digital marketers, marketing experts, freelancing professionals, and businesses that rely on content to thrive. It's easy to use and supports several integrations.
Writesonic is a newer AI content generator tool, but it has great reviews and really high quality. You'll see below how it stacks up against Jasper AI, the internet's most popular AI writer.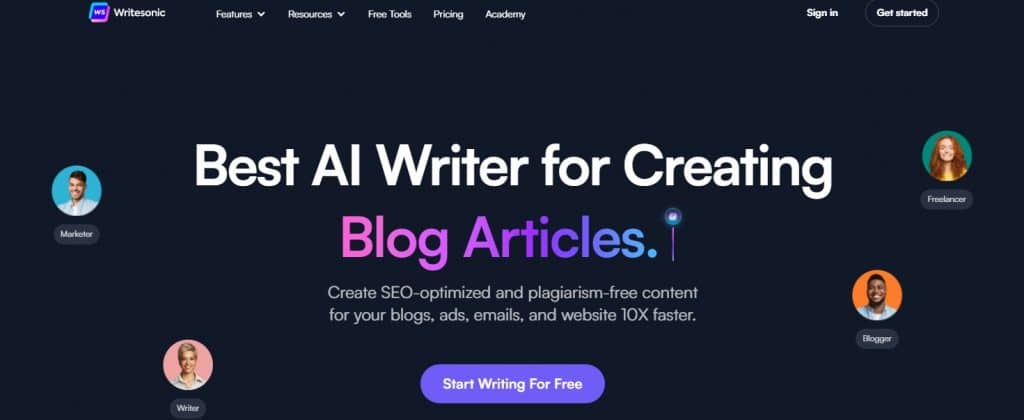 Key Writesonic Features
Writesonic comes with a wide range of exciting features, including:
Create Full Blog Articles
Creating unique blog articles can be overwhelming, especially if you lack the expertise, research understanding, and experience. But with Writesonic, you can make full blog articles 10X faster than any copywriter.
All you need to do is supply the tool with relevant keywords and a short description of the type of content you want. Writesonic will do the wordsmithing and create you content in a matter of seconds.
Create Landing Pages
Writesonic supports landing page content creation. If you have a new website and you want it to rank on Google and other search engines, you can leverage Writesonic to fill your new website with niche-related content.
Writesonic will place keywords in the appropriate sentence, header, or paragraph and prepare content for search engines.
Create Marketing Advertisement
Writesonic also supports marketing or advertisement content creation for Facebook, Google ads, YouTube, and LinkedIn. If you are a digital marketer looking to create content that will wow prospective buyers, you can count on Writesonic to do a perfect job.
Writesonic will help you generate high-quality content that leaves prospective buyers no choice but to click the buy button.
What is Jasper AI?
Jasper AI (previously known as Jarvis) is a helpful writing assistant that can create high-quality, error-free, and plagiarism-free content. Jasper Al is perfect for anyone who needs content to tell their stories, sell their products or services, or even promote their brands to a broader audience.
Jarvis has over 50 different templates to use, which can help you create the right format of content. Aside from providing different content types, Jasper Al is specifically designed to deliver SEO-optimized content.
I'm always amazed at how fast the tool can generate content in seconds. With Jasper Al, you won't worry about writer's disappointment, procrastination, and other challenges businesses usually face with content creation.
Jarvis is one of the top AI content writers today. You'll find plenty of reviews on the tool on the internet.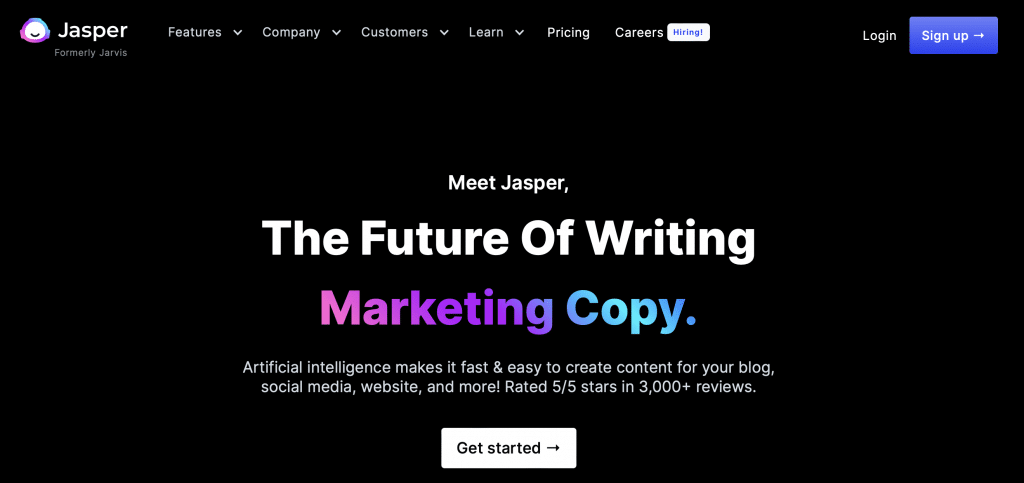 Key Jasper Features
Jasper Al comes with many exciting features that you need to be aware of, including:
Automatically Write Content
Most content writers fear using AI writing assistants because they fear they will get copied content. This is not the case with Jasper Al. Jasper Al will automatically provide high-quality, plagiarism-free content if you type in the right keywords.
Whether you want to create Facebook ads, Google ads, or blog posts, with Jasper Al, you can do so on auto-pilot.
AI Art Generator
Jasper has a custom AI image generator built into the tool. You can feed in a text input and Jasper will generate you artwork and images that match your query. This is a quick way to create social media and blog post images automatically without learning any graphic design.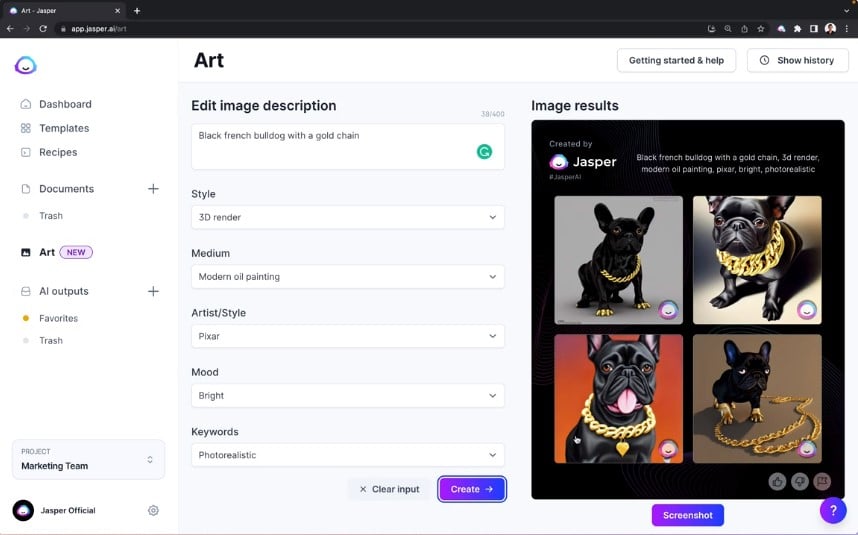 Create Content in 26 Languages
Jasper Al supports over 26 languages and lets you translate your content from one language to the other. The benefit of this is that you can create content to reach a wider audience, sell at an international marketplace, or even communicate with your foreign audience.
Writesonic vs Jasper AI Pricing
Both Writesonic and Jasper Al have different pricing templates.
Writesonic Pricing
Writesonic comes in three pricing tiers: free trial, short form, and long form. Let's take a look at the details of each plan:
Free trial
The free trial plan is very straightforward, with no credit card required. The total number of words you get with the free trial plan depends on your chosen writing quality: average, good, economy, or premium. This plan comes with the following features:
1 user
6,250 words
Landing page generator
25+ languages
70+ AI templates.
Zapier integration and browser extension.
Sonic Editor (Google Docs-like Editor)
Short-form – $10/month
This plan is for hobbyists that are just starting. This plan lets you create short-form content like Facebook ads and Google ads. It accommodates up to 4 users. The plan comes with the following features:
1-Click WordPress Export
Landing page generator
25+ languages
70+ AI templates.
AI Article Writer
Zapier integration and browser extension.
Sonic Editor (Google Docs-like Editor)
Long-form – $13/month
This plan is designed for freelancers, bloggers, and businesses. This plan lets you create long-form content like ebooks, blog posts, and more. It comes with the following features:
All short-form features
Up to 10 users
5,000,000 words
Each price listed above is for a base set of words per month. If you want more generated, you can easily add on to your plan as you need. I like this approach because users who want to generate Google ads and social media posts don't pay as much as those who want to write full blog posts.
Jasper Al Pricing
Jasper Al is available in three pricing tiers: Starter, Boss Mode, and Business.
Starter – $29/month
The Starter pack is for hobbyists that are just starting. It comes with the following features:
Access 50+ AI templates
Can generate short-form content product descriptions and social media ads.
Invite up to 5 users to your account.
20K+ words
Supports over 20 languages
Boss Mode – $59/ month
This plan unlocks features like Google Docs style editor, long-form assistant feature, and command and compose features. Other features are:
Up to 50K words of content
Supports over 20 languages.
Access to more than 50 templates.
Business plan – Custom
The business plan is for high-scale teams. The plan is customizable. You will need to contact the sales team to get a quote tailored to suit your business.
Writesonic vs Jasper AI: Detailed Comparison
SurferSEO Integration
One concern that every copywriter or blogger craves is whether their content will be optimized for search engines. Jasper Al and Writesonic both understand this worry, and that's why both tools integrate with Surfer SEO.
Surfer SEO is a leading SEO tool that can analyze content and make suggestions where you need to make changes for the content to rank on Google. It's similar to Frase, which also does something similar.
Winner: Draw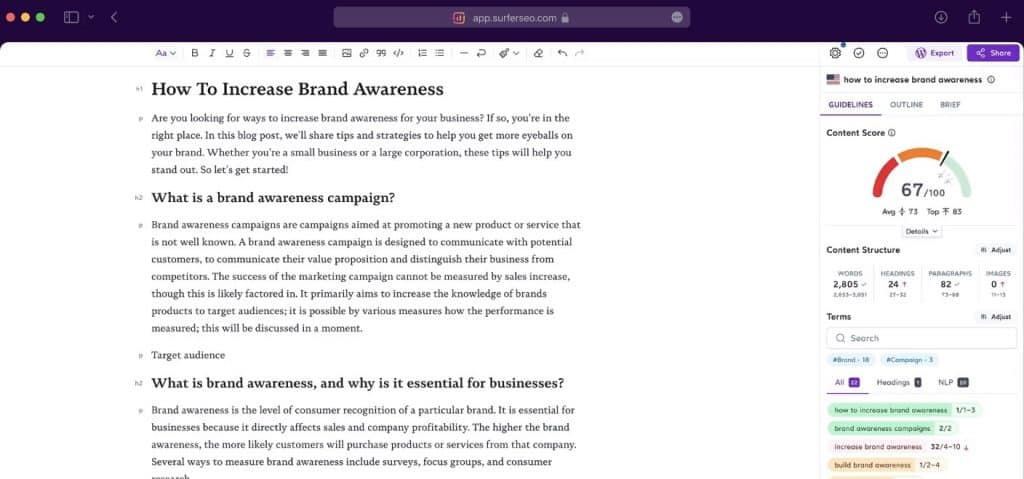 User Interface and Ease-of-Use
Writesonic's interface is user-friendly. It makes creating content more accessible, as it's geared towards using pre-made tools and templates.
The interface is also a lot more colorful and emphasizes recommended templates like "AI article ideas," "article rewriter," and "instant article writer." Whatever you select, you need to feed Writesonic a focus keyword and a description in order for it to get started.
On the other hand, Jasper has a better user interface and is fun to use. It also has a much more intuitive interface. Upon signing up for an account, you'd be greeted with a not-too-cluttered interface and a handful of options.
Most of the platform's powerful functionality is not within immediate view. There's also the "Documents" window where you can begin a new workflow or access past drafts. Jasper Al's interface has many user-friendly templates you can use to create creative stories, blog posts, Facebook ads, etc.
Winner: Jasper AI
Types of Content
Writesonic is better regarding the types of content you can generate using both AI tools. Writesonic focuses on blog posts, landing pages, ad text, emails, tweets, product descriptions, and Instagram captions. The tool does a good job tailoring your output to the style that you ask it to write.
Writesonic supports long-form content. This feature is even included in their lower plan, but is something you have to pay for Boss Mode from Jasper for.
On the other hand, Jasper Al is ahead of Writesonic in creating long-form content. It does a better job generating a cohesive output that is longer than 500 words at a time. However, this feature is only available in the premium plan.
Jasper Al also supports the creation of blog posts, social media ads, and emails. Jasper will guide you through the content creation process – from start to finish. All you need are just ideas.
Winner: It Depends
Number of Templates
Writesonic is better regarding the number of templates offered and how the templates are presented. Writesonic comes with over 70 templates to help you write better copy. The templates are grouped into ads and marketing tools, articles and blogs, eCommerce, general writing, website copy, and social media.
Writesonic's recommended section also featured templates like the AI Article Ideas, Article Rewriter, and Instant Article Writer. However, many of these templates are not available to those on the free plan.
Within Writesonic, you can also suggest a new output type. The team does a good job taking requests and adding new options to its interface.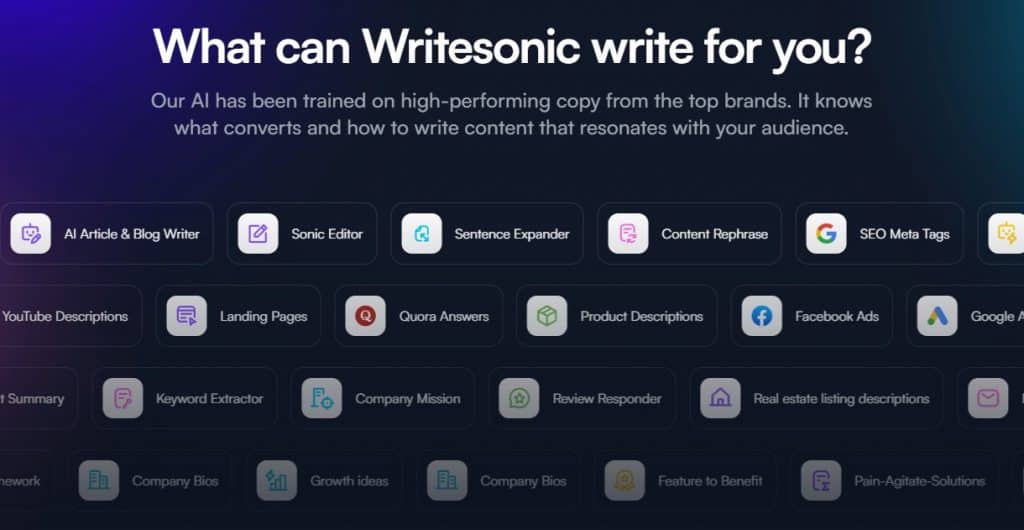 As for Jasper Al, you are be greeted with over 60 templates. In order of priority, the first two listed templates on the site are "documents" and "commands." They also have prescriptive templates like copywriting frameworks to enable you to create social media copy, website copy, long-form content, and whatever else you need.
I always find that Jasper's open document editor is smoother to use than its pre-made templates. You can open up a document and start writing your text. With a single click, you can get Jasper's AI to take over and write a few additional sentences for you.
Winner: Writesonic
Artificial Intelligence
Both AI copywriting tools are engineered using the GPT 3 technology, but Writesonic offers more rigid frameworks, making it easier to use.
GPT-3 is an acronym for "generative pre-trained transformer." It's an upgrade of the previous model (GPT-2) and remains the most complex language in the industry. It boasts over 175 billion parameters, no wonder Writesonic and Jasper Al are leveraging the technology to generate content.
One of the most impressive features of GPT-3 is that it can generate human-readable and SEO-friendly content. GPT-3 is popular for generating long-form content and other types of copies.
Both Writesonic and Jasper have their own models which refine the basic GPT-3 functionality and improve it with more features.
Winner: Draw
AI Art Generation
Both Writesonic and Jasper have their own AI image generator included in each tool. From my experience, both tools output a very similar result. I find that Jasper AI's results tend to be a little bit more detailed. However both tools are fun to play around with and try out.
If you want to try out an image generator for free, Canva recently released a free version of their AI image generator tool.
Winner: Draw
Integrations
For integrations, Writesonic is slightly better than Jasper Al. It comes with its own WordPress plugin to make publishing smoother. This is an added advantage if you run a blog as you don't get to spend extra time uploading your content to WordPress.
Writesonic also supports Semrush and Zapier, two powerful tools to improve your work. With Zapier, you can setup automatic integrations with hundreds of other applications.
On the other hand, Jasper Al integrates with only SurferSEO, a content optimization tool. SurferSEO lets you plan, outline, and optimize your content for a given topic and keyword. As you write, it will tell you specific keywords and topics that you need to cover in your text.
Winner: Writesonic
Which is Better: Writesonic vs Jasper AI?
The best AI writing assistant depends on your use case. Writesonic has many more user-friendly templates, while Jasper Al has more flexibility.
Writesonic is not as expensive as Jasper Al. Writesonic has a free plan, and its cheapest paid plan starts at $10/month. To get the most out of Jasper, you need to subscribe to the Boss Mode plan, which gives you access to the full text editor and suite of features.
Writesonic is better if you're looking to write short-form content like emails and social media ads. It has more templates to draw from, which cater the output to what you want.
Jasper Al is preferred for long-form content. It writes with SEO in mind, so you can create content that is close to being ready for your website or blog. The editor allows you to write on your own and use AI to supplement your output when you get writers block. It is a natural way to produce content if you don't want to only use AI exclusively.
Writesonic is better and most desirable for solo creators, while Jasper Al is stronger for teams and multiple users. Both tools have fantastic customer support, use similar technology, and generate high-quality content.
Frequently Asked Questions (FAQs)
Is Writesonic better than Jasper?
Writesonic is better than Jasper is certain ways. Writesonic does a good job automatically generating text for landing pages, social media posts, paid ads, and other digital marketing applications. Jasper includes some of these templates too, but Writesonic does a better job generating unique and high quality results.
Are Jasper AI and Writesonic good for SEO?
Both Jasper AI and Writesonic are developed so that their AI content is 99.99% unique and passes all plagiarism checkers. Google's Helpful Content Update is designed to pick up on AI writers, but Jasper and Writesonic are both able to bypass this check.
Will Jasper replace copywriters?
One day, Jasper might replace all copywriters. However, the tool generates its results based on artificial intelligence and the output doesn't always have 100% accuracy in its statistics and facts. A real person is still required to format, edit, and check the content for accuracy.
How do Jasper AI and Writesonic work?
Jasper and Writesonic use artificial intelligence to compile sentences of information together in a logical and unique way. They use AI models such as GPT-3, along with in-house developed ones, to write content that accurate and positive for SEO. Since it can generate outputs in milliseconds, it can type the result into the document editor in a fraction of the time that you can.