Take control of your day with smart AI calendar software that schedules your life and business better. In this guide, we review some of our favorite calendar tools.
We'll go over:
Features in good calendar tools
Review of the best AI calendar software
How you can sign up and try one today
The software in this list can help you accomplish more goals faster. You can pair it with an AI SEO tool or Article Generator and really get more done.
If you use a different AI calendar software you want us to know about, comment down at the bottom of this guide!
The Best AI Calendar Software
In a hurry? Our top recommended calendar software is:
Key Features in the Best Calendar Softwarer
Whn we were looking for the best AI calendar software, there were a few key features we were looking for.
Automatic Meeting Scheduling
More than just connecting to your calendar, we wanted a tool that would automatically schedule meetings at the right time. The tools below use artificial intelligence to fill your calendar at the right times, minimizing wasted space in your calendar.
Tracks Meeting Details
A lot of the calendar tools in this list can understand details about your meetings and events. If you have a meeting with other people, it will log that information in your CRM. If your event has a deliverable, it will make sure you attach it. These details are important in the future, when you are trying to remember information.
Integration With Other Tools
Your calendar shouldn't sit on an island by itself. Good AI calendar software integrates with other key software like Google Docs, Slack, Salesforce, Zapier, and HubSpot. This allows for maximize consistency across all of your applications.
Next, we take a look at our recommended AI calendar software tools in more detail.
CalendarHero Review
CalenderHero is an AI-powered calendar software that lets you schedule meetings and get work done fast. CalendarHero uses AI to automate remote meeting scheduling. With this software, you don't get to answer "when will you be free"?
You can link your video provider to your CalenderHero account. This app works with Zoom.us, Google Hangouts, and Cisco Webex. It also works with Microsoft Teams and GoToMeetings.
CalendarHero connects to the software you use everyday like Google Drive, Slack, HubSpot, and Microsoft. This connection enables you to automate meeting tasks like updating your CRM, searching for files, and finding candidates insights.
Online, UC Santa Barbara, and Forrester use CalenderHero to schedule meetings and get work done fast.
CalendarHero Features
Gives you insights and meeting briefings, including attendee details from your CRM or ATS.
Makes it easy to book any meeting, from group meetings to calls without the back and forth.
Connects with your tech stack to automate your meeting tasks like file search and video conferencing.
Integrates with Google Drive, Microsoft, and HubSpot.
Click here to view CalendarHero.

Calendly Review
Calendly is calendar software that uses artificial intelligence to schedule meetings without the back-and-forth emails. It works best for both individuals and businesses. Here is how it works. You will set up the software by letting Calendly know your availability. You then share your link via email or embed it on your website.
Once your client clicks on the link, they will be able to choose a favorable time and the appointment automatically adds to your Calendar. Calendly has tools that you can use to set up auto reminder email to attendees.
This AI-powered tool integrates with Salesforce, Zoom, Zapier, HubSpot, and GoToMeeting. To get the full benefits, you need to subscribe to a paid plan.
Many companies like LinkedIn, Zendesk, and University of Georgia use Calendly to boost their operations. These brands share their Calendly link to easily schedule appointments.
Calendly Features
Works with Outlook, Google, iCloud calendar, and Office 365 for easy meeting scheduling.
Lets you have control over a wide range of things, including creating event types and preventing last minute meetings.
Integrates with Salesforce, Zoom, Zapier, HubSpot, and GoToMeeting to get more done in less time.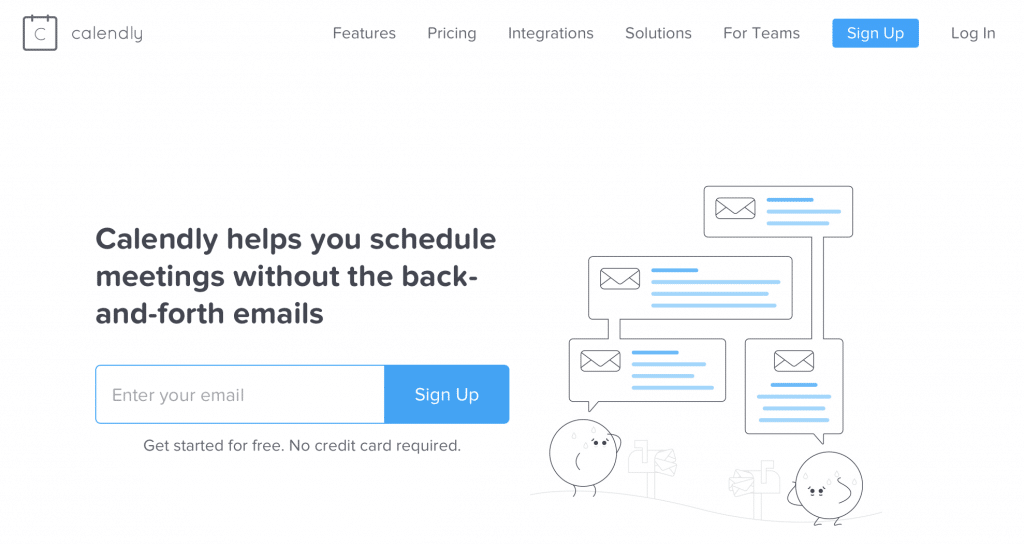 Acuity Review
Acuity is an AI-powered calendar software that lets you say goodbye to phone tags. It uses artificial intelligence to customize your scheduling page so that your client can easily see their appointment times in real-time.
Acuity integrates with powerful third-party apps like Stripe, Square, and Zapier. It also integrates with PayPal. If you connect Acuity to Zapier, you can do things like getting notifications in your chat app whenever a meeting is scheduled
LLAMA-STE, Gavin's Global Goodies, and Schooner Coaching use Acuity to schedule appointments with their customers in real-time.
Acuity Features
User-friendly, plus there are no commitments or the use of credit cards.
Helps you manage multiple locations and employees and let you show your clients the calendar you want them to see.
Enables your clients to easily cancel or reschedule their appointments.
Lets clients fill out intake forms at the beginning; thus, letting you gather more information about them at no cost.
Click here to view Acuitly Scheduling.

Sidekick Review
Sidekick is a first-of-its-kind AI calendar software that helps both individuals and businesses to book meetings in real-time. It uses AI to sync with Outlook and Gmail to take the back and forth of scheduling off your plate. In short, individuals use this software as their personal assistant.
Sidekick lets you add your favorite meeting locations regardless of where you live. You can block any attendee on your contactor set to auto-schedule to avoid extra action items. Additionally, you can check your meeting scheduling status and make changes as necessary.
There are 4 different ways to schedule meetings on Sidekick. You can send contacts to Sidekick with your unique link or forward email meeting address requests directly to Sidekick. You can also ask Sidekick to schedule and turn on auto scheduling.
Popular brands like Grand Rapids Business Journal, 13 on your side, and MiBiz use SideKick to schedule appointments. They also use this tool to schedule meetings with their clients and stakeholders.
Sidekick Features
Lets you spend less time emailing. The tool will handle all your bookings.
You can prioritize contacts and customize availability.
Instead of disclosing your full schedule, this software offers limited time slots.
4 different ways to schedule meetings.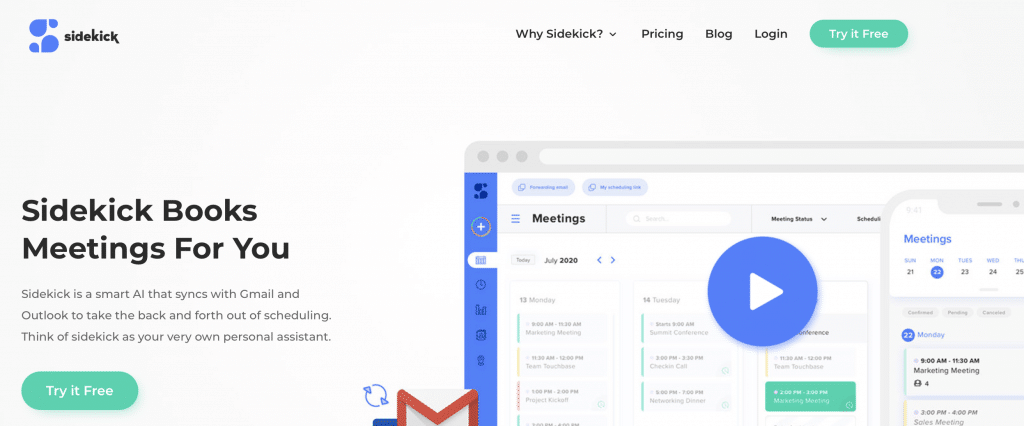 Julie Desk Review
Julie Desk is an AI-powered virtual assistant that schedules meetings for you within seconds. Julie Desk used both artificial and human intelligence to manage all your meetings so that you can focus on things that matter most. No more back and forth email: just copy Julie in your emails and she will manage all your appointments according to your preferences.
If you have unexpected events, Julie Desk can help you postpone or cancel the event without you lifting a finger. What about best deals on train tickets or flight, this AI personal assistant can help you book flights and purchase train tickets. All you need to do is to send an email when you need to schedule a meeting.
Google Calendar, Office 365, and Exchange are some top brands that use Julie Desk to automate tasks like appointment bookings and flight bookings.
Julie Desk Features
Provides end-to-end solutions designed for Web App.
Offers Room Booking Management, Recurring Appointments, Multi-Location, Online Booking, Automated Scheduling at one place.
You can use this AI calendar software to set recurring appointments.
Can remind you of the next appointment on your to-do list.
Click here to view Julie Desk.

Plan Review
Plan is an AI-enabled software that helps users to automate work life so that they can work less and do more. Plan uses AI to make teams and individuals more productive everyday.
This software intelligently organizes tasks and projects from different tools, including JIRA, email, calendar, and GitHub. Plan also works with Zendesk and Salesforce.
Plan can help you create a task, assign a due date or schedule a time to work on the task. It can also help set a task to recur everyday of the week.
Buzzfeed, Uber, JP Morgan, and Twitter use Plan to achieve more in less time.
Plan Features
Lets you assign tasks to your teammates.
Provides a brief history of a task's activity in the task details pane. It shows when a task was created and when it was assigned.
Accounts for the total time spent working on a particular task.
Allows you to easily export data.

Clockwise Review
Clockwise is a calendar software that frees up users' time so they can focus on what matters in their businesses. At its core, Clockwise uses the power of artificial intelligence to help you find time for important business activities. Whether it is a strategic plan or a research project or even your next big idea, Clockwise has got you covered.
Additionally, Clockwise can help you take care of busywork like handling different time zones and resolving meeting conflicts.
If you are struggling to get things done during the work day, Clockwise is certainly meant for you.
Slack, Envoy, Curology, and Twitter use Clockwise to make their teams and employees to be more productive.
Clockwise Features
Moves meetings to the least disruptive time for teams, maximizing everyone's productivity.
Takes care of the busywork, so you can focus on your work instead of micro-managing your calendar.
Lets you sync your calendar to your Slack so your teammates know you are unavailable at a glance.

Any.do Review
Any.do is a smart app used by individuals and businesses to stay organized and get more done. Any.do uses AI to organize your tasks, reminders, and lists in one easy to use app. Any.do works seamlessly across all your devices.
Any.do can help you keep track of your progress. It has turbo-charging powers and beautiful themes that will help you achieve great things. You can access Any.do on mobile desktop, laptop, mobile, and tablet.
Your tasks are automatically synced across all of your devices, giving you ultimate control.
Any.do Features
Lets you create reminders with natural language and never forget a thing.
Can help you streamline your grocery shopping experience and automatically sort your grocery items.
Works perfectly with tools like Alexa and Siri.
Helps millions of people save time and do the things that really matter.

Fantastical Review
Fantastical is an AI-powered calendar software that lets you schedule meetings and keep all your tasks and events in sync. This tool syncs all your custom calendar, weather settings, notification, and more.
With Fantastical, you can quickly access the files, photos, and documents needed in your next meeting. You can also upload your files from Fantastical to your iCloud, Exchange events or Google.
This AI software connects seamlessly across your Apple Watch, iPhone, and iPad. Users of Mac can also connect their systems with Fantastical to get work done faster.
Fantastical Features
Takes the hassle out of planning events and coordinating invitees, allowing you to schedule complex events quickly and easily.
Can create quick templates from existing events and tasks.
Lets you group different calendars and task lists together, letting you quickly toggle them all on and off at once.
Design and complete your projects directly in Fantastical.
Click here to view Fantastical.
Woven Review
Woven is one of the best AI-powered calendar software with powerful scheduling tools. Woven lets you plan your day with multiple calendars in one place. In fact, Woven uses AI to enable you to schedule all appointments, meetings, and events from the app. It does this so that you can focus on other important aspects of your business.
With Woven, you can poll your groups, search people's availability, and share your scheduling links to book appointments from your calendar.
This tool connects with Google, G Suite, and Office 365 for easy file sharing and file searching. It also works with Google Hangouts and Zoom so that you can easily organize virtual meetings.
Woven Features
Makes it easy to plan, join, and manage video events.
Helps you schedule meetings with Zoom or Google Hangouts.
Built for remote work.
Lets you plan, schedule, and manage all your events directly from your calendar.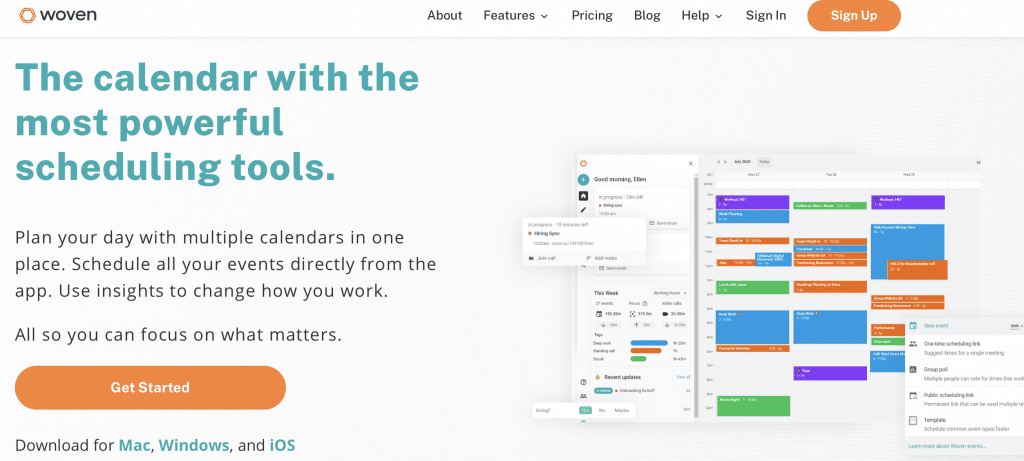 What is your favorite AI calendar software? If you have used any of the options in our list or anything else, comment down below. We want to know what individuals and businesses are using to schedule their day better.