There is lots of money to be made in the volatility and swing of cryptocurrencies like Bitcoin, Ethereum, and other altcoins. In this guide, we review the best AI crypto trading bots and software that can watch trends and trade on your behalf.
We'll go over:
The best trading bots for cryptocurrency
What exchanges each bot supports
How this software works
How to sign up for each trading bot today
Unlike automated stock trading bots, these bots are for cryptocurrencies only.
If you use a different ai crypto trading bot, comment down below and let us know.
What are the Best AI Crypto Trading Bots?
Next, we go over our favorite AI crypto trading software tools in more detail!
Quadency is an asset management robot built for cryptocurrencies. Quadency uses the power of artificial intelligence to provide trading solutions for both retail and institutional traders. It also streamlines all well-known crypto trading strategies.
No matter the exchange you used to access the crypto market, Quadency helps you gain deeper insights on all your holdings in real-time. This tool helps you start trading automatically very fast. Quadency lets you choose from pre-built popular strategies or customize your own to your liking.
Quadency lets you monitor all your digital assets even when you are offline. Plus, you can view prices, save charts, and customize your trading interface. Quadency connects to a number of exchanges, including Coinbase, Bittrex, Binance, KuCoin, Gemini, Poloniex, Kraken, and Bitfinex.
For the pricing, this bot offers Lite, Pro, and Unlimited plans. The Lite plan is free, the Pro plan costs $49 a month, while the Unlimited plan costs $99 per month. The Pro and Unlimited plans give you unlimited exchange accounts, wallets and cold storage tracking, transaction history storage, advanced trading terminal, and much more.
Quadency Features
Offers a variety of trading bots that can be customized with ease.
Customize your bots to your own personal preferences
Provides a range of automated tools and advanced TradingView (social network) charting
Good customer support

Haasbot is the world's most advanced automated ai crypto trading bot. This robot lets you trade on more than 16 bots in minutes. Haasbot offers over 50 technical indicators, insurances, and safeties that can be used to create complex strategies.
Additionally, Haasbot also helps you reduce risk with backtesting and simulated trading. This bot connects to a number of crypto exchanges, including Binance, Bittrex, Bitfinex, BitMEX, Gemini, Kraken, Coinbase and Bitstamp. It also features more obscure crypto exchanges too.
Haasbot offers three pricing tiers, Beginner, Simple, and Advanced. The Beginner plan costs ₿0.011, Simple plan costs ₿0.02, and the advanced plan costs ₿0.033. Each of these plans will fetch you more than 10 active Trading Bots, access to safeties, insurances, and indicators.
Haasbot Features
Offers programmable script bots that are written in C#.
Integrate backtesting with Discord (VoIP) and Telegram applications.
Offers a customizable dashboard.
A good beginner tutorial helps you understand the platform.
Click here to view Haasbot in more detail.
Shrimpy is a social trading platform for cryptocurrency. This AI crypto trading bot can help you improve performance and reduce risk. It can also help you monitor the crypto market, track performance, and build portfolio strategy.
You can connect Shrimpy to all your crypto exchange accounts in one place. Doing this will automate your trading strategies so that you take profit in real time. Shrimp will guide you on when exactly when to enter and quit trade positions.
Shrimpy uses AI to let you copy the trading strategies of expert traders and build simple portfolio management. It connects to a wide range of exchanges, including Coinbase, Bittrex, Binance, Poloniex, KuCoin and Kraken.
Shrimpy has three pricing tiers – Holder, Professional, and Enterprise plans. The Holder plan is free and the Professional plan comes at a premium of just $13 per month. The Enterprise is customizable for businesses to join Shrimpy in bulk. With both the Professional and Enterprise plans, you get portfolio tracking, performing monitoring, cold storage support, and multiple portfolios.
Other features of both plans are access to unlimited exchanges, blacklist assets, asset balance tracker, and exchange listings.
Shrimpy Features
The API key is securely encrypted and stored using FIPS.
AI features to simplify your portfolio management.
Allows you to view the live market price of your book
Offers a dashboard that includes statistics about each asset and performance metrics of a portfolio.
Click here to view the Shrimpy AI crypto trading bot.

Cryptohopper is an AI crypto trading bot that lets you manage all your exchange activities in one place. This tool allows you to trade different crypto pairs, including BTC, Ethereum, Litecoin, and more.
At its core, Cryptohopper helps you trade the crypto market without fear or emotions. On top of that, you will gain access to a wide range of trading tools that will help you take profit. These tools will also insulate you from market risks.
This tool connects with exchanges like Binance, Coinbase, Bittrex, Bitfinex, Binance and more. You can increase your profit no matter where your account is set up.
Cryptohopper offers two pricing plans – Pioneer and Explorer. While the Pioneer plan is free, the Explorer is $19 per month. At this price tag, you get portfolio management, manual trading, all coins for signals, and more.
Cryptohopper Features
Algorithms support EMA, RSI, BB and other common signals/indicators.
Allows you to create your own technical analysis.
Easily find strategies and bot templates.
Protects your account through secure protocols.
Provides real time performance reports.
Supports iOS and Android devices.
Click here to view Cryptohopper.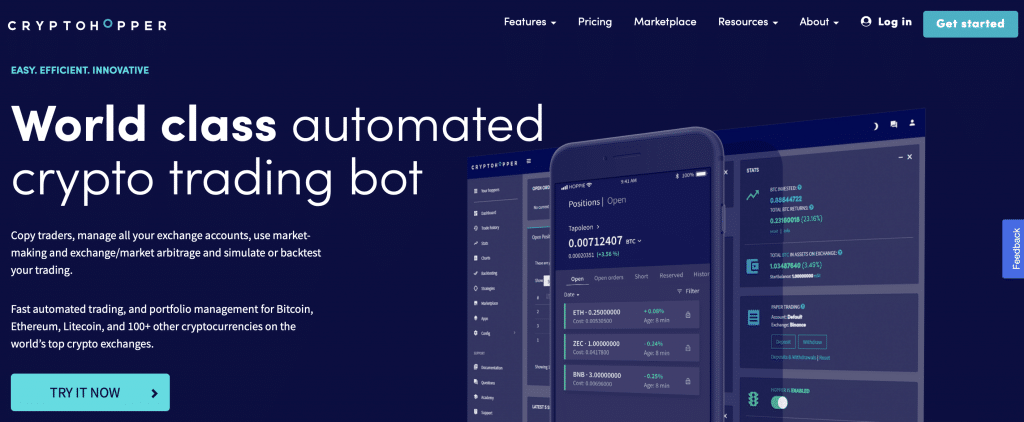 Bitsgap is a powerful AI cryptocurrency trading bot that you can use to make smart trades. This bot is perfect for arbitrage across multiple crypto exchanges. It works by using AI to analyze over 10,000 crypto pairs and market conditions. Then, it suggets the coin pairs that will generate you the most profits.
It lets you connect to over 25 exchanges on which you can trade your preferred coin pairs automatically. Bitsgap comes with a 14 days free trial, after which you can subscribe to a paid package. You can login to access your dashboard using Google or Facebook accounts.
Bitsgap offers arbitrage trading across most major cryptocurrency exchanges, including:
Binance
OKEX
Bitfinex
HitBTC
Bittrex.
Huobi
Kucoin
Kraken
Poloniex
In addition, the bot offers portfolio tracking features so that you can track your portfolio performance in real-time. For the monthly subscription pricing, the basic plan costs $19/month, while the advance and pro plans cost $44/month and $110/month respectively.
Bitsgap Features
Lets you view your trades on a user-friendly interface with easy-to-read charts.
The robot allows you to create your own technical analysis.
You can test settings before implementing and investing.
A fully automated bot that works 24/7.
Over 100+ technical indicators and 12 chart types for quick crypto research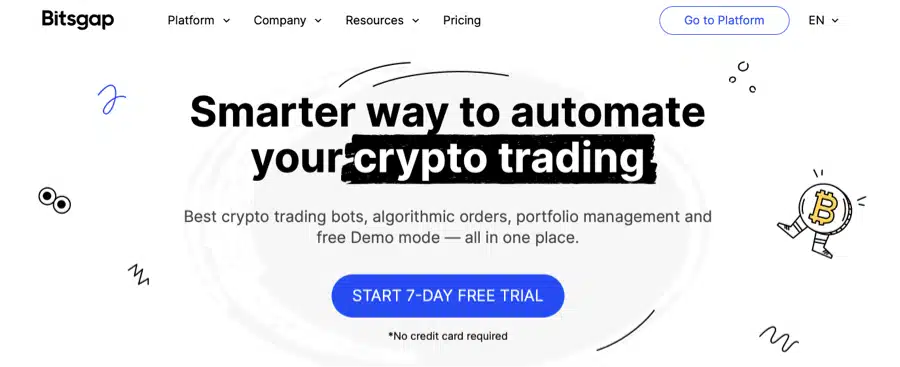 B-Cube AI Crypto Trading Review
B-Cube is an AI crypto trading bot for traders, investors, and anyone in between. This bot lets you connect to your favorite crypto exchanges and trade on auto-pilot. It works by making use of technical analysis, sentiment analysis, and complex mathematical models. Once installed, this bot can start working in less than 5 minutes.
You do not need any coding knowledge to use B-Cube. This tool will place trade on your behalf without you lifting a finger. It can also help you monitor the market for potential trade opportunities, even when you are asleep.
It connects to a number of exchanges, including Binance, FTX, Binance, BitMex, and KuCoin. B-Cube is highly transparent, in that you can view your trade history with the timestamps.
B-Cube prices their service based on which trading bot you want to use. Each bot's price is based on its historical gains over the past year of trading. You can start making money with a crypto trading bot for just 19 Euros per month.
B-Cube Features
Perform technical analysis with ease
Offers a drag and drop editor to choose and customize your bot
Works 24/7
Perform unlimited backtests (the process of applying a strategy to historical data)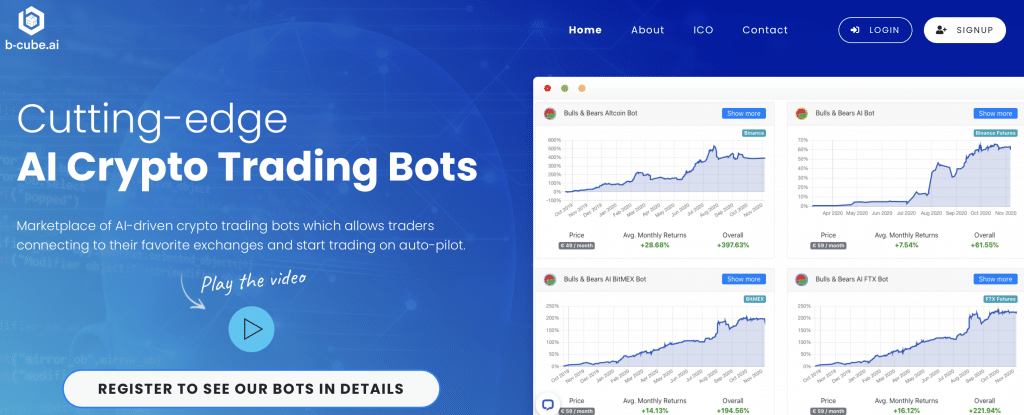 Bitonyx Review
Bitonyx is a fully automated AI crypto trading bot. Bitonyx uses proven and tested market neutral strategies to set up trades on auto-pilot. It works 24/7 based on neural network and machine learning algorithms.
Bitonyx uses proven indicators to recognize trends and execute trades automatically. While it is impossible for a human trader to keep track of over 700 cryptocurrencies on different exchanges, Bitonyx does this on auto-pilot. This bot has a high success rate because it doesn't use conventional trading metrics and analysis.
Bitonyx connects to different exchanges, including Binance, Bittrex, Gemini, Kraken, Bitfinex, BitMEX, and Bitstamp.
Bitonyx offers a single plan and you only pay based on how long you want to subscribe. For a single month, the cost is $9.99, but a full year is only $8.29 per month.
Each of these plans feature analysis of over 500+ cryptocurrencies with over 70 techniques to find the best trades.
Bitonyx Features
Complete automated crypto trading bot designed for everyone.
Has a good referral program to bring others onto the platform.
Trade over multiple exchanges within one window.
Easily launch trading bots with a short and long strategy
Provides 24/7 support.
Allows you to buy or sell a large volume of crypto without any hassle.
Click here to view the Bitonyx Crypto Trading Bot.

Trality Review
Trality is an AI-powered crypto trading bot that is made for developers and more technical traders. Trality is also for crypto enthusiasts who want to profit from algorithm crypto trading without quitting their 9-5 jobs. With this trading bot, your funds and algorithm are safe. Trality only uses official exchange APIs.
Python programmers can code sophisticated trading algorithms to boost their potential profit. Trality runs 24/7 and never misses a trade opportunity. Additionally, it works with exchanges like Binance, Kraken, Bitpanda, and Coinbase Pro.
Trality has four pricing plans – Pawn, Knight, Rook, and Queen. The Pawn plan is free of charge but with limited features. The Knight, Rook, and Queen plans cost €9.99, €39.99, and €59.99 respectively. Each premium plans will get you high trading volume, virtual bots, live bots, long retention, and back-test features.
Trality Features
Drag-and-drop graphical interface for beginners
Comes with an in-browser Python code editor for advanced traders
Cloud-based live-trading. Your algorithms run reliably 24/7 and never miss a trade
Lets you fully automate your crypto trades over different exchanges at once.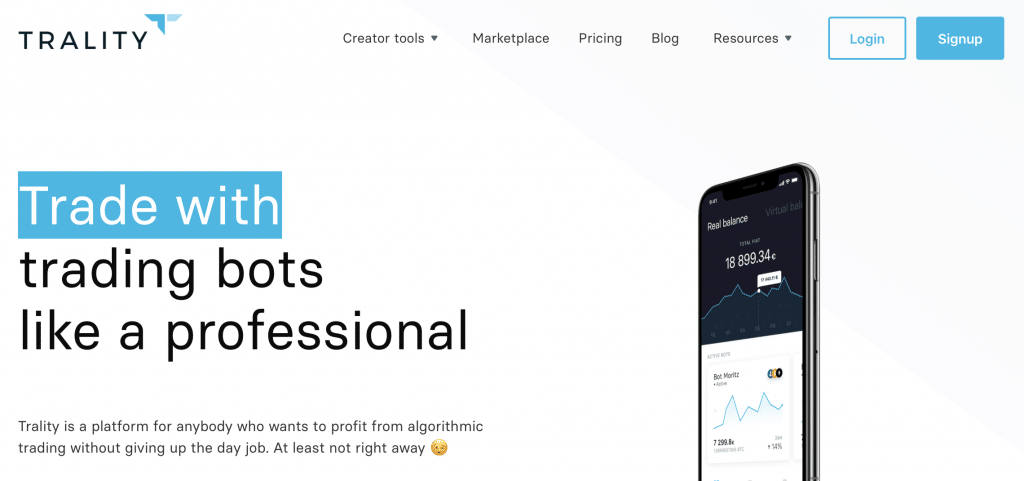 Stacked Review
Stacked is an artificial intelligence enabled crypto trading bot designed to help you manage your portfolio in one place. This tool securely connects to all of your crypto exchanges at once to manage your holdings.
Stacked connects to popular exchanges like Bittrex, Poloniex, Binance, and Coinbase.
Stacked has two pricing plans – Lite and Invest. However, both plans are now completely free to try to start out on. Both plans give you access to a strategy marketplace, where you can implement different techniques to your crypto trading.
Stacked Features
Offers a safe environment for trading.
Provides more than 15 trading strategies.
Enables you to manage your savings with ease.
Track the output of your investment from your cell phone.
Click here to view the Stacked Crypto Trading Bot.

Coinrule Review
Coinrule is an automated crypto trading bot platform that uses AI to understand trade signals and analyze the crypto market for favorable opportunities. This bot also trades on your behalf even when you are asleep or at your 9 to 5 job. It offers over 130 trading strategies templates.
You do not need coding knowledge to use Coinrule. In fact, it empowers newbie traders to compete with professional algorithm traders and hedge funds. It can help you keep track of the market so that you know when to open and close trade positions to take profits.
Coinrule connects with exchanges like Bitfinex, Bitstamp, Coinbase, BitMEX, HitBTC, and Binance.
Coinrule has four plans for traders to choose from. It has the Starter plan, Hobbyist plan, Trader plan, and the Pro plan. While the Starter plan is free of charge, others cost $29.99, $59.99, and $449.99 per month respectively. The premium plans give you live rules, demo rules, template strategies, and huge trading volume. You also get leverage strategies, free access to a trader community, and much more.
Coinrule Features
Offers real-time customer service.
Allows you to test rule performance on past data.
Set custom rules for trading.
Has a market indicator that helps you to allocate funds with ease.
Provides military grade encryption.

Pionex Review
Pionex is a crypto exchange that's equipped with at least 12 free trading bots right inside the platform. With as little as 0.05% in trading fee, Pionex's AI crypto bots can trade the crypto market on your behalf.
You can rely on Pionex to automate your trades 24/7 without sitting in front of a computer to check market updates. The company aggregates the liquidity from top exchanges like Binance and Huobi Global. It can detect micro-level changes in the market and take action before everyone else does.
One of the most prominent trading bots on Pionex is the Grid Trading Bot, which can help you buy low and sell high. It also provides you with up to 5x leverage.
There's also the Spot-Futures Arbitrage bot, which can help you get a payout every 8 hours on Binance. You can also use the Rebalancing Bot to balance your investment portfolio and lookout for profitable coins to include in your portfolio.
Pionex offers a free trial, but charges a small trading fee of 0.05% for maker and taker.
Pionex Features
The Leveraged Grid Bot provides up to 5x leverage.
The Spot-Futures Arbitrage bot helps you earn 15-50% APR with low risk.
The trading fee is very low compared to other exchanges.
It has a smart trade terminal where you can set up stop loss, trailing, and take profit in one trade.
KuCoin Review
KuCoin is a popular cryptocurrency exchange that offers trading services to crypto lovers outside the US. KuCoin has its own trading bot, which the exchange launched in early 2021. The bot is designed to help beginners stay on top of the games and also automate their trades 24/7.
The trading bot has lots of exciting features, including:
Classic Grid
Futures Grid
Dollar Cost Averaging (DCA)
Margin Grid
Infinity Grid
Dynamic Rebalancing.
The KuCoin bot tries to buy coins when the prices are very low and then sells them when the prices appreciate. It makes gain using the market trends.
KuCoin bot supports a wide range of cryptocurrencies, including major ones like BTC, Ethereum, BCH, BNB, and many others. Using the bot is pretty simple, especially if you already know how to use the exchange. You should however keep in mind that you can only access the bot on KuCoin's platform.
KuCoin is totally free to use, except for the trading fee, which you will pay when you trade coins on the exchange.
KuCoin Features
Offers real-time customer service.
Enables you to manage your savings with ease.
Lets you build a wide range of trading strategies.
Supports Dollar-Cost Averaging

3Commas Review
3Commas is an automated crypto trading bot that's created to help crypto traders increase revenue and reduce losses and risks. It comes with over 20 trading indicators and can help you get profits without being an experienced trader.
3Commas uses AI to scan the crypto market and then suggests the most profitable coin pairs for you to take advantage of. It connects to over 22 crypto exchanges, including Binance, Coinbase, Huobi, Exmo, Kucoin, CEX.IO, Kraken, and Poloniex.
You can use this bot to do dollar-cost averaging strategies and also integrate TradingView so that you can get back tested signals from third-party sources. 3Commas also offers portfolio analysis and copy trading so that beginners can "copy" the strategies of professional traders to also make profits.
3Commas pricing starts at $14.50 for the basic package. The advanced and professional plans cost $24.50 and $49.50 respectively.
3Commas Features
Optimized to help you earn money in Bear, Bull, and Sideways markets
Has a smart trading panel where you can buy or sell multiple pairs using risk management tools.
Lets you trade 24 hours a day.
Allows you to balance your portfolio by maintaining coin ratios.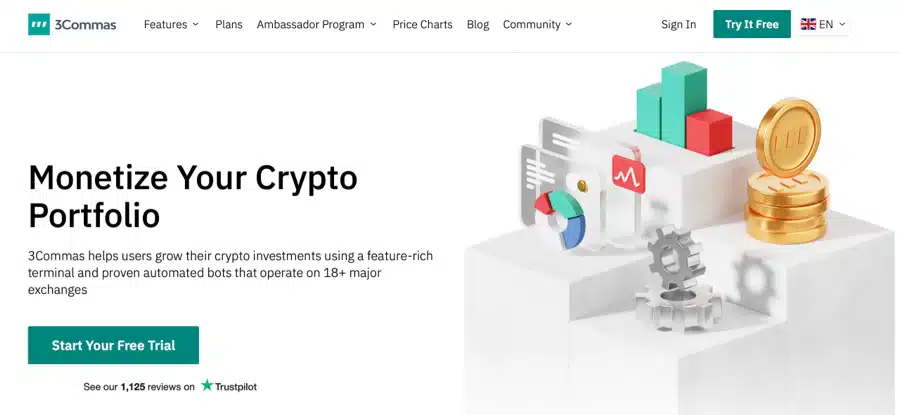 Mudrex Review
Crypto investing can be overwhelming with lots of jargons and rules to follow. Mudrex was created to help you simplify the process so that you don't do any heavy lifting. It automatically works to be an experienced trader so that you don't have to be.
Mudrex is a fully automated crypto trading bot that you can set in motion and it will help you trade the market on auto-pilot. This means you can live your life while Mudrex helps you grow your wealth. Mudrex leverages the power of artificial intelligence to help you put your money to work.
Mudrex supports major exchanges like Binance, Binance US, Coinbase Pro, BitMEX, and OKEx.
Mudrex has a free plan, which is a nice feature. The free plan gives you access to email and discord support, indicators, exchanges, and trading strategies.
The premium plan costs $16/month and it comes with a wide range of features, including unlimited backtests, live chat, and access to all exchanges and settings.
Mudrex Features
Mudrex has a simple to use interface.
Comes with indicators and automatic trade executions.
Good customer support.
Has security measures to protect investors' funds.
Lets you customize your bot strategy.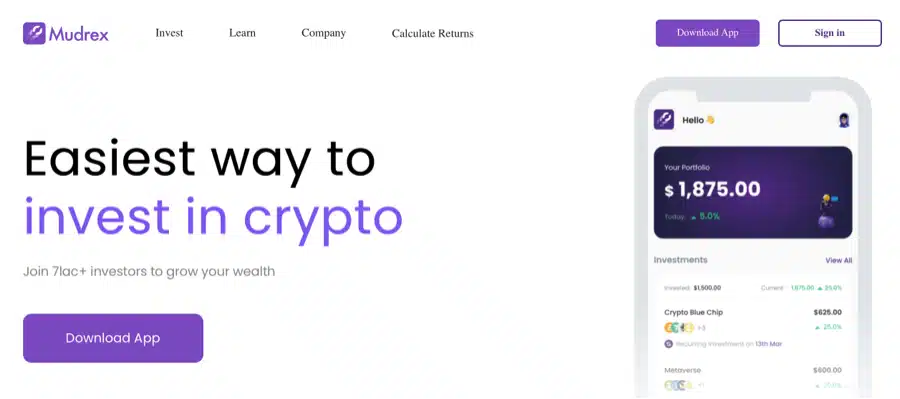 TradeSanta Review
TradeSanta is designed to help you manage your risk in a highly volatile crypto market and make profitable trades. It is best for long and short trading.
Once connected to an exchange, TradeSanta allows you to choose a strategy that suits your trading styles, set the target amount that you intend to make, and close the deal at the right time. Like other AI bots, TradeSanta can be linked to many exchanges, including Binance, Binance US, Huobi, and others.
One amazing feature of TradeSanta is that you can use both long and short trading strategies and multiple indicators. The bot has a dependable customer support team that will hold your hands and walk you through any challenges..
The basic plan costs $10.50/month and comes with 2 bots maximum. The premium plan costs $70/month and comes with over 49 trade bots to select at a time. There's also a 5-day free trial for those that want to test our TradeSanta before making any financial commitment.
TradeSanta Features
Offers Spot and Futures Trading.
Allows you to buy or sell a large volume of crypto without hassle.
You can track the bot performance in real time.
It provides 24/7 support.
Android and iOS support (in addition to the web platform).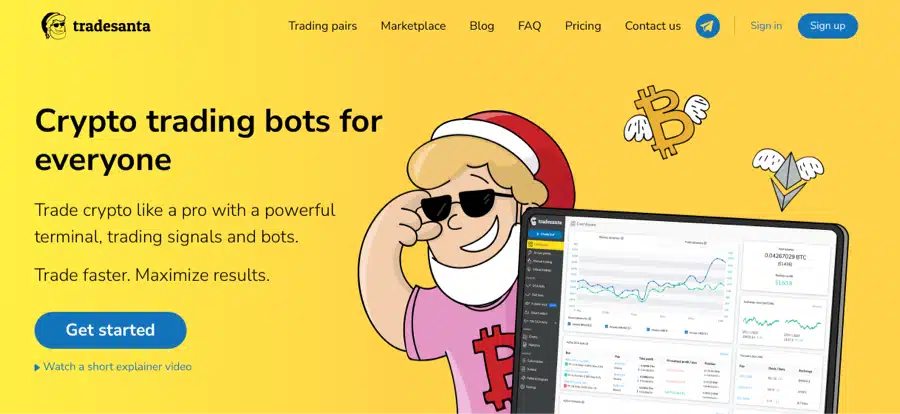 Botsfolio Review
Botsfolio is an automated trading bot for both beginners and professional crypto traders. It lets you invest money into the volatile cryptocurrency market and helps you make profitable returns on your investment.
Botsfolio works by connecting to a crypto exchange and looking out for profitable coin pairs. This bot can help you define investment strategies so you don't lose money when the market goes south. No trading or coding skills are required; all you need is to monitor your trading progress and take profits.
Botsfolio supports a wide variety of exchanges, including Binance, OKx, and Coinbase Pro. You will need API keys to connect to any of these exchanges. After funding your exchange account and connecting Botsfolio, you can instruct the bot on how to invest your money. Botsfolio charges a 15% performance fee quarterly on profits. The pricing ranges between $5/m and $20/m for portfolio values of between $1,000 and $100,000.
Botsfolio Features
Risk management is integrated into the bot.
There is an active Telegram group for tips, community, and support.
You can track your portfolio performance on your smartphone.
Lets you fully automate your crypto trades over different exchanges at once.
Botcrypto Review
Botcrypto is a complete automated crypto trading bot designed for everyone. Botcrypto works by scanning the crypto market for profitable coin pairs and then helping you trade the assets on auto-pilot to maximize gains.
This trading bot offers 24/7 support with a visual editor. It supports Dollar-Cost Averaging and smart investment, thanks to the over 20 technical indicators available on the platform.
Botcrypto lets you customize your trading strategies. Whether you want to be a day or swing trader, you can customize the bot to work on your behalf. Botcrypto works perfectly well with exchanges like Binance and Kraken.
It has 4 pricing tiers as follow:
Bronze – 9.99 €/month
Silver – 29.99 €/month
Gold – 59.99 €/month
Custom (for retail traders)
You can also buy and sell crypto assets using a credit card, which a lot of other crypto trading bots don't offer.
Botcrypto Features
No coding skills required.
This bot can help you manage your emotions.
Provides real time performance reports.
Botcrypto can help you take profit when the market goes south.

Zignaly Review
Zignaly is another premium AI crypto bot to give serious consideration to. It's a free bot that offers copy trading service to help both beginners and professional crypto traders maximize their profits. Zignaly lets you build your trading strategies from scratch or copy and improve the strategies of crypto gurus.
Once you launch the bot and sign into your account, Zignaly connects to at least 10 exchanges, including Binance and KuCoin, from where you can start trading unlimited pairs and positions. It's an excellent place to start your crypto trading journey, as everything you automated using the power of AI.
Zignaly also offers both free and paid signals. You can leverage the signals to get the best coin pairs that will fetch you the most profit.
Zignaly doesn't take any fee from your trade, but you should watch out for the fees payable on selected exchanges.
Zignaly Features
Zignaly offers copy trading to help beginners build trading experience.
Offers free and paid signals.
Available on iOS and Android.
Offers DCA rebuys strategy options.
Has TradingView integration
How Do Cryptocurrency Bots Work?
Crypto bots connect to your account on popular exchanges such as Binance, Coinbase, Bittrex, or hundreds of others. Then, they use artificial intelligence to gather and interpret crypto market data and take automatic actions on your portfolio.
By using technical analysis, crypto trading bots can pick up cues on whether a dip or rise in the market looks temporary or long term. Then, it executes buy and sell orders on your behalf.
AI crypto trading software runs 24/7 and calculates millions of data points so that you don't have to. If you goal is to invest in crypto long term, these software bots make it easier for you.
Pros of Using a Crypto Trading Bot
If you invest in Bitcoin, Ethereum, or any other altcoin, there are many reasons to look at a bot.
Bots are Emotionless
Trading bots do not make decisions based on emotions. Each buy or sell it executes is made by analyzing data and then coming to a clear conclusion. It does not care how much money you have invested or what you might want to do with it.
Trading is Efficient
Bots can execute trades in milliseconds after making a decision. It doesn't have to wait for you to log in or take any action. Bots also work 24/7, making a trade in the mdidle of the night while you are sleeping if it wants to. If you've ever felt that you missed out buying a dip while you sleep, a crypto trading bot would fix that.
Artificial Intelligence
AI allows computers to make decisions automatically and without hesitation after analyzing data points. It allows you to get more done in a day with less effort. Our entire website has lists of software designed to simplify your life! Trading bots use aI heavily in their decision making and they keep getting better over time.
Are AI Crypto Trading Bots Legal?
Yes, trading bots arer 100% legal.
What AI crypto trading bot have you used to buy and sell Bitcoin, Ethereum, Litecoin, or other altcoins? Comment down below and let us know which strategy has worked well for you.