There are a ton of perfect digital smart notebooks worth buying for your school, work, or daily life. In this guide, we go over:
The best smart notebooks you can buy today
Key features your digital notebooks should have
How to buy a good notebook today
If you have any of the books on our list or want to make a recommendation, comment down below.
Other smart products: best smart scale for weight tracking.
The Best Smart Digital Notebooks
Don't have time to read our complete guide? Check out our top smart notebooks below:
What is a Smart Notebook?
A smart notebook works like a regular pen and paper except that your pen has no ink and your paper is reusable. When you write in a digital notebook, your writing only stays temporarily.
Instead, everything you write automatically shows up on your phone or computer.
Pretty neat, huh?
Most digital notebooks have different templates worth of pages. This allows you to write on a standard page, calendar, to-do list, dot-grid, and other templates easily. Keep track of your SEO analytics and other text information with ease.
Digital smart notebooks use AI to automatically translate your writing into text and identify your text.
Next, we go over our top smart notebooks in more detail.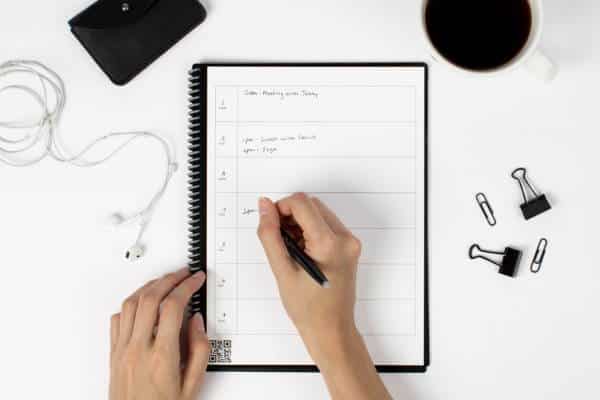 Basic Rocketbook Smart Review
The Basic Rocketbook is a smart notebook built for the digital age. It is suitable for the classroom, offices, and for personal use. It has pages made with synthetic materials that guarantee extreme writing experience. This smart notebook comes in multiple colors and sizes to fit your styles.
It has a user-friendly mobile App that helps send your big ideas and notes to popular cloud services, including Google Drive and Dropbox. The Basic Rocketbook uses AI technology to enable users to use email transcription for easier searching and naming of their notes.
Additionally, this 36 page dotted grid notebook is reusable. Clean it at any time using a damp cloth. The ink from the pen dries within 15 seconds.
Basic Rocketbook Smart Features
This notebook can be used endlessly by wiping clean with a damp cloth.
It is compatible with Box, Evernote, and iCloud services.
The App is available on iOS and Android stores for download.
Sale
Rocketbook Smart Reusable - Dot-Grid Eco-Friendly Notebook with 1 Pilot Frixion Pen & 1 Microfiber Cloth Included - Infinity Black Cover, Executive Size (6" x 8.8")
No more wasting paper - this 36 page dotted grid notebook can be used endlessly by wiping clean with a damp cloth
Blast your handwritten notes to popular cloud services like Google drive Dropbox Evernote box OneNote Slack iCloud email and more using the free Rocketbook application for iOS and Android
Allow 15 seconds for ink from any Pilot Frixion pen marker or highlighter to dry in order for it to bond to our specialized pages
Sophisticated AI technology allows you to use Rocketbook's smart titles smart search and email transcription for easier naming and searching of your notes
Includes 1 Rocketbook Core (formerly known as Everlast) Executive Size (6" x 8 8") Notebook 1 Pilot Frixion Pen and 1 Microfiber Cloth Note package may reflect "Everlast"
Rocketbook Fusion Smart Review
The Rocketbook Fusion Smart Notebook is a writing or drawing tablet for students, academicians, and entrepreneurs. It is made with patented reusable Rocketbook technology and equipped with 7-page styles so that you can take notes in any situation. It has 42 pages in total. These pages are packed with things like:
Note taking layouts
To-do lists
Calendars
OKR goal template
Lined pages
Dot-grid
Idea list
Using the Rocketbook is really easy. Simply write, scan your writing or drawings, then erase with water or a damp cloth to reuse again in the future. You can blast your work with popular cloud services like iCloud, Slack, or Evernote. It also integrates with OneNote, Google Drive, and Dropbox.
You can write smoothly using the included Pilot FriXion pen. If you're looking for a smart notebook for ideas, lists, and plans for your next adventure, then get the Rocketbook Fusion Smart Notebook.
Rocketbook Fusion Smart Features
This notebook has 42 pages, including a task list and weekly planner.
It allows 15 seconds for ink from marker or any Pilot Frixion pen to dry.
It integrates with popular cloud services like Google Drive, Dropbox, and Evernote.
Rocketbook Fusion Smart Reusable Notebook - Calendar, To-Do Lists, and Note Template Pages with 1 Pilot Frixion Pen & 1 Microfiber Cloth Included - Midnight Blue Cover, Letter Size (8.5" x 11")
No more wasting paper - this 42 page notebook has 7 different page styles for planning, listing, goal setting, note-taking, sketching, and sharing big ideas
Blast your handwritten notes to popular cloud services like Google drive, Dropbox, Evernote, box, OneNote, Slack, iCloud, email and more using the free Rocketbook application for iOS and Android
Allow 15 seconds for ink from any Pilot Frixion pen, marker, or highlighter to dry in order for it to bond to our specialized pages - just wipe clean with a damp cloth to start over
42 pages include task list, weekly planner, monthly calendar, OKR goal template, idea list, dot-grid, and lined pages
Includes 1 Rocketbook Fusion Executive Size (8.5" x 11") Notebook, 1 Pilot Frixion Pen, and 1 Microfiber Cloth
EVO Digital Planner Review
The EVO Digital Planner is a personalized smart notebook that's tailored to whatever style you have. It is also a 90-day journal and planner that can boost your productivity.
EVO optimizes the book according to your chosen brain time.
How do you find out your brain type?
The EVO Digital Planner lets you take a brain type assessment to identify whether you are an Architect, Explorer, Alchemist, or Oracle. Once you find out your brain type, you can then pick up the perfect journal for your personality.
You can increase your gratitude, productivity, and self-awareness by managing and journaling your schedule in this smart notebook. You can scan your daily and weekly notes with the EVO app for iOS or Android.
With the app, you will easily identify different patterns, including whether you are productive or happier, so that you can develop better habits. The EVO Digital Planner looks great and, it comes with copper-gilded pages.
EVO Digital Planner Features
This smart notebook has an app that you can use to scan your daily and weekly agenda pages.
It contains world-class eco-friendly materials.
It has copper-gilded pages and a personalized interior layout.
EVO Planner Daily Journal Non Dated Weekly Monthly Gratitude Agenda - Happiness Goals Productivity (Quarterly 90-Day Plann
? EVO is more than just a planner, it's a dashboard for your life: The world's first flow and productivity system with a personalized planner and intelligent mobile app
? Personalized 90-Day Planner and Journal using our Brain Type Assessment: Based on 10+ years of R&D in cognitive psychology; with daily, weekly, monthly pages customized to help create more gratitude
? Intelligent Mobile App with Scanning: Track your progress in 2021 by scanning your daily and weekly agenda pages with the EVO App; increase your self-awareness, guarantee results, and evolve
? Not Your Everyday Generic Agenda Planner or Journal: EVO is personalized to help you thrive, and it's beautiful; copper-gilded pages, full-color agenda, made with world-class eco-friendly materials
? 30-Day Flow Guarantee: If your productivity and gratitude doesn't increase in 2021 after using your EVO, just say the word and we'll give you an instant refund; women, men, students, aliens, no questions asked
Royole Rowrite Review
The Royole RoWrite smart writing digital pad is designed with students, academicians, and drawing artists in mind. It comes with Folio, 2 A5 Notepads, and a pen. You can use Rowrite with the pen as your day-to-day notepad for handwritten notes or sketching.
The notebook records and saves your paper sketching or writing. Then, it syncs them when you are ready to your Windows, Mac, Android, or iOS device. It saves your work to the cloud for easy retrieval at any time.
The character recognition module lets you use Rowrite to convert your handwritten notes to digital text for easy sharing to other devices. With the Rowrite App, you can change your drawing instruments, opacity, thickness, and color. Plus, users can see their creativity in the MP4 playback mode. You can export files as JPG, TXT, PNG, and PDF.
Royole Rowrite Features
You can use this notebook to convert your handwriting to digital text for easy sharing.
Rowrite supports multiple languages.
The App lets you insert pictures into your digital documents.
Royole RoWrite Smart Writing Digital Pad for Business, Academic and Art, with Folio, Pen, 2* A5 Notepads
(NOTE: Without LCD Screen& Not A Tablet)RoWrite utilizes Royole's advanced flexible sensor technology. Capacitive, transparent, and highly sensitive, the flexible sensors track where the RoWrite pen is on the notepad with pin point accuracy. When combined with the RoWrite pressure sensing pen, every stroke is perfectly and accurately captured.
Make your notes or drawings come alive by editing or enhancing digital Pages in real time. Pair a device with the RoWrite App and erase digitally, or select from different writing instruments, change stroke thickness, and add up rich colors. You can even capture a video of every stroke and share it socially.
RoWrite is intuitive and easy to use. Pages can be modified on RoWrite until you decide to close them, even after periods of inactivity. When paired with a device content is communicated quickly and seamlessly, when not paired all work is saved to internal memory for future editing and sharing.
RoWrite's ink pen delivers a natural and realistic pen to paper experience. It's a refillable ballpoint pen with built-in pressure sensor circuitry to capture 2048 pressure points and deliver a comfortable, smooth, and accurate writing experience.
NOTES: this product is not a tablet and has no display. It needs to be used with real paper and ink pen refills which are included in the product.
NEWYES Smart Notebook Review
The NEWYES Smart Notebook is a magic notebook for students, artists, and drawing enthusiasts. This smart notebook dries ink within 15 seconds. You can clean your drawings or notes using a hot hair drier or an erasable pen tip.
It has a NEWYES NOTE app that you can download on your smartphones or tablets. The app is compatible with OneNote, Box, Evernote, and iCloud. It is also compatible with Dropbox and Google Drive.
To scan notes, launch the app and activate the "Photo Scanning" features. Click on the camera icon to start scanning your notes. You will get an image after the scanning process. You can then share the images in PDF or JPG formats. This notebook has plenty of space for taking notes and sketching.
You can reuse this smart book more than 500 times. Additionally, it has 20 dotted pages, 21 lined pages, and 7 planning pages.
NEWYES Smart Notebook Features
It has 48 pages and 7 styles.
This notebook lets you blast your notes to a wide range of apps, including Google Drive and Dropbox.
It supports both PDF and JPG formats.
iskn Slate Review
The iskn Slate is a drawing tablet for paper and pencil lovers. This smart notebook combines the irreplaceability and uniqueness of paper drawing with the limitless possibilities of the digital world.
The Slate lets you draw or sketch on real paper with your own pencils and the drawings will come alive on the screen instantly. All you need to do is to choose your favorite pencil then slide the ring onto it, and watch the magic happen.
Whether you are at home, in the office, or on transit, you can use The Slate with your favorite devices. It is compatible with Android smartphones, Windows, and iOS.
The standalone mode lets you use The Slate without any device. Plus, you can share and export your drawings in MP4, SVG, PSD, and PNG formats. You can also share your drawings in JPEG format.
iskn The Slate Features
Lets you give digital life to your paper creations.
The iskn Ring lets you use your favorite pencils for drawing or sketching.
The Slate is compatible with macOS, Windows, iOS and Android smartphones.
iskn The Slate 2+ Pencil & Paper Graphic Tablet
Draw with your own pencils and pens thanks to the removable ring that gives digital superpowers
Use any kind of paper to draw with the Slate, even a sketchpad (up to 0. 27 in. )
Use the Slate connected to your tablet, smartphone or computer to see your drawings instantly come to life, or in screenless mode to use the Slate while on the go
Enhance your creations with Repaper Studio app (pencils, felt-tip, airbrush. . . )
Enjoy the graphic tablet mode to use the Slate with all desktop drawing software such as the Adobe Suite, gimp, and many others
Boox Note Air Review
The Boox Note Air is one of the best digital notebooks on the market. It's a 10.3″ e-ink tablet with front light. Note Air lets you schedule and plan your daily or weekly activities ahead of time.
With 5.8 mm body thickness, you will effortlessly grab the notebook firmly while reading articles and blog posts. It has an adjustable front light so that you can comfortably view on the 227dpi HD screen in any light.
The one-piece aluminum case, several layers, and the flat screen are built together to provide a solid structure for your use. The Boox Note Air is a smart notebook with a slim body that endures large pressure from palm pressing, writing, and holding.
You can add bookmarks and write on 20+ files. This smart notebook will help you read effectively and also stay focused.
Boox Note Air Features
It has built-in speakers for quality audio.
The front lights are adjustable for a comfortable view.
The battery can last up to 4 weeks on a single charge.
It has the USB-C type earphone Jack for easy plugin.
Smart Notebook FAQ
What smart notebook is best?
Considering price, features, and quality, we think that the Rocketbook is the best smart notebook you can by today. EVO and iskn also make good quality products.
Are smart notebooks worth it?
Smart notebooks have a number of advantages ove traditional pen and paper and are completely worth it. You can reuse pages over and over. Most smart notebooks have different page templates you can use. Everything you write automatically appears on your phone and your computer.
How does a reusable notebook work?
Reusable notebooks work similar to conventional notebooks, except you don't write in your book with ink. As you write, your text only appears for a few seconds before disappearing. All of your results can be viewed in full on your phone later and is saved automatically.
What smart notebook do you like? If you purchased any notebook after reading this guide, comment down below and let us know.