Video Enhance AI by Topaz Labs and Davinci Resolve are the two top options today for video upscaling and enhancement. In this guide, I'll review the Video Enhance AI vs Davinci Resolve video editors in full detail, comparing all major aspects:
Price
PC Requirements
Rendering Speed
Video Enhancement Quality
and more!
If you are looking for the right software to increase the quality of your videos, read our guide and then buy the option that is best for you.
Also Cool: Best AI Image Generators
What is Video Enhance AI
Video Enhance AI is a video enhancement software developed by Topaz Labs. It's suitable for content creators, video editors, skit makers, YouTubers, and digital marketers.
Video Enhance AI lets you upscale or improve low-resolution videos up to 8K. It repairs every aspect of a video, including backgrounds, people, and objects. The software can also reduce video flickering and sharpen any blurred areas to make your videos stand out.
Video Enhance AI has a highly intuitive and easy-to-use interface. If you have any old videos with poor frame rates, you can purchase Video Enhance AI to add more details to the original video and upscale its quality to fit modern-day devices.

AI Video Upscaling
Video Enhance AI uses a technique it calls "AI Video Upscaling" to produce upscaled videos. The software uses machine learning to access information from multiple frames for video upscaling, restoration, deinterlacing, and denoising.
By analyzing your video frame by frame, Topaz Labs promises that it creates more quality that looks natural and fits with your video better.
What is Davinci Resolve?
Davinci Resolve is one of the best video enhancement software available today. It's equipped with incredible features and contains an excellent graphics and animation suite. Resolve can automatically increase the size of any videos you have, has high-end professional audio mixing, and other color manipulation tool.
DaVinci Resolve is perfect for film and TV colorists, audio professionals, video editors, and Hollywood professionals.
Initially developed by DaVinci Systems, DaVinci Resolve is now owned by Blackmagic Design. This software is available on different platforms, including Linux, macOS, and Windows. Its modern and elegant interface is easy to understand for new users and intuitive enough for professionals.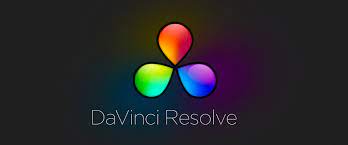 Super-Pixel Scale Overview
DaVinci Resolve uses super-pixel scale to sharpen, smooth over, and remove any artifacts from low-resolution videos to make the videos appealing to the eyes. This technique generates pixels by supersampling the low-resolution pixels.
Both companies are packed full with buzz words to advertise them. But which software is better for video upscaling? We'll compare both in full detail below.
Video Enhance AI vs Davinci Resolve: Detailed Comparison
Price
Video Enhance AI sells for $199.99 and is available for Mac and Windows. This is a one time fee that gives you full access to the software and any future updates.
On the other hand, DaVinci Resolve is advertised as being completely free. You can download and take advantage of a full set of audio and video editing features without paying. Plus, there is no trial or watermarking on your output.
Davinci does sell an upgrade called Davinci Resolve Studio, which costs $295. For this extra cost, you get more flexibility in the software and a bunch of other software and services to try out.
Winner: Davinci Resolve
Minimum PC Requirements
The minimum PC requirements for Video Enhance AI are:
Intel CPU from 2015 onwards
a DirectX12 compatible GPU (NVidia or AMD)
8GB or more RAM (higher is better)
2GB of VRAM
At least 1024×768 screen resolution
The minimum requirements for DaVinci Resolve are:
a four-core processor
16 GB of RAM
a graphics card with 4 GB of VRA.
Windows 10 (or later) or macOS 11 with the latest drivers installed
More users will be able to use Video Enhance AI, which isn't as resource hungry.
Winner: Video Enhance AI
Enhancement Rendering Speed
The rendering speed is how long is takes for you to upscale your videos.
Davinci Resolve gets high marks for how fast it works. A full 10-minute video only took about one minute in order to upscale.
Video Enhance AI took a lot longer to render my upscaled video. The same 10-minute video took just over three minutes to upscale. A lot of this has to do with the method it uses to increase the quality of video. Video Enhance uses AI to analyze each frame of your video in order to look for natural enhancements it can make.
In the end, nobody is going to care about the rendering speed if the quality is good. So while Davinci takes the win here, let's compare that next.
Winner: Davince Resolve
Upscaling Quality
Video Enhance AI gives better upscaling quality. It not only upscales poor-resolution videos but improves the video quality. It uses algorithms to enhance the resolution in people, backgrounds, or objects, making them sharper and more detailed.
On the other hand, DaVinci Resolve uses the super scale feature to achieve perfect upscaling. The upscaling quality may not be as good as that of Video Enhance AI, but it certainly can output 4K and beyond.
Resolve seems to handle the upsizing of text aggressively compared to Video Enhance. On one hand, text looks clear after upscaling. However, it can also look unnatural compared to the rest of the video.
If you have old VHS tapes or home video footage, Video Enhance really shines. It's pretty amazing how it can turn bad footage into modern looking video. Davinci is made more for good quality video already that needs post-processing added to it.
Winner: Video Enhance AI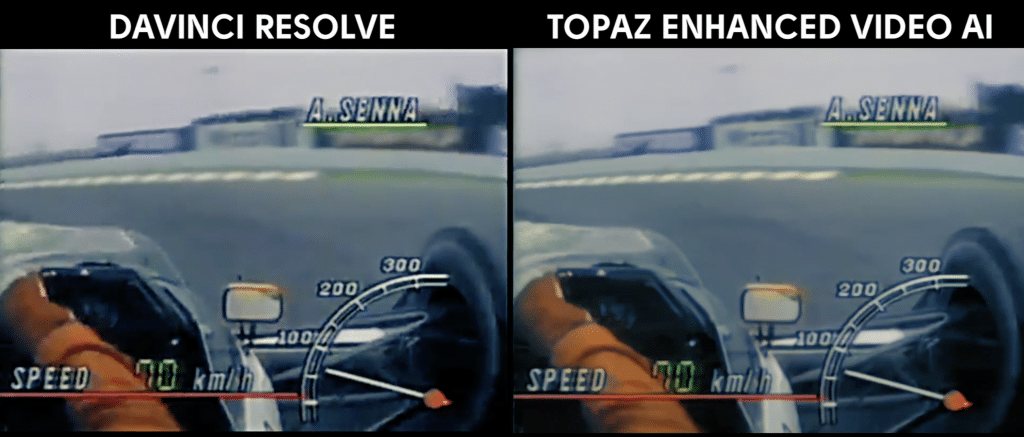 Number of Settings
Topaz Labs' Video Enhance AI has fewer settings than DaVinci Resolve. It has settings like AI models, output resolution, and output format. To upscale or enhance your videos, you must select these settings before processing.
You can make your favorite settings default by clicking the processing menu at the top of the app and selecting "settings as default."
On the other hand, DaVinci Resolve has more than six settings, including edit, fusion, color, fairlight, and deliver. Tuning these settings will give you the perfect upscaled video. You can also make your favorite settings default.
The settings menu can be accessed by clicking on the cog icon in the bottom right of the app or from the file menu and selecting "Project Settings."
Winner: Davinci Resolve
Where Video Enhance AI is Better
Video Enhance AI is great for smaller projects and home videos. It does an overall better job at upscaling videos and creating details and quality where there is none. Most of the work is done using AI and there are few settings to play around with, which makes it less intimidating.
One feature that Video Enhance AI shines with is on upscaling people. It has facial recognition technology built in, which helps it to understand the difference in people vs objects and upscale accordingly.
As it renders, the software sharpens people, backgrounds, and objects as it upscales. The rendering process is slower, but the output is the best on the market today.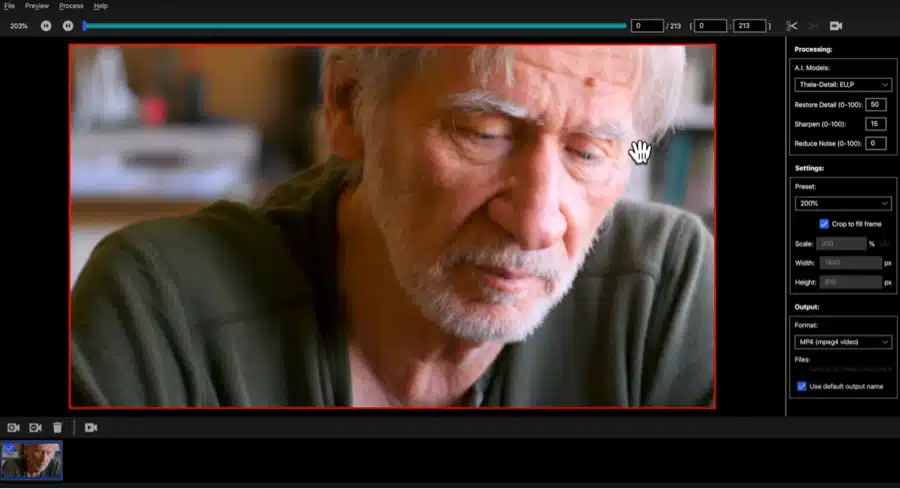 Where Davinci Resolve is Better
DaVinci Resolve is developed for the film industry and it really shines for larger projects and professional work. It has multiple resolutions and formatting so that you get the exact result you want.
Resolve has a whole suite of audio engineering and post-production features. It can perform natural color correction of your videos to enhance its qualities.
Davinci Resolve requires a more powerful PC in order to work, so be aware of that. While it does upscale videos pretty fast, this isn't its core functionality.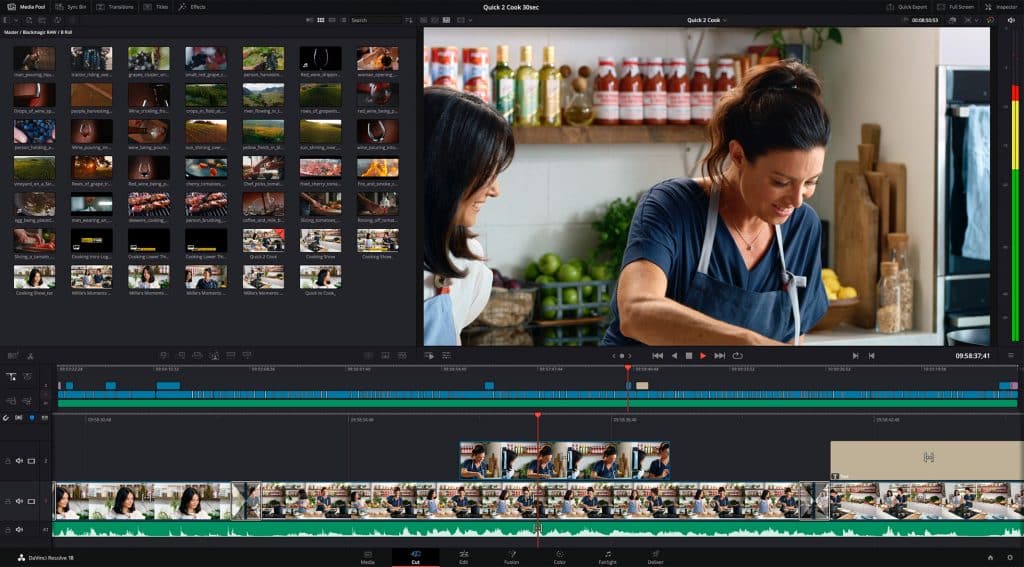 Conclusion
If you are comparing Video Enhance AI vs Davinci Resolve to find the better video upscaler, then Video Enhance AI is the clear winner. Its artificial intelligence and upscale quality is the best in the game. It can review your old home videos and original footage VHS tapes and make them look like they were shot today.
Click here to try Video Enhance AI.
Click here to try Davinci Resolve.
If you've used either of these softwares, comment down below and let me know which one you thought worked better!