Artificial intelligence can be used to find files, documents, and moments in your life and business faster than ever before. In this guide, I'll show you some of the best AI search tools available today.
These tools are a mix of business and personal tools designed to help you find things that you need with less effort. For each tool, I'll go over:
How to tool works
Key features I think you'll be interested in
Things that I liked when using each tool
Included below are tools that help you find keywords in files, audio, videos, and more.
If you know about any other AI search tools we can share, comment down below and let us know today so that we can add it into this guide.
What are the Best AI Search Tool?
Rewind
Rewind is an AI search tool that lets you search for virtually everything you have heard, said, or seen while using your Mac. It even makes your audio recordings searchable and protects your privacy by storing them locally on your Mac. You can always go back to your recordings at any time of the day to re-watch your project.
The tool uses mind-boggling compression and is supported by artificial intelligence to enable you to record a huge amount of data without sacrificing quality. Rewind AI can store years of recordings without data loss. It uses OCR to provide powerful search capabilities and identify text content quite magically.
Rewind automatically integrates with cloud services like Slack, Dropbox, and Gmail too. It takes no time to get your integration set up. It supports platforms like QuickBooks Online, BigCommerce, Trello, Shopify Plus, and Jira. Once you connect all of your accounts, you have a powerful search tool for text and audio documents.
Key Features
Find anything you've seen, said, or heard.
Rewind automatically records your meetings and makes them searchable.
Top security features so that only you have access to your recordings.
What I Like About Rewind
One thing I like about Rewind is that you can use it to record your meetings and discussions in real-time and even make them searchable. I also like that recordings are password-protected, meaning only you have access to your recordings. How Rewind searches through both text and audio is really impressive. The only drawback to the tool is that it is for Mac users only and Windows users won't be able to enjoy it.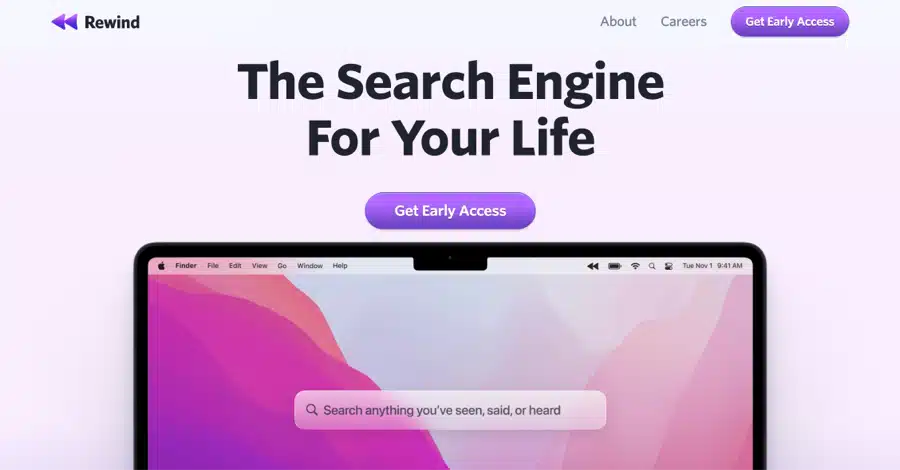 SearchIQ
SearchIQ is a search engine that you can place on your businesses website. It uses built-in intelligence that understands what your users want and how they interact with your website. It generates highly accurate search results for your visitors when they need it.
Remember, users' searches are the true definition of what they want. With SearchIQ, you will get an insight into what your users want and how they want it.
SearchIQ uses artificial intelligence to review your users' searches and provide you with actionable and measurable information to help grow your business. It is perfect for content networks, universities, corporations, and financial institutions that need to grow their user base.
SearchIQ powers over 10,000 websites. It is user-friendly and effortless to install.
Key Features
SearchIQ makes finding content on your website fast and easy.
Quick and easy integration anywhere with no coding required.
This AI search tool sends your users the results you want with precision.
What I Like About SearchIQ
SearchIQ is one of the best website search plugins, hands down. I like that it works very well and integrates with any style of website. SearchIQ gives excellent options for styling and generates good search results. I also like that you will get a user-friendly dashboard with stats for all your domains.
Searchable
Searchable is a powerful AI-driven document hub that lets you easily search and access your work documents across several devices, cloud services, email providers, and productivity apps. It works with all of the most popular cloud services, such as:
OneDrive
DropBox
Google Drive
Searchable is suitable for those who store documents and files in multiple locations. Bloggers, content creators, YouTubers, digital marketers, and anyone working online will find Searchable useful.
Searchable brings several data sources in one place. It adapts to each user's preferences and working style, making it one of the best AI search tools on the market. Searchable gives precise results that you need to make informed decisions.
No more skimming through long pages or opening random documents.
Key Features
Searchable gives precise results with instant previews.
Creates collections for streamlined project collaboration.
One single search across cloud storage, web apps, and local drives.
Unifies all your work data in one place.
What I Like About Searchable
I like that Searchable can unify all your data in one place for easy access. You can easily find what you need regardless of the platform. You can search, preview, organize, open, and share information across platforms like Google Drive, Asana, and Jira from one place.
Click here to view Searchable.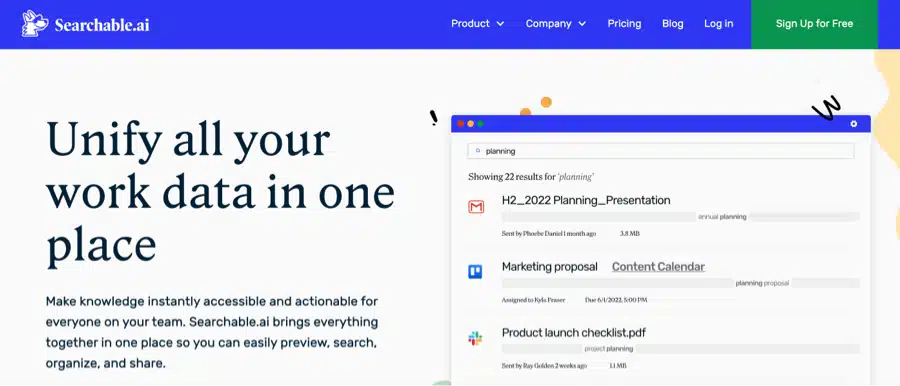 History Search
History Search is a powerful browser history search tool. It allows you to search back into your entire search history and find websites that contain obscure text or themes that you visited in the past.
History Search helps professionals to complete projects faster and decrease distractions while working online. It also enables you to optimize your workflow without sacrificing quality.
Instantly open the relevant project board or anything else and launch your search to extract any information you need to improve your workflow. This AI-powered tool makes it easier to save sessions and reopen different pages in one place.
History Search has setup rules that sort web pages automatically into different collections of your work. You can share curated web pages with your team members. It also integrates with many cloud services and project management tools.
Key Features
Put an end to endless browser tabs by searching and accessing websites you need via search.
Control your entire workspace from one place.
Handles vast amounts of information, allowing you to find past websites you've visited with limited information.
What I Like About History Search
I like that History Search makes you proactive while working online. This tool lets you save your session to continue where you left off whenever you switch tasks or projects. This tool is also universally compatible with all of your web browsers. It's good for internet power users and those that use a lot of time researching.
Click here to view History Search.
Everypixel
Everypixel is an AI search tool for stock images. It can help you find the best stock photos for your document or website, saving you time, money, and energy. Stock photos are key to keeping your readers interested in your content and splitting up your text.
Everypixel is perfect for creative people, designers, photographers, content creators, and digital marketers. It's a search engine with over 50 free and paid stock image websites, allowing you to browse through a massive database of stock images in seconds.
To get started with Everypixel, enter a keyword in the space provided, and hit the search button. Everypixel uses AI to match you with stock photos that you have in mind. It is easy to use and has advanced features suitable for professional photographers. The intelligence uses
Key Features
Everypixel has over 50 stock image providers included.
You can search for stock photos by typing keywords in the search query.
You can also search stock photos by image or author
The tool gives excellent and accurate results.
What I Like About Everypixel
I like Everypixel because it's a game changer as far as the stock image industry is concerned. You can easily browse through different stock photos from over 50 different image sources. I also like how Everypixel shows you the price of each photo on every website so that you can compare prices. It has filters to include show free photos as well, which can be handy.

Omnisearch
Omnisearch is a unique AI search tool for the education world. Omnisearch uses AI to enable course creators and educators to make their course content fully searchable and also lets students search for the correct information they need.
In other words, students can use this search tool to find exactly what they are looking for, including video and image documents. They can search through past lecture notes and course audio to find specific subjects and keywords that they want to remember details about.
Omnisearch uses AI to index and process the content you feed into it. When it is ready to use, Omnisearch shows the exact spot where the search terms are. It lets you quickly ingest all file formats into your content.
Key Features
Search anything literally, regardless of the file type.
Uses AI to extract information or content from different file formats.
Supports video recording transcription within seconds.
What I Like About Omnisearch
I like that you can implement Omnisearch with Thinkific within seconds, whether or not you are tech-savvy. This AI search tool also supports all file types, including video and audio files. It's the go-to search tool that I wish I had back when I was in school.
Click here to view Omnisearch.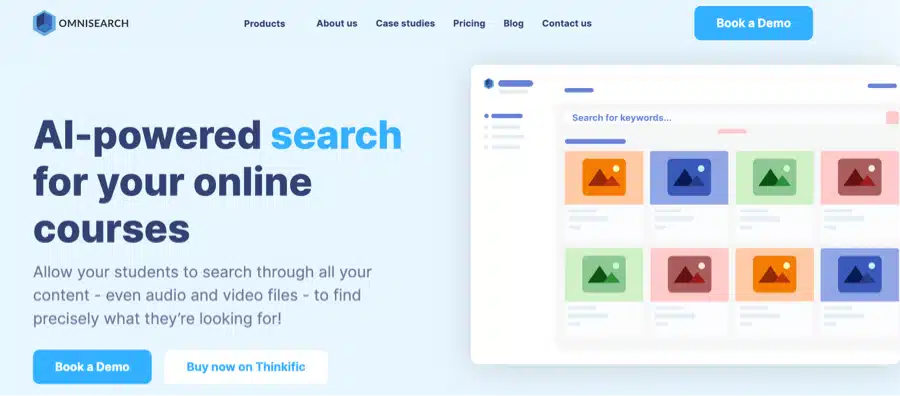 Lets Find
Lets Find is a machine-learning search engine that you can use to improve your digital work life. This tool integrates with your knowledge sources to quickly find relevant information, documents, or files. Lets Find is perfect for project managers, software developers, and business people in general.
If you work with a team, all your team members can use Lets Find to search for specific files across Google Drive or Dropbox at once. You can also use this tool to search across different communication channels in seconds.
Can't remember the task you were doing on Shortcut, Trello, or Zendesk? Use Lets Find to search across different project management tools and your ticketing to fetch the task.
Key Features
Lets Find can notify you when someone completes a task, uploads a file, or mentions a keyword.
Lets you easily search through files, messages, tasks, emails, and tickets.
Integrates with tools like Slack, Google Drive, Dropbox, and Shortcut (formerly Clubhouse).
What I Like About Lets Find
I like that you can use Lets Find to search through files, messages, tasks, emails, tickets, and documentation within seconds. I also liked that Lets Find integrates with many project management tools, including Read The Docs, Trello, and Zendesk. It's a good universal search tool with premium integration.
Numbers Search Engine
Numbers Search Engine is an AI search tool dedicated to the NFT space. Currently, NFTs are stored individually on different exchanges and platforms. Numbers allows you to easily search every source on the internet to find the exact NFL or category you want.
This tool empowers NFT artists, content creators, and NFT enthusiasts to easily monetize their assets. It boasts the highest multi-network asset coverage, AI-powered similar image results, reverse-image search, and dedicated asset profiles.
Numbers Search Engine can generate NFT information if you enter the correct input. The tool is ideal for vetting NFTs and searching general NFT queries.
One good thing about Numbers Search Engine is that you can use the tool to detect counterfeit NFT assets too.
Key Features
Supports reverse-image search for NFTs.
Suitable for general NFT queries.
Can search for relevant information across different NFTs and blockchains.
What I Like About Numbers Search Engine
I like that the Numbers Search Engine acts like the Google search for NFTs. It can search different NFTs and help you extract relevant information. You can also use the tool to detect counterfeit assets.
Click here to view Numbers Search Engine.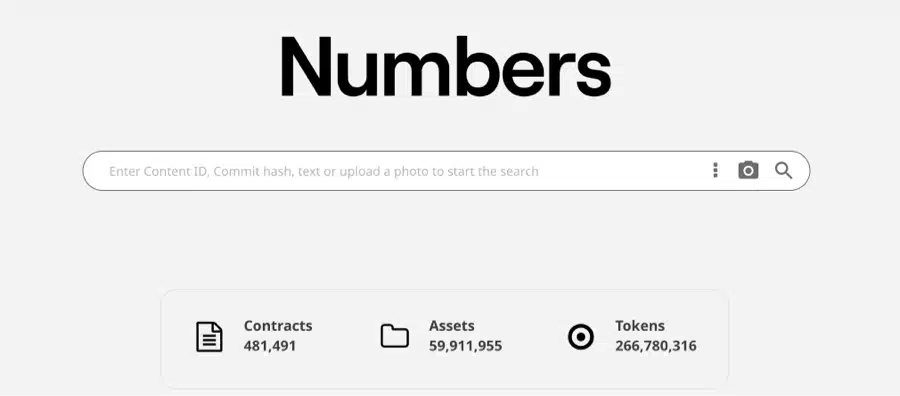 What is an AI Search Engine?
In general, all search engines use some kind of artificial intelligence and machine learning to interpret what result the searcher would like to see first. Over time, it is able to automatically adjust its results to reflect the most relevant results for its users.
This same type of technology has been applied to some more niche search products, like the ones in the guide above. These AI search tools offer an easier way to search for documents, keywords, and historical items you've visited before.
Conclusion
As you can see above, there are a lot of new and exciting AI search tools that use intelligence to make it easy for you to find things. I've outline a few different niches above, from:
Search engines for your documents
Finding past websites
Looking for keywords hidden away in audio and videos
If you know of any other AI search tools, comment down below and let me know. I will add it to the last above and showcase it!