Are you looking to stay ahead of the curve in the rapidly evolving world of artificial intelligence? In this guide, I'll show you the best AI conferences you can attend to learn about the latest advancements and insights into the future of AI.
These top AI conferences cater to various interests and professions within the AI industry. Each event offers unique learning and networking opportunities, ensuring you stay informed and connected within the rapidly evolving world of artificial intelligence.
If you have attended any of them, comment below and let us know what you would recommend.
What are the Best AI Conferences You Can Attend?
Ai4 (Best For Networking)
Ai4 brings together data practitioners and business leaders worldwide to learn, network, and share innovative ideas for moving the AI industry forward. Ai4 also aims to facilitate the responsible adoption of machine learning and artificial intelligence.
Taking place in Las Vegas, Ai4 will feature speakers from diverse AI backgrounds, including:
healthcare
generative AI
government
blockchain
Ai4 get over 1,700 attendees, 100 AI exhibits and 275 speakers.
The event also features several tracks to attend content in:
explainable AI
model interpretability
data privacy and security
cloud vs. local environment
dealing with biased data sets
preparing your model for production
deep learning
unstructured data
reinforcement learning
There are also in-depth interviews and panel discussions with leading speakers. Major companies represented at the conference include UPS, Stability AI, Sonora Quest Laboratories, Verizon, and Bloomberg LP.
A standard pass to attend this two and a half days event costs $1,595. If any of the topics above interest you, then Ai4 is the perfect conference on artificial intelligence to attend.
Click here to register for Ai4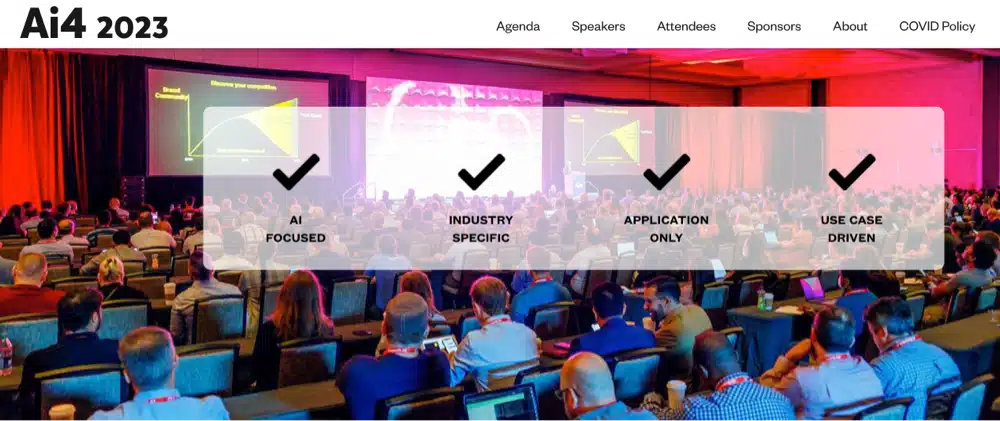 The AI Summit (Best Technical AI Conference)
The AI Summit London, UK is an international conference that unites business professionals and the most forward-thinking technologists to explore real-world applications of artificial intelligence and machine learning. The summit boasts deep-dive discovery, unparalleled learning opportunities, and a long list of heavyweight speakers.
The Summit takes place in London for two days and features:
500 hours of materials
100 technology developers
exhibitors
networking opportunities
demos
Some major companies sponsoring this two days event include BEN Group, OFCOM, Channel 4, and UKRI, among others.
If you are a database administrator, AI developer, business intelligence professional, or big data professional, you should plan to be at this conference.
Passes come in different categories, and the cost ranges from £1495 to £1999.
Click here to register for The AI Summit.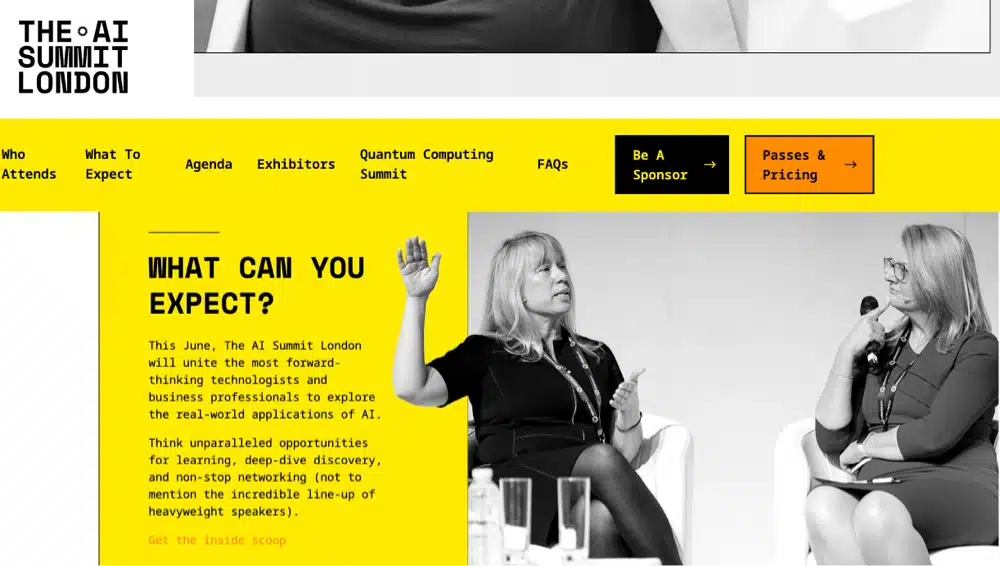 World Summit AI (Best for Entrepreneurs)
In Montréal, Canada, World Summit AI brings together global business leaders, entrepreneurs, and AI leaders from startups and big technology companies. At the event, industry leaders in AI discuss burning AI issues and the latest trends.
This two-day conference allows you to meet new connections and business partners, find investors, source capital, and find venture partners. You will participate in an interactive workshop and meet with potential VCs and investors.
World Summit AI includes over 150 presenters across two topic streams from reputable organizations like Ivado & Mila, PepsiCo, Renault Group, Meta, Samsung, Massachusetts General Hospital, SalesForce, and McMaster University.
If you plan to attend, the standard pass (for corporate bodies) goes for €349 + Swiss Tax, €149 + Swiss Tax (for startups), and £89 + VAT (clinicians).
Click here to register for the World Summit AI
Collision (Best For Future Technologies)
Collision is a big conference bringing together diverse technology-focused employees from various industries, including telecommunications, healthcare, and finance. While it is not purely an AI-themed event, this four days conference promises to focus on the hottest AI trends like:
self-driving cars
the internet of things
blockchain technology
digital cash
virtual reality
augmented reality
You can expect executives speakers from the world's biggest tech companies, including Grammarly, Stripe, Cisco, KPMG, Booking.com, Uber, Shopify, and Airbnb.
Collision draws over 40,000 attendees from across the world. The conference will be held in Toronto, and passes are in different categories, with prices ranging from $893 to $14,119, including taxes.
Click here to register for Collision

AI World Congress (Best For Global Information)
AI World Congress brings business leaders and AI professionals worldwide to talk about new ideas, unreleased data, and other AI topics. It offers attendees an opportunity to network with potential funders.
Tech providers, data analysts, industry experts, and researchers will significantly benefit from this conference. This two-day conference will take place in London, with over 25 speakers lined up for the event.
Companies attending this event include Orange, TELUS, Experian, IMF, JP Morgan, TECH UK, and many more.
Passes for this conference cost between £495 and £695.
Click here to check AI World Congress.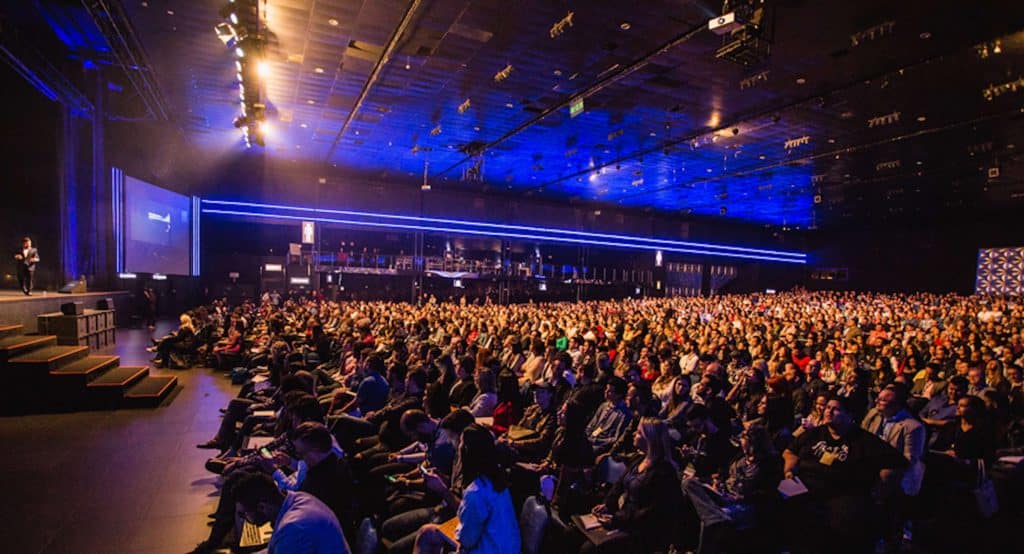 AI in Finance Summit (Best AI Finance Conference)
AI in Finance Summit is a two-day conference held in New York. The event will help you discover unique insights and real-world use cases from leading data scientists and AI specialists. The conference specifically focuses on financial services, banking, and insurance sectors.
AI in Finance Summit will also help you learn how companies from other sectors use AI to combat fraud and protect their customers' privacy. There are tons of data science sessions you can attend.
Multiple networking opportunities, expert speakers, and two personalized tracks will exist. Topics covered at this conference include:
artificial intelligence regulations
customer-centric finance
fraud detection
implementing AI in business
the future of AI in finance
Confirmed companies that will grace the event include Morgan Stanley, Ameriprise Financial, Fidelity Investments, JPMorgan, GE Capital, BNY MELLON, Coast Capital Savings, MasterCard, Citadel, Swiss Re, Capital One, and S&P Global, among others.
Passes go for between $495 and $2,295.
Click here to register for AI in Finance Summit.

Deep Learning World (Best for Deep Learning)
Held in Las Vegas, Deep Learning World brings together data practitioners, business leaders, entrepreneurs, and artificial intelligence professionals. The event's main focus is to discuss the commercial deployment of deep learning. The conference is also expected to foster breakthroughs in established deep-learning methods.
In 2023, this 5-day conference covered topics like generative AI, ChatGPT, and DALL-E 2 image generators. The event also features an exhibit hall, expert-led technical sessions, and networking opportunities with other industry colleagues.
Companies that have presented at Deep Learning World include Microsoft, Google, Stripe, Amazon, PayChex, Forethought, Claypot AI, Kumo, and DoorDash.
Passes sell for between $1,695 and $2,095.
Click here to register for Deep Learning World.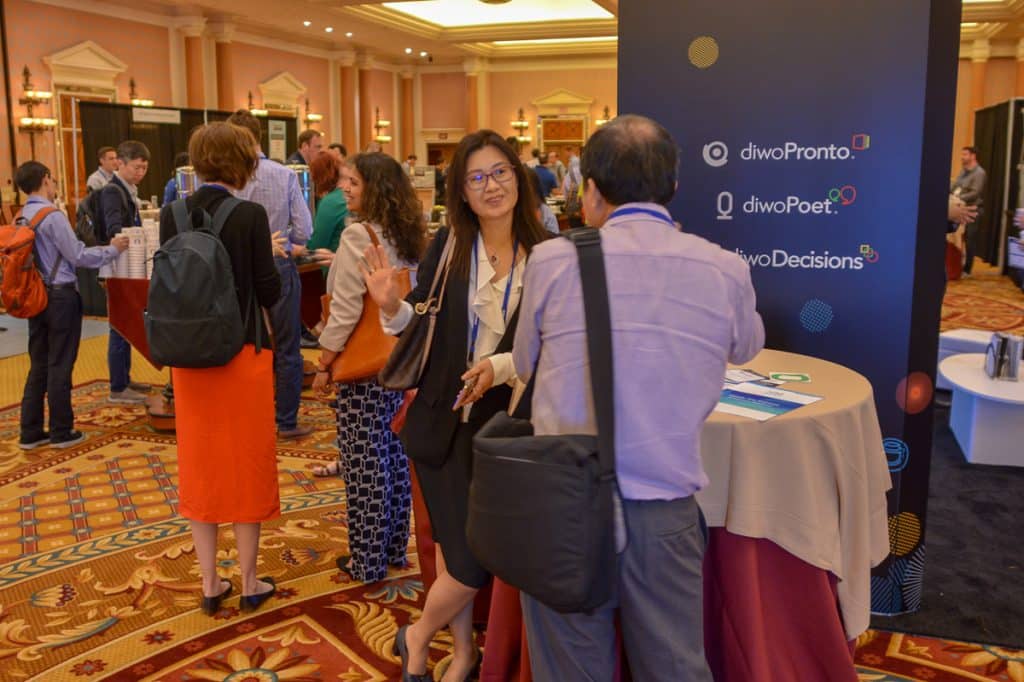 Tips for Attending an AI Conference
Planning your trip
To make the most out of attending a top AI conference in person, success begins at the planning stage.
Research the conference: Familiarize yourself with the conference program, speakers, and venue. Identify which presentations, workshops, or panel discussions are most relevant to your interests and goals.
Book your accommodations early: Reserve your hotel room or other accommodations well in advance to secure the best rates and availability. Check if the conference offers discounted rates at partner hotels.
Arrange transportation: Research flight options, local transportation, and parking facilities, and make necessary bookings. Remember to account for travel time to and from the conference venue.
Budget for the trip: Create a budget that includes conference registration fees, accommodations, transportation, meals, and any additional expenses, such as sightseeing or networking events.
Prepare your travel documents: Ensure your passport and other documents are in order and valid during your trip.
Preparing for the conference
Set clear objectives: Determine your goals for attending the conference, such as learning about specific AI topics, expanding your professional network, or discovering potential business opportunities.
Network in advance: Connect with other attendees, speakers, and exhibitors before the conference through social media or the event's online networking platform.
Pack essentials: Bring business cards, a notebook or tablet for note-taking, a portable charger, comfortable shoes, and professional attire.
Plan your schedule: Create a personalized agenda that includes the sessions you want to attend, time for networking, and breaks to rest and recharge.
Prepare an elevator pitch: Develop a brief, compelling introduction that highlights your expertise, interests, and goals to make networking more effective.
During the conference
Attend sessions strategically: Prioritize the presentations, workshops, and panel discussions most relevant to your objectives. Consider dividing your time between sessions if multiple topics of interest are happening simultaneously.
Engage in networking: Use networking breaks, meals, and social events to connect with fellow attendees, speakers, and exhibitors. Remember to follow up with new contacts after the conference.
Participate actively: Ask questions, discuss, and share your insights during sessions. This will help you make connections and deepen your understanding of the topics presented.
Visit the exhibition hall: Explore the exhibits to discover new products, services, and technologies in the AI industry. Engage with exhibitors to learn more and potentially establish valuable connections.
Take notes: Jot down key insights, ideas, and contacts throughout the conference. After each day, review your notes and reflect on how the information aligns with your objectives.
Good luck at your artificial intelligence conference this year!