I've tested a bunch of no-code app creators to determine the best AI app builders today. These tools, like Softr and Bubble.io, let you create Apple and Android apps without learning any programming language. Instead, these tools use things like:
artificial intelligence
plain language text-to-app
natural language processing
voice commands / speech recognition
machine learning
and other innovative ways to create code automatically with lower effort.
What are the Best AI App Builders With No Code?
Softr (Best for Flexibility)
Bubble (Best Customization)
Glide (Best Spreadsheet Integration)
Naologic (Best User Interface))
Backendless (Best for Backend Management)
Google App Sheet (Best Google Integration)
Adalo (Easy to Use)
Softr Review (Best for Flexibility)
Softr is a fully functional visual app development solution that lets you build native mobile apps using an Airtable database or Google Sheets. Softr has all the tools you need to create scalable and complex frontends and backends without writing a single line of code.
Softr is flexible – you can create a marketplace, client portal, workflow management system, an e-commerce app, and many other ideas. You can create a professional app and make it ready for launch within minutes.
Softr uses AI to import and convert your existing databases into functional mobile and website applications. All you need to do is to choose from the pre-built templates or blocks and then customize any component to your liking.
Once you are done creating your app, you can publish it on any device and even share it with your team. Softr integrates with trusted tools like MailChimp, Hotjar, Stripe, Google Analytics, and Zapier.
Key Features
Form builder makes collecting information from your app users easy.
Interactive lists let you display your Airtable data.
Offers 100+ pre-built blocks that you can add to your app.
Offers a wide variety of professionally designed templates.
What I Like About Softr
There are a lot of things I like about Softr. There's no no-code app builder that I have used that is as powerful and flexible as Softr. Using Softr was super easy to connect with Airtable and creating a backend for your app. The learning curve is not huge. Between YouTube videos and the official documentation, it is pretty easy to build native mobile apps.
Bubble.io (Best Community)
If you want to create custom apps for your businesses, Bubble.io has features that will make the process as simple as possible. Bubble is both a platform and a no-code visual programming tool. It is very easy to pick up and use without any documentation.
With Bubble, you can design, program, host, and scale your native mobile apps without writing a single line of code. You build the application using a drag-and-drop interface while Bubble serves your application.
Traditional app builders require experience in database deployment, frontend, and backend developments, but Bubble has been able to challenge this approach. This AI app builder has an intuitive editor to help you create mobile apps and web applications.
Some applications you can build on Bubble include things like an internal dashboard, client portals, E-commerce, productivity tools, CRMs, Marketplace, Job boards, and Project management tools. If you need any help, the Bubble forums are very active.
Key Features
Import and export all your application's data using CSV files or Excel
Fully customizable drag-and-drop workflow tool.
Build privacy rules to manage which data users are allowed to see.
Set up user accounts and enable log-ins.
What I Like About Bubble
Bubble is a powerful app builder that both small and large businesses should turn to. The learning curve is much easier than the time I spent learning how to code. I like that users can create excellent products with whatever background they desire. I have used many tools, but no community has the type of engagement that Bubble has.
Glide (Best Spreadsheet Integration)
You don't have to learn high-level coding or programming to build a mobile app for your business. Glide is a no-code AI app builder that you can rely on to build native mobile apps and web applications.
Out of the box, Glide turns a CSV file or spreadsheet into a functional mobile app in minutes. You can customize the app the way you want it using a drag-and-drop editor.
This intuitive spreadsheet-to-app builder has several prebuilt components and templates to cover many niche markets. From my experience of using Glide to create a prototype for my e-commerce business, I used Glide's features like map view, user list, chat interface, and calendar view to create a functional app.
You can build many apps with Glide, including product catalogs, event apps, social network apps, job boards, customer service apps, and education apps to deliver quizzes and course materials.
If you are still trying to figure out where to begin, Glide has a wide range of pre-built templates that give you a starting point.
Key Features
Pricing plans are affordable.
You can add functionality and features as needed without rebuilding your app.
Glide apps are equipped with push notifications.
The apps can update in real-time and can work offline.
What I Like About Glide
I have been using Glide for a year and am very interested in it. This app builder comes with a powerful, ever-growing set of tools that let you create any mobile app or web application. I like that there's a community of experts you can turn to whenever you encounter any challenge in the app-building process.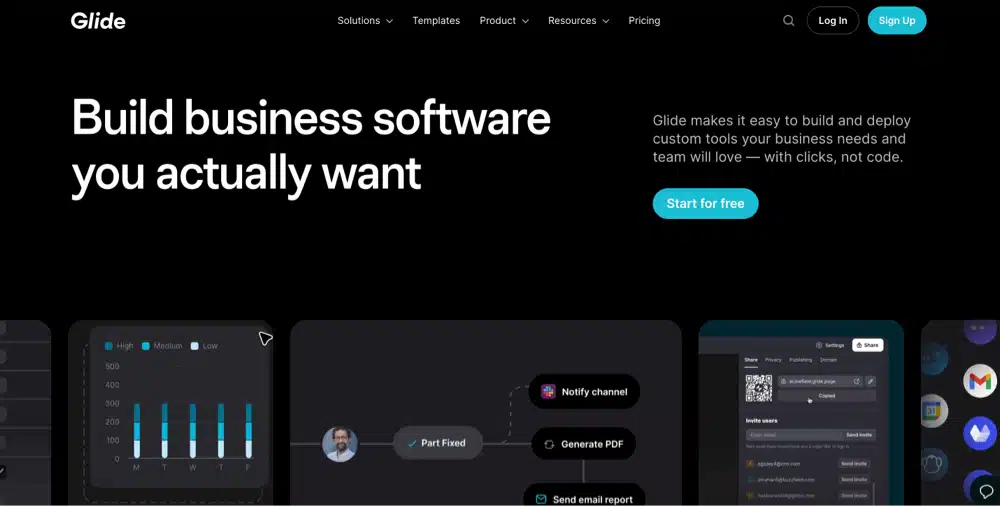 Naologic (Best User Interface)
Naologic is an incredible app builder that lets you create web and mobile apps with zero code. You can test your ideas by creating a prototype and then share the app with your team without any databases, HTML, or JavaScript to navigate.
While I created a mobile app for my e-commerce business using Naologic, the app builder hosted the app, so I didn't need any web server. You can launch ready-made solutions for any business niche in minutes.
To use Naologic, launch your workspace and choose ready-made apps from the Naologic app store. Set up your workspace and import any important data to get started. Proceed to edit your app in the builder using the visual drag-and-drop canvas.
Once you implement your new features, Naologic assists you in launching your new app in the Google or Apple Play store.
Key Features
No hard limit for the number of users, the volume of traffic, or data storage
100+ app templates as your starting point
Password or OAuth 2.0 logins
Add, edit, or remove elements from your workspace apps in an instant
What I Like About Naologic
I like that Naologic comes with a visual drag-and-drop canvas that you can leverage to customize your own app to suit your brand's style and color. You can use Naologic to make pixel-perfect designs in app form. I also like that it has 100+ app templates readily available for deployment.
Backendless (Best for Backend Management)
Backendless is a codeless app builder that is still technical enough to do everything. It allows you to build a solid database, add custom features, API management, and more.
You can customize applications built by this tool using the codeless logic builder or manually written code. Backendless lets you send push notifications and emails and provides geolocation features and real-time chat.
Backendless is useful to create apps for e-commerce, SEO, project management, and education niches.
This AI app builder has many features, including external database connectivity, multiple client-side environments, an intuitive user interface, private server hosting, UI builder, and real-time connectivity.
Backendless consists of several pre-built APIs to enable you to interact with the file storage, user authentication, and backend database. Backendless also features post-launch tools like email templates, push notifications, and in-app messaging support.
Key Features
Changes to your data are delivered to your app in real-time.
User authorization and authentication are in one central place.
Send customized and targeted push notifications.
Cordless visual frontend builder with components, blueprints, and more.
What I Like About Backendless
Generally, backends for mobile and website applications are very difficult to set up. With Backendless, I could get started with just a few clicks. I like that Backendless has a frontend builder so that non-coders have enough help.
Click here to view Backendless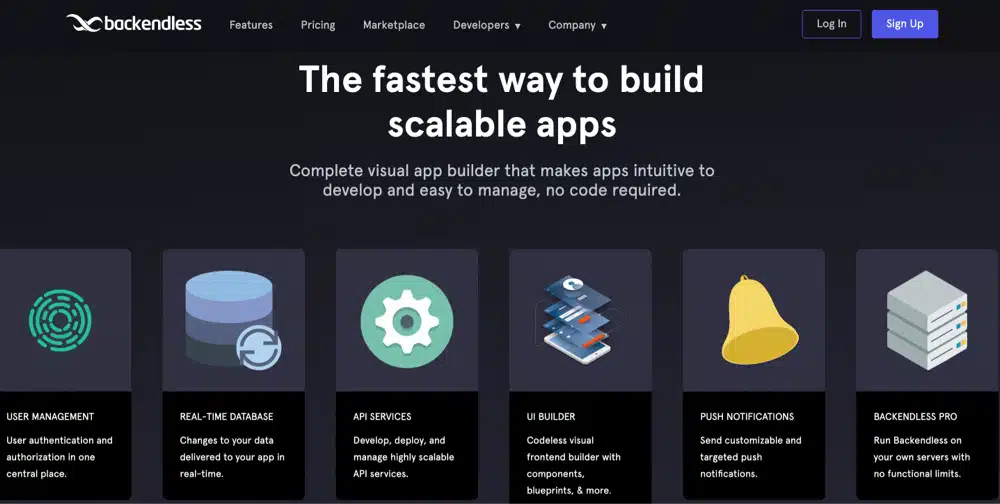 Google App Sheet (Best Google Integration)
AppSheet is a powerful no-code development tool that you can use to build a highly intuitive mobile app or web application without having any serious coding experience. It is built by Google, so it works well with Google Workspace. It also supports third-party apps like Salesforce, Dropbox, and Office 365.
You can use Google AppSheets to create e-commerce, shipping, sales, retail, sports betting, and entertainment apps from data sources like Salesforce, Cloud SQL, Excel, and Google Sheets.
All you need is to connect AppSheet to your preferred cloud data storage provider, share more details about your business, select the type of app you are looking for, find a suitable template, and you are good to go.
Key Features
The apps work on tablets, mobile, and desktop.
Advanced integrations and APIs.
The apps are equipped with push notifications.
Well-designed templates to help you get started.
What I Like About Google App Sheet
I like that Google App Sheet has created an enabling environment for creating apps both for small and large businesses. You can develop native mobile apps to meet your business needs without hiring an app developer. I used AppSheet to create an app to manage my shopping mall in less than two days.
Click here to view Google App Sheet
Adalo (Best for Ease of Use)
Adalo helps you build progressive web apps or native mobile apps without a single line of code. Its easy-to-use interface makes it easy to create any mobile app.
I tried using Adalo to build apps ranging from sales, inventory, human resources, planning, and property management, and the results came out successful.
Once you launch Adalo and create your account for free, choose the type of app you want to build, and select the template. In the drag-and-drop interface, you can add components and screens to your app.
With Adalo, you can easily customize your icons, color palettes, fonts, and logos to impress your audience. Adalo makes launching your app on the Google Play store and Apple Store easy by toggling the publishing settings.
Key Features
Adalo is equipped with drag-and-drop UI components to design your app beautifully.
Comes with many prebuilt actions to bring your apps to life.
Zapier integration connects your apps with other services like WordPress, Airtable, Trello, and Slack.
Adalo has a built-in database, making it easy to manage your database.
What I Like About Adalo
This is by far the easiest app builder I have ever used. The good thing about Adalo is that you don't have to learn coding or web design to create a beautiful app for your business. I also like that Adalo has many pre-built components for you to get started quickly.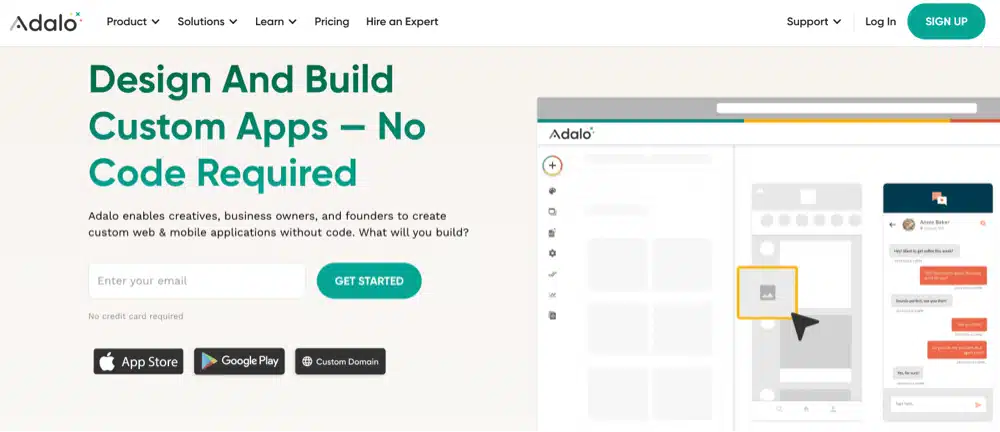 Conclusion
In conclusion, no-code AI app builders have revolutionized how we create mobile and web applications. These tools enable entrepreneurs, small businesses, and even large organizations to develop and deploy functional apps without learning complex programming languages and coding skills.
Today's best no-code AI app builders offer developers various features and integrations to suit different needs. They allow you to use text messages, voice commands, drag-and-drop interfaces, and other ways to create apps fast. When you are done, they assist you in publishing to all of the app stores.
Frequently Asked Questions (FAQs)
What are the best AI app builders for creating no-code text-to-app solutions?
The best AI app builders for creating no-code text-to-app solutions include Softr, Bubble, and Glide. These platforms offer a variety of features and integrations, making it easier for users to create mobile and web applications without any programming knowledge.
How do AI app builders help users create applications without coding?
AI app builders leverage artificial intelligence, natural language processing, machine and deep learning, and other innovative technologies to generate code automatically. These platforms enable users to create applications using drag-and-drop editors, pre-built templates, and components, making the development process quicker and more accessible to non-programmers.
Can AI app builders create applications for both Android and iOS?
Yes, the best AI app builders can create applications for both Android and iOS platforms. These platforms provide tools and templates compatible with both operating systems, allowing users to develop cross-platform apps without writing separate code for each platform.
What types of applications can be built using AI app builders?
AI app builders allow users to create various applications, including e-commerce, marketplace, project management, customer service, educational apps, and more. These platforms offer AI capabilities, versatile tools, and features that cater to various business niches and requirements.
Are AI app builders suitable for beginners with no coding experience?
Yes, AI app builders are designed to be user-friendly and accessible to beginners without coding experience. These platforms offer intuitive interfaces, drag-and-drop editors, and comprehensive documentation to help users start app development without any programming knowledge.