ChatGPT plugins let you extend the functionality of the AI tool by extending its knowledge into other APIs, external tools, and applications. In this guide, I'll walk through all of the official ChatGPT plugins you can install once you can access the Plugins feature.
These plugins can be installed in one click right through ChatGPT and require no other integration steps.
The best official ChatGPT plugins are Wolfram Alpha, Zapier, and Expedia. Read about them, plus all of the other official addons below. The list has grown fast, to over 128 official plugins!
Click here if you want to learn how to create your own ChatGPT plugins.
RELATED: Information on the best third-party ChatGPT plugins.
What are Official ChatGPT Plugins
Plugins is an experimental model within ChatGPT that allows users to connect to and interact with third-party websites and applications within ChatGPT. Plugins extend the functionality of ChatGPT by letting you execute commands on different websites and applications.
Plugins also let you access real time data newer than ChatGPT's cutoff date of September 2021 since data is retrieved in real-time.
Once more official plugins are released, the need for ChatGPT alternatives will decrease.
How Do You Access Official Plugins in ChatGPT?
Official plugins are built right into the ChatGPT interface. Once you have access to the Plugins model, you can install ChatGPT's plugins right through the web interface.
Access is only available for ChatGPT plus users, which costs $20 per month. You also get access to GPT-4, which has better natural language processing power.
You can install as many plugins as you would like. You can enable three existing plugins simultaneously in a single chat window.
List of Official ChatGPT Plugins
Currently, this is every single official ChatGPT plugin:
ABC Music Notation
ABCMouse
Abridged Due Diligence
Access Link
AI Tool Hunt
AITicketChat
Algorithms
Ambition
Ask Your PDF
BizToc
BlockAtlas
Bohita
Boolio
Bramework
BuyWisely
C3 Glide
Career Copilot
Change
ChatSpot
ChatWithVideo
Clinical Trial Radar
Cloudflare Radar
CoinCap
Comic Finder
Competitor PPC Audit
Coupert
Crafty Clues
CreatiCode Scratch
Creatuity Stores
Creature Generator
CreditYelp
Currency Converter
DAIZY
Decision Journal
DEV Community
edX
Expedia
FiscalNote
FundsDB
Gamebase
GetYourGuide
Giftwrap
Giga Tutor
Glowing
Golden
Hauling Buddies
Hubbub
I Am Rich
ImageSearch by Unsplash
Instacart
KalendarAI
KAYAK
KeyMate.AI Search
Keyplays Live Soccer Scores
Klarna Shopping
Klook
Kraftful
Lexi Shopper
Likewise
Link Reader
Local by Goodcall
Lowes
Magnetis
Manorlead
Metaphor
Milo Family AI
MixerBox News
MixerBox OnePlayer
Noteable
One Word Domains
OpenTable
Open Lecture
Open Trivia
Options Pro
OwlJourney
Penrose Analyst
Photorealistic
Podcast Search
Planfit
PlaylistAI
Polarr
Polygon
PortfoliosLab
Portfolio Pilot
Prompt Perfect
Public
QuakePH
QuickRecall
Redfin
Rentable Apartments
RoboAd
Savvy Trader AI
Scraper
SEO CORE AI
SEO.app
Shimmer: Nutition
Shop
Show Me
Speak
Speechki
Statis Fund Finance
Tabelog
Tasty Recipes
There's An AI For That
Tic Tac Toe
Tomorrow.io Weather
Trip.com
Turo
Tutory
UK Latest News
Video Insights
Visla
Vivian Health
VoxScript
Wahl
Weather Report
WebPilot
Website Performance
Wishbucket
Wolfram
Word Sneak
World News
Xpapers
Yabble
Yay! Forms
Zapier
Zillow
Zumper Rental Search
OpenAI has been adding new plugins to the store almost every day. next, we'll go over some of our favorite and most useful ones.
Wolfram
Wolfram is a smart computer program that helps people solve math problems, find information, and make cool pictures and graphs. It's like a super-brainy calculator that can answer lots of different questions.
People use Wolfram for school, work, or just for fun to learn new things.
The Wolfram plugin in ChatGPT can help you solve formulas or access scientific information better than before.
Zapier
Zapier is a tool that helps different apps, and websites talk to each other and work together. It lets you create "Zaps," recipes that automate tasks and simplify your life.
The Zapier plugin for ChatGPT users can help you take the information that GPT gives you and execute commands. For example, use your WordPress zap to send your GPT output to a draft post. Or, use your Gmail zap to compose an email from a GPT response.
Expedia
Expedia is a website that helps you plan trips and vacations. You can find and book flights, hotels, and car rentals all in one place.
Expedia makes it easy to find the best deals and organize everything you need for your trip. The Expedia plugin for ChatGPT gives you live information about hotel prices and flight information. Or, you can find accommodations nearby specific addresses.
Shop App
The Shop App is an app for your phone that helps you buy things from different stores online. It keeps track of your orders and tells you when they'll arrive. It also lets you discover cool new stores, making shopping easy and fun.
The Shop App plugin for ChatGPT lets you search for promoted and sold products with the app, compare prices, and place orders through ChatGPT.
Klarna Shopping
Klarna Shopping is another shopping app that makes buying stuff online easier. It lets you shop from many stores and pay later, so you don't have to worry about having enough money immediately.
Plus, it helps you find good deals and manage your payments in a simple way.
The Klarna Shopping plugin for ChatGPT lets you browse stores, place orders, and find good deals.
OpenTable
OpenTable is a website and app that helps you find and reserve tables at restaurants. You can search for places to eat based on your preferences, like location, cuisine, or price.
The OpenTable plugin for ChatGPT lets you find a restaurant and book a reservation all within the interface.
Instacart
Instacart is an app and website that lets you order groceries and everyday items from local stores. Shoppers pick up the items you want and deliver them to your doorstep, saving you time and effort.
Using the Instacart plugin for ChatGPT, you can take ingredients from a recipe and use Instacart to deliver those groceries directly to you.
KAYAK
KAYAK is a website and app that helps you plan your trips by comparing flights, hotels, and car rental prices. It searches many travel sites at once to find the best deals for you. KAYAK makes it easier and faster to book your travel arrangements and save money.
The KAYAK plugin for ChatGPT lets you compare prices for your trip right within ChatGPT and make decisions right on the spot.
Milo Family AI
Milo Family AI is a smart device and app designed to help families stay organized and connected. It uses artificial intelligence to manage schedules, send reminders, and provide helpful suggestions for daily tasks.
The Milo Family AI plugin for ChatGPT lets you create, update, and sync your to do list. By acting as a virtual family assistant, it makes life easier and more efficient for busy families.
Speak (Language Translation Plugin)
Speak is a language translation learning app that helps you learn and practice new languages by chatting with native speakers. You can have real-time conversations, play language games, and get feedback on your progress.
The Speak plugin for ChatGPT lets you translate text in multiple languages in real time. You can turn ChatGPT into a full language translation plugin too.
FiscalNote
FiscalNote is a technology company that helps businesses and organizations understand and manage government policies and regulations. They provide tools and information to track legislation, analyze its impact, and predict outcomes.
The FiscalNote plugin for ChatGPT can help companies can make better decisions and stay compliant with ever-changing laws and regulations.
Lowes
Lowes is a home improvement retailer that offers a wide range of products and services for homeowners and professionals. From tools and appliances to furniture and decor, Lowes has everything you need to build, maintain, or remodel your home.
The Lowes plugin for ChatGPT helps users find the right products, get project advice, and access exclusive offers.
CreatiCode Scratch
CreatiCode Scratch is an online platform that teaches coding and programming concepts through interactive games and puzzles. Designed for kids and beginners, Scratch makes learning to code fun and engaging.
The CreatiCode Scratch plugin for ChatGPT offers personalized coding lessons and allows you to write 2D and 3D Scratch programs with GPT.
Redfin
Redfin is a real estate brokerage that aims to make the home buying and selling process more efficient and transparent. They offer an innovative platform with online tools, local agents, and low fees.
The Redfin plugin for ChatGPT allows you to ask specific questions about the real estate market in your area.
One Word Domains
One Word Domains is a platform that curates available one-word domain names, helping businesses and individuals find the perfect web address for their online presence.
The One Word Domains plugin for ChatGPT helps users discover and analyze available domain names, making it easy to find the perfect domain for your next project or business idea.
Golden
Golden is a knowledge database that uses artificial intelligence and human expertise to create comprehensive companies, people, and technologies profiles.
The Golden plugin for ChatGPT offers instant access to information on any company in its database, providing users with accurate and up-to-date knowledge.
Yabble
Yabble is a market research platform that uses AI-powered tools to collect, analyze, and visualize consumer insights. Businesses can use Yabble to understand customer behavior and make data-driven decisions.
The Yabble plugin for ChatGPT helps users access Yabble's survey generation tool.
Portfolio Pilot
Portfolio Pilot is a robo-advisor platform that uses advanced algorithms to help investors manage their portfolios. It offers personalized investment advice and automated portfolio management to maximize returns.
The Portfolio Pilot plugin for ChatGPT provides users with tailored investment advice, real-time market updates, and portfolio tracking.
Zillow
Zillow is a leading real estate marketplace that connects buyers, sellers, and renters with properties, agents, and resources. Their platform provides comprehensive information on homes, neighborhoods, and market trends.
The Zillow plugin for ChatGPT enables users to search for properties, receive personalized recommendations, and access expert advice about real estate.
Speechki
Speechki is a text-to-speech platform that converts written content into natural-sounding audio. It's perfect for creating audiobooks, podcasts, or voiceovers with ease.
The Speechki plugin for ChatGPT allows users to transform text into high-quality audio, offering an efficient way to create and share content in an audio format.
Giftwrap
Giftwrap is an online gift recommendation platform that uses artificial intelligence to find the perfect gift for any occasion. By analyzing recipient preferences, Giftwrap simplifies the process of gift-giving.
The Giftwrap plugin for ChatGPT provides personalized gift suggestions based on your recipient's interests and preferences.
How to Install ChatGPT Plugins
To gain access to the plugin page in the ChatGPT dashboard, you must have joined the waitlist and received your invitation to use the new Plugins model.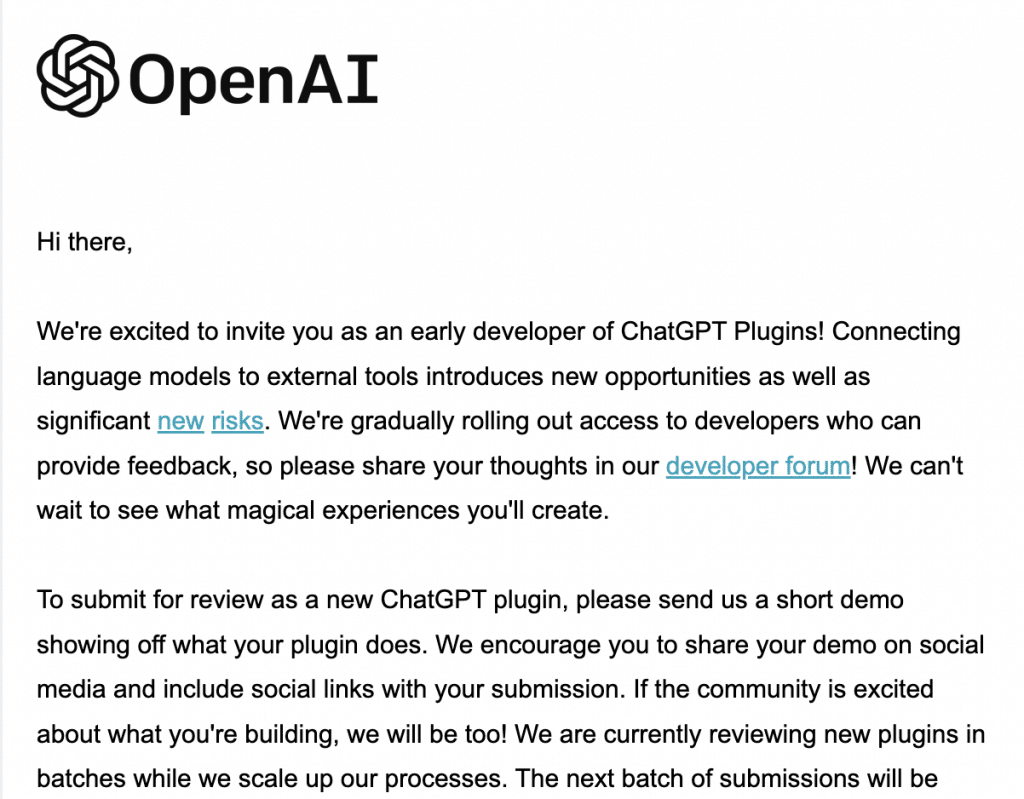 Once you have access, you will see the Plugins model as an option beside GPT3.5 Default, GPT3.5 Legacy, and GPT4 at the top of the screen.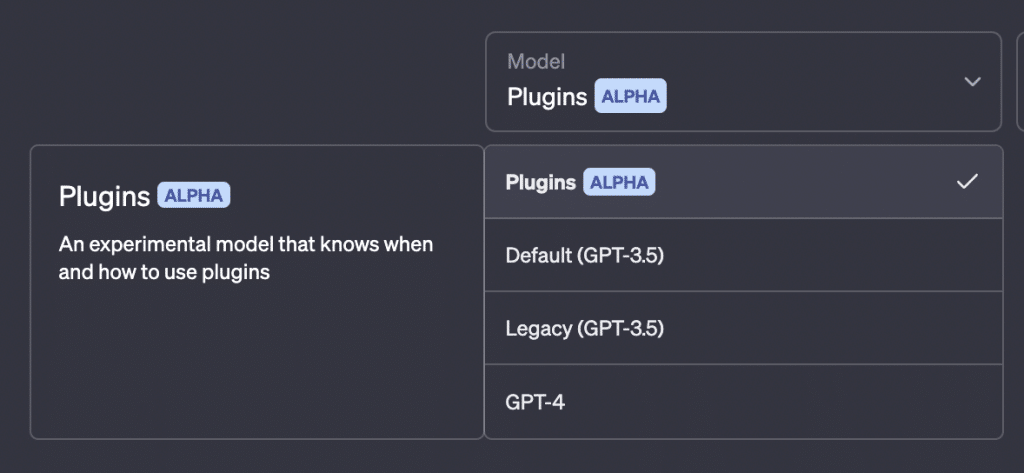 Installing plugins from the official repository is easy. Select the Plugin Model, click on the Plugins dropdown, and click Plugin Store.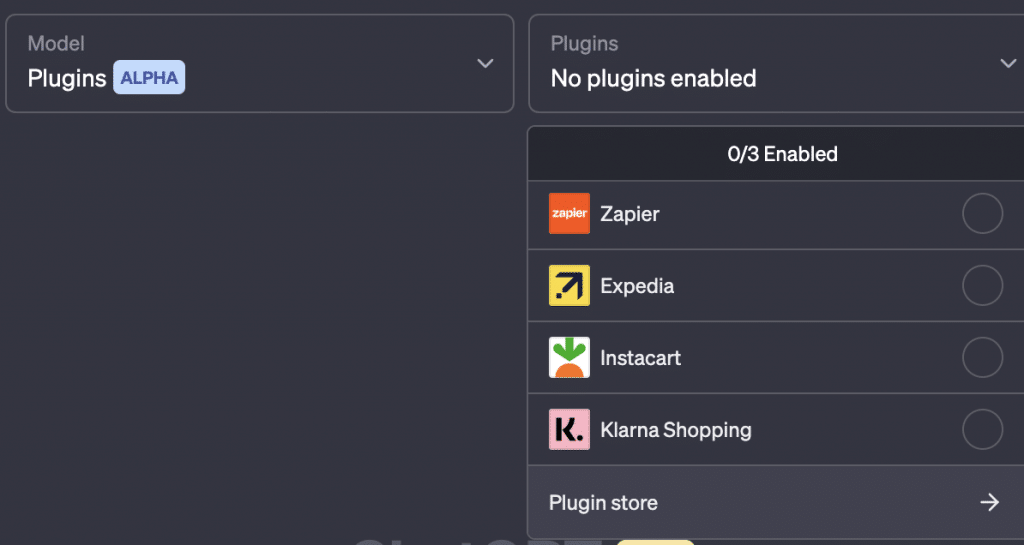 Click the Install button beside the official plugin you want to install.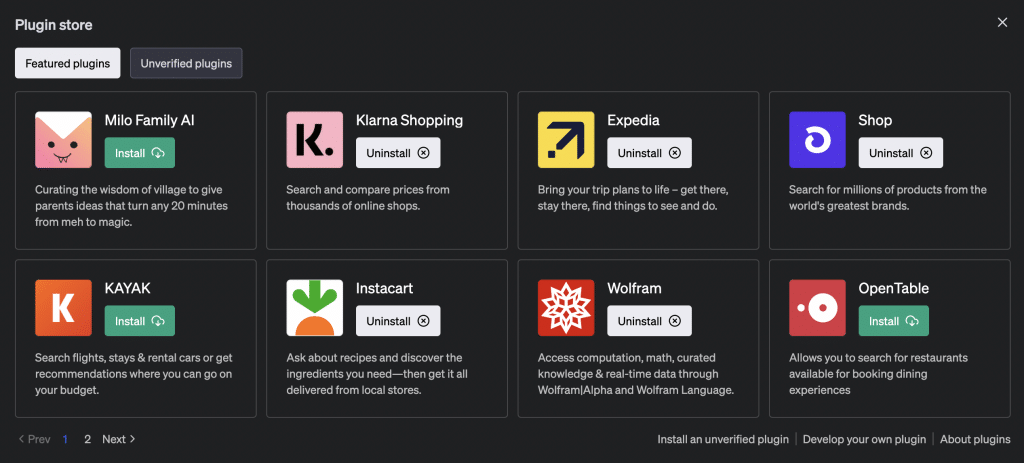 Where is the ChatGPT Browser and Code Interpreter Plugin?
Alongside the announcement of plugins, OpenAI gave a demo of a browser plugin and a Python code interpreter plugin. Those plugins are being rolled out to all Plus users who pay $20 monthly for ChatGPT 4.
Conclusion
In conclusion, the official ChatGPT plugins offer an exciting array of options to enhance your ChatGPT experience, making it more versatile and powerful.
With quality plugins like Wolfram Alpha, Zapier, Expedia, and many others, you can seamlessly integrate with other applications and access real-time data sources, all while using GPT4 -4. Only the first plugins are available so far, but we expect a ton more to be released soon.
So why wait?
Upgrade to ChatGPT Plus for just $20 monthly and request access to official plugins today.
Don't forget to watch for the ChatGPT Browser and Code Interpreter Plugin; we'll update you as soon as they become available.